Whitsundays making a splash with First 5 Forever
By Administrator | 3 April 2017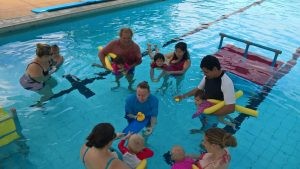 Splash and Learn activity held by Whitsundays Regional Council
Splash and Learn activity held by Whitsundays Regional Council
Month after month, Queensland libraries are innovating with unique and creative ways to deliver First 5 Forever activities in a way that works for their communities.
Whitsunday Regional Council recently shared one of their big and bold ideas which has evolved into a highly successful program. And it was too good not to pass on! Here's how their First 5 Forever Project Officer, Rosalyn Hearn describes how the Whitsunday Regional Libraries' local Splash and Learn activity came about.
---
How did Splash and Learn begin?
The town pool is one of the few public facilities available in the small mining town of Collinsville. We were looking for somewhere apart from the library to run a First 5 Forever program and pool entry is free to all residents. It also seemed a great opportunity to develop community partnerships and promote another important message for children, being water safety and awareness.
We adapted the program from previous Books N Booties sessions and focused on one to two elements of the toolkits at each session.
How do the sessions work?
The first program was held in Collinsville in December, with one, 45 minute session per week over three weeks. A maximum of eight places were offered to children aged four months to two years. Each session begins in the pool with a qualified early childhood swim instructor conducting water safety and awareness activities. Singing rhymes and play are incorporated and the instructor promotes First 5 Forever messages such as face to face interaction with babies and repetition of rhymes to better learn words.
The swimming component of each session is followed by a further 20 minutes out of the pool on a picnic rug or similar in the shade.
Session one
In the first session, the First 5 Forever Project Officer talks to families about the program and their role as their child's first and most important teacher. The project officer then introduces the Rhyme Time booklet and nursery rhyme frieze in the toolkit and begins a rhyme session with actions. Parents are encouraged to continue singing, talking and reading with their child everyday as part of their daily routine. A light morning tea is also provided to encourage families to network and enable the facilitator to answer any questions or pursue further discussion.
Session two
The second session begins with the swim instructor in the pool for 20 minutes. Families then move to the shaded area to learn more about the importance of reading with their child. The First 5 Forever facilitator begins a shared reading of I'm a Dirty Dinosaur or Let's Play, ensuring parents are aware that they don't have to read the book in its entirety. The facilitator then identifies different ways to spend the time with their child around books including discussing the pictures, story or sounds of words. The facilitator reinforces that reading is a special time to spend together building relationships and allowing children to become familiar with books. The facilitator encourages families to choose a board book from the selection provided and read together one-on-one for the last five to ten minutes. Morning tea is provided.
Session three
In the third and final session, families are given the frog puppet from the toolkit to use during the swimming session to engage babies in the singing and water activities. They then retire to the shaded area with the puppet to sing the same rhymes as the first session (or others) using the puppet. Families are reminded that swimming and bath time are opportunities for fun interaction with their children. The puppet is included in the kit to encourage play, interaction and storytelling at home. Other key First 5 Forever messages are reiterated and families are presented with the complete toolkit.
Expanding the program
We have since run three more programs in Proserpine. We initially started with one program, but due to its popularity we decided to run two more. It is mostly mothers who attend with their babies but we also have fathers and even a whole family attend with their two children. Grandparents also enjoy coming along to watch and occasionally join in with the singing. For one of the final sessions in Proserpine, we had the local midwife visit to make families aware of health services available to them and answer any questions, of which there were many, mostly regarding developmental milestones.
In the next two months we will run another two programs in Airlie Beach and hopefully another in Bowen sometime this year. The pool provides another location to interact with families of all backgrounds and is attractive to those who may not feel comfortable using the library.
By providing the programs free of charge, we also remove an obstacle that may prevent families attending. The Proserpine pool received extra lesson bookings from participating families which is an additional incentive for their support. On the library side, there are several participants that now regularly attend library children's programs and Baby Bounce sessions.
Comments
Your email address will not be published.
We welcome relevant, respectful comments.