We love our volunteers!
By Fiona Dixon | 13 May 2015
11-17 May 2015 is National Volunteer Week, providing an opportunity to highlight the important role of volunteers in our society, and particularly here at State Library of Queensland.
More than six million people volunteer each year in Australia, including 1.2 million Queenslanders. SLQ's volunteer program has been running for nearly 26 years, with a steady increase in volunteer numbers. We currently have 160 registered and active volunteers, as well as many wonderful people who assist with our digital volunteer program, Pitch In!
On Tuesday we held a morning tea to thank our volunteers and let them know how much we value their efforts and commitment to our volunteer program .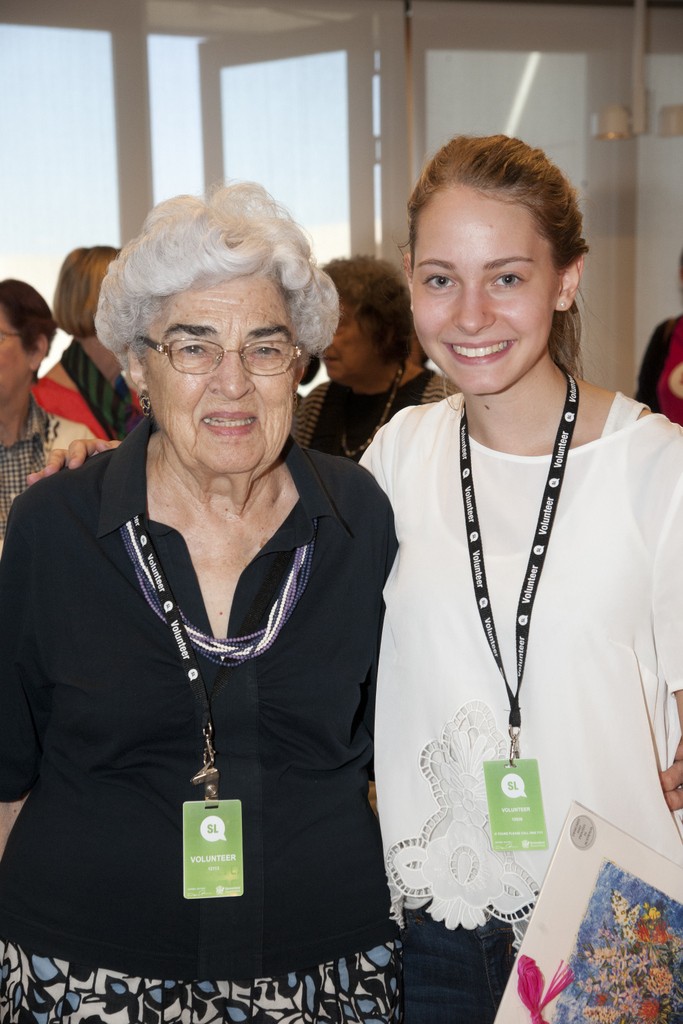 SLQ volunteers, Billie and Sarah, at our volunteers' morning tea on Tuesday.
SLQ volunteers, Billie and Sarah, at our volunteers' morning tea on Tuesday.
SLQ's volunteers are involved in a wide variety of roles as project volunteers, exhibition guides, building and school orientation tour guides, visitor guides and performing musicians.
Many of our volunteers are involved in projects that increase the discoverability of SLQ's content. One such project has involved uploading profiles of World War One soldiers photographed for The Queenslander newspaper, and adding links to the Australian War Memorial records. These profiles are now available through our online catalogue, One Search.
Another team of volunteers has assisted in the transcription of original letters and diaries of Queenslanders who fought in World War One. Since the QANZAC100 project commenced last August, 1,900 letters and 17 diaries have been completed.
Our digital Pitch In! volunteers help in making our information more complete, accurate and findable. This is done by tagging photographs, correcting text for newspaper articles, transcribing documents and telling their own stories to preserve Queensland's history.
The theme for this year's National Volunteer Week is "Give Happy, Live Happy". Research shows that as well as providing a valuable service to the community and organisations, volunteers are happier and healthier, and even sleep better, than people who don't volunteer. Volunteering also keeps your brain active and gets you meeting and interacting with lots of different people – all great reasons to get involved!
To volunteer at SLQ, contact us through our online volunteer information page or become a digital volunteer at Pitch In!
For more information about volunteering generally, see Volunteering Queensland's website.
We look forward to working with our current volunteers throughout the year, and welcoming new faces into the fold.
Comments
Your email address will not be published.
We welcome relevant, respectful comments.