WANTOK 2013
By JOL Admin | 14 October 2013
Guest blogger: Emelda Davis - President, Australian South Sea Islanders (Port Jackson) Limited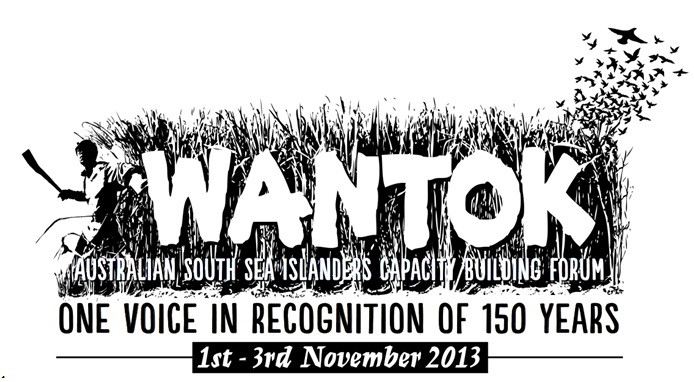 WANTOK 2013
The Australian South Sea Islanders – Port Jackson (ASSI.PJ) formally invite you to participate as a delegate from your organisation or as an individual community member at this year's WANTOK 2013 National Capacity Building Forum being funded under the Australian Commonwealth Government's 'Community Cohesion Grants Program'.
To download the WANTOK 2013 information pack – which includes registration form and map CLICK HERE.
Our venue this year is the State Library of Queensland which has been generously provided by the Queensland State Government.
Address: Stanley Place, South Brisbane
Dates: 1st – 3rd of November 2013, open daily from 9.00am to 5.00pm
2013 marks a significant 150 years for Queensland since 55,000 South Sea Islanders were bought to Australia on 62,000 indentured contracts to establish sugar, maritime and pastoral industries. Many of these men and women did not return to their Island homes and 15,000 lost their lives to common disease to which they lacked immunity.
During the implementation of the White Australia Policy a mass deportation of some 7,000 South Sea Islanders occurred, and 1,500 were allowed to remain under humanitarian circumstances. Several 100's had crossed the border into NSW in the 1890s and 1900s to escape the more severe conditions in Queensland.
For NSW, 2013 marks 166 years since the first South Sea Islanders were bought to Eden by entrepreneur Ben Boyd who had already used Aboriginal, Maori and Pacific Islands labourers in his whaling industry ventures.
Worried about not having sufficient labour for his pastoral properties, in 1847 he decided to experiment with bringing in a Pacific Islanders workforce, without waiting for government permission. This was a human disaster.
Australia is home to some 300,000 – 400,000 migrant Pacific Islanders and a further 40,000 – 50,000 South Sea Islander descendants of the Blackbirding era.
The ASSI.PJ interim national body encourages those of Pacific Islander descent and the broader community from within Australia and internationally to attend Wantok 2013 in support of recognition for the 80 islands that were affected by the Blackbirding era between 1863 – 1908.
For more information visit our website.
Videos from the Sydney Ideas symposium, discussing recognition of Australian South Sea Islanders.
http://www.youtube.com/watch?feature=player_embedded&v=TSQWRMr4T7w
http://www.youtube.com/watch?v=Alu-Qwsx-YM&list=UUGSKkiIABidVxITnwfBTerA&feature=player_embedded
http://www.youtube.com/watch?feature=player_embedded&v=LI_MBk7QTMA
http://www.youtube.com/watch?feature=player_embedded&v=UyWIxqDku-M
Comments
Your email address will not be published.
We welcome relevant, respectful comments.