Volunteer Flying Corps
By Marg Powell, Specialist Library Technician, Metadata Services | 27 January 2015
On this day in 1915 a committee was formed to raise funds for the Volunteer Flying Corps. Later known as the Queensland Volunteer Flying Civilians, the VFC was formed by Major Thomas MacLeod and Lieutenant Valdemar Rendle.
Six of the Volunteer Flying Corps - V. Rendle, G. Cherry, H. Smith, P. Snell, H. Turk, T. MacLeod
Six of the Volunteer Flying Corps - V. Rendle, G. Cherry, H. Smith, P. Snell, H. Turk, T. MacLeod
Courier Aeroplane Fund'
MacLeod and Rendle purchased a Caudron for restoration, which took place in St Paul's Hall Leichardt Street, Brisbane. It was christened "The Courier" and trained a small contingent of keen Queenslanders in the building and handling of the machine, of the type to be used in aerial warfare.
The Caudron was a single engine French biplane widely used in World War I as a reconnaissance aircraft and trainer. The aircraft had been originally imported by Arthur Jones and flown in demonstrations and carnivals around the country until it was severely damaged in 1914.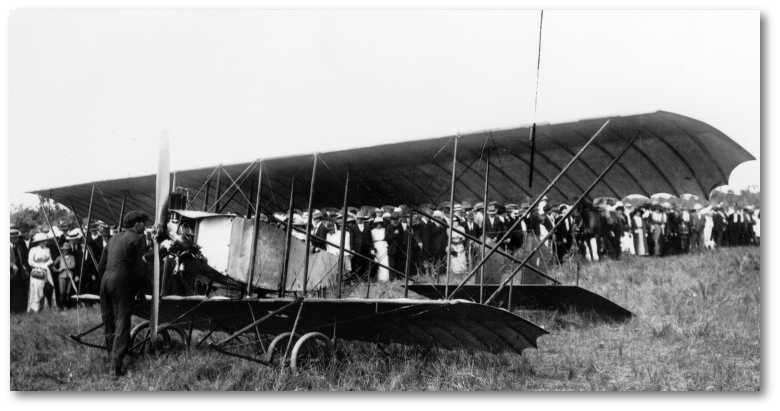 Arthur W. Jones' Caudron at Cairns 1914
August 1915 an article by McLeod
MacLeod took eight trainees to England in February 1916, to enlist with the Royal Flying Corps. Included were, George McCallum Cherry, William Fraser, Ernest Handley, Herbert George Smith, Percy William Snell, David R. Stitt, Herbert Henry Turk and Valdemar Rendle.
All of these men went on to serve with the Royal Flying Corps in the First World War, all but two saw active service as pilots, three were killed whilst on duty.
Five of the nine received the following awards:
Major Thomas MacLeod - French Croix de Guerre with palm; O.B.E.
Lieut. Herbert Turk - Military Cross. KIA
Sergeant Ernest Handley - French Croix de Guerre with palm. KIA
Sergeant Herbert Smith - D.C.M.
Captain Percy Snell - Air Force Cross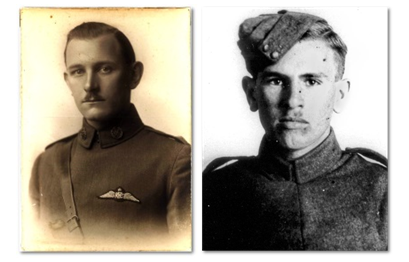 Lieut. William Fraser and Sgt. Ernest Handley
Lieutenant William Fraser
Sergeant Ernest Handley
Thomas MacLeod, lawyer, grazier, yachtsman & flying pioneer, held the record as the first pilot to fly a 'heavier than air' aircraft in Queensland in 1910. He served with distinction with No.13 Squadron RFC, and in 1918 transferred to the Australian Flying Corps. After his return to Brisbane he founded of the (Royal Queensland) Aero Club and was a director of the Queensland and Northern Territories Aerial Services Ltd (QANTAS) from 1925-29; he also helped to establish its involvement in the Flying Doctor Service.
A monument was unveiled at Sinnamon Park in 2010 to commemorate the 100th Anniversary of his historic flights in December 1910 and the Queensland Museum holds the Thomas MacLeod Queensland Aviation Collection - an archive of documents, photographs and memorabilia relating to early Queensland Aviation.
Resources:
Comments
Your email address will not be published.
We welcome relevant, respectful comments.