Unveiling statues and dog tags in Maryborough
By JOL Admin | 24 April 2015
He was the first Australian to set foot on Gallipoli and one of Maryborough's most famous sons.
Duncan Chapman, a 26-year-old lieutenant, who attended Maryborough Grammar School, was honoured at a special ceremony in Maryborough on 24 April, 2015.
Niles Elvery and Anne Scheu from the State Library of Queensland attended the dawn ceremony while in Maryborough for a series of Q ANZAC 100 regional community workshops.
The moving commemoration included the unveiling of a special bronze statue of Duncan Chapman.
A statue of Duncan Chapman, the first man to step onto Anzac Cove, Gallipoli on 25 April 1915
A statue of Duncan Chapman, the first man to step onto Anzac Cove, Gallipoli on 25 April 1915
According to the Australian War Memorial in Canberra: "Chapman wrote a letter to his brother from Gallipoli in July, confirming his 'extreme honour of being actually the first man to put foot ashore on this peninsula'." (https://www.awm.gov.au/collection/PAFU2015/102.01/)
Hundreds of Maryborough locals turned out for the unveiling which included a special sound and light tribute to the local hero.
Chapman went on to become a major in the 45th Battalion but was killed on the frontline near Pozières in France. He was only 28.
State Library invited locals to bring First World War items to a special workshop in Maryborough to learn about the best way to care for their precious treasures.
Niles said items that related to entries in the Reverend George Green's war diary, which described the horrors of the Gallipoli campaign (and held by State Library), were brought along to the workshop and included a soldier's dog tag. Letters, documents, photos and even a stamp album were also brought along to the workshop. Reverend Green was an Anglican minister from central Queensland who accompanied the 2nd Light Horse Regiment to Gallipoli.
Maryborough residents were also given the chance to have a hands-on look at some of the State Library's precious original First World War materials. This curated selection of letters, diaries and photographs were all on display at the special White Gloves event.
Local heritage organisations were also given the chance to learn how to promote and share their collections online, helping them to make a wider contribution to Anzac centenary commemorations.
Niles and Anne put some time aside to visit the impressive Maryborough Military & Colonial Museum, which holds an eclectic mix of 7,000 items of military and colonial memorabilia.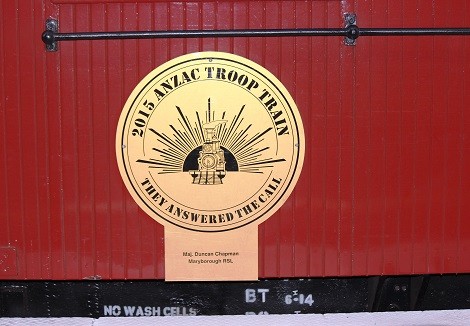 World War 1 troop train re-enacts its journey across Queensland and through Maryborough
Comments
Your email address will not be published.
We welcome relevant, respectful comments.