Union Makes Strength
By Marg Powell, Specialist Library Technician, Metadata Services | 12 February 2015
The State Library of Queensland holds a small but worthy collection that relates to Henrietta Willmore, whose efforts during the First World War earned her the gratitude of the Kingdom of Belgium.
Queen Elisabeth Medal / Medaille de la reine Elisabeth
A self-taught pianist, Henrietta Mallalieu arrived in Brisbane in 1864 with her first husband, Alfred Mallalieu and her small daughter. Henrietta made her concert debut in Brisbane 1866 and took a position as music mistress at Mrs Thomas' Academy for Young Ladies in Charlotte Street, in 1867.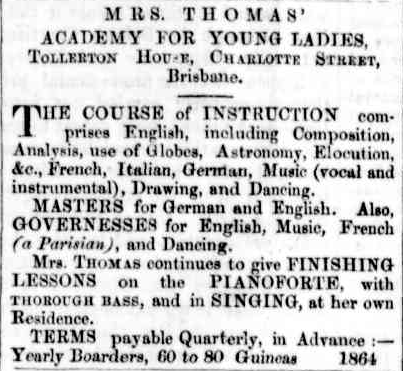 Advertisement, The Brisbane Courier, 4 September 1865, p6
Later known as Madame Mallalieu, she collaborated with Richard Thomas Jeffries and together they were hailed for breathing life into the musical society of Brisbane. Madame Mallalieu took up playing the organ and married her teacher Walter Willmore; she promoted organ recitals and played at the opening event for the installation of the Willis organ at the Exhibition Building in 1892.
There was another side to Henrietta Willmore however, and that was her strong beliefs in women's rights - she carried a reputation as a formidable suffragette. She was heavily involved in the Queensland Women's Electoral League, the Queensland Suffrage League as well as the Women's Franchise Association. During the First World War she was president of the Toowong branch of the Belgian Relief Fund, and for her efforts was awarded the 'Medal de la Reine Elisabeth'.
Letter from the Belgian Minister of Foreign Affairs, 5 January 1920 (State Library of Queensland collection)
Further collections at the State Library that relate to Henrietta include a Cutting Book collated by one of her daughters Beatrice Ethel Mallalieu, herself an accomplished musician. It is a fabulous resource to delve into, and includes newspaper clippings, leaflets and flyers relating to her mother. Henrietta Willmore outlived three of her five children and she continued to perform up until her eighties, she died age 97.
OM92-136 Miss B. E. Mallalieu Cutting Book ca. 1900 (State Library of Queensland collection)
Collections held at the State Library that relate to Henrietta Willmore:
Comments
Your email address will not be published.
We welcome relevant, respectful comments.