Turkey at war in Europe, Germans under scrutiny in Queensland
By JOL Admin | 3 November 2014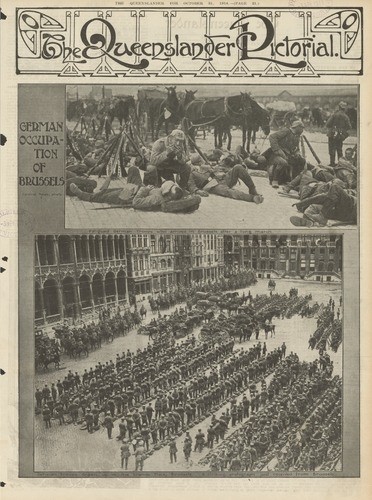 On the 24th October 1914, a Brisbane Courier article revealed statements made by the Prime Minister, in relation to the internment of Germans and Austrians in Australia. This article was the paper's first mention of internment as an option under serious consideration by the Australian government. According to the Attorney-General, internment in Great Britain had already been established, to 'protect British interests'. The Australian Government also indicated that it would not hesitate to safeguard local or Empire interests with this approach, but felt that this option was not yet necessary.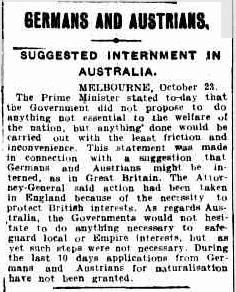 While internment was under consideration nationally, Germans in Queensland were being closely scrutinised. Under instructions from Military Commandant Colonel G. L. Lee D.S.O., a squad comprising members of the military and officials of the Criminal Investigation Branch, investigated of three Brisbane businesses known to be owned by Germans, as well as the private houses of the principals of the firms concerned. While the investigations were carried out with no incidents, documents which required translation were removed and passed over to the authorities.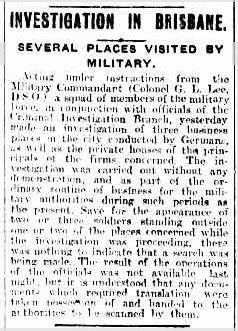 On the 31st October, the Brisbane Courier confirmed that Turkey was indeed at war, after opening hostilities against Russian ports in the Black Sea. After threatening to bombard the town of Novorossiysk unless it surrendered, the Turkish cruiser Hamidieh absconded with Russian Consulate officials and disappeared, and the cruiser Breslau bombarded Theodosia.
Each week we will be sharing news stories from the week 100 years ago, and we invite you to add your thoughts and comments.
Want to join in and find and correct newspaper articles from 1914 and 1915? Here's more information about how to get started text correcting newspaper articles on Trove as a Pitch In! digital volunteer.
If you find something you'd like to share we'd love to hear from you at discovery@slq.qld.gov.au
Comments
Your email address will not be published.
We welcome relevant, respectful comments.