Troops return home to Australia on board the S. S. Karmala
By JOL Admin | 17 June 2014
I recently rediscovered an interesting item in the John Oxley Library collections which I consider to be an absolute gem and an important item relating to Queensland's heritage. This leather-bound autograph book of Corporal Allen Eames, sent to him by a relative prior to the end of World War 1, and taken on board the troop ship S. S. Karmala so Corporal Eames could collect signatures and mementos of the soldiers on their journey home to Australia in 1919. The album containing sketches rhymes and poems to sweethearts dated 1918 and 1919.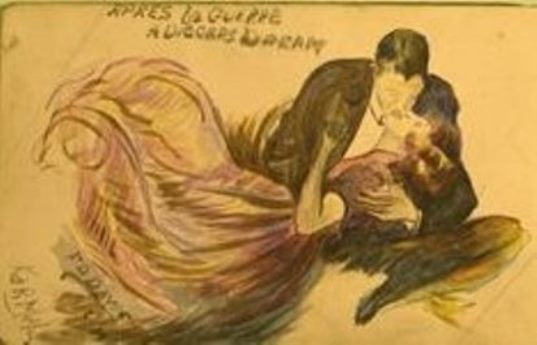 The S. S. Karmala played a significant role during 1918/1919, when it repatriated Australian troops bringing them home from the war. The Karmala left Avonmouth near Bristol, England on the 2nd January 1919 arriving in Moreton Bay, Brisbane on 25th February 1919. The journey took longer than anticipated due to the ship being quarantined because of a fear of influenza being brought back from Europe by these men.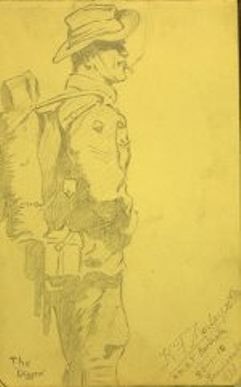 This pencil sketch titled "The Digger" was drawn by K F Maclay of Toowoomba, on the 25 January 1919. The personal messages contained within this album illustrate clearly how the men felt on this journey home. This is a valuable item for family historians or anyone with an interest in military history.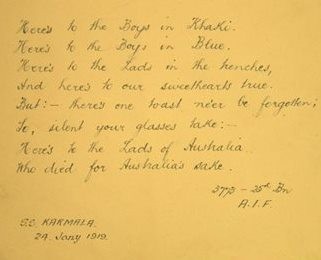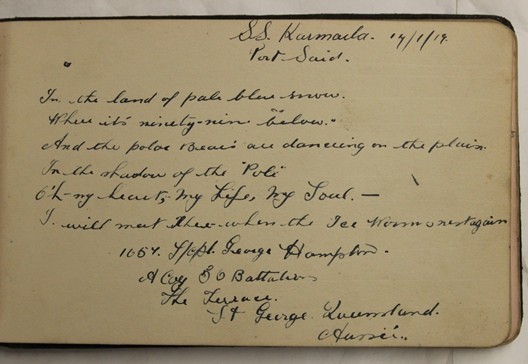 This object is held in the John Oxley Library collections and its details can be seen here
Comments
Your email address will not be published.
We welcome relevant, respectful comments.