Trooper Jack McGrath: A Rough-Rider in Egypt
By JOL Admin | 1 September 2017
Trooper John Joseph (Jack) McGrath of the Australian Remount Unit 2, ca. 1916. Source: John Oxley Library, Accession 30731/2.
The Australian Remount Units serving in the Middle East during World War I have been described as 'a footnote to history' as their vital role in supplying a steady stream of reliable and well-trained horses for the Australian Light Horse has often been overlooked. Trooper John Joseph (Jack) McGrath was one of the hardy and daring men who served with this division and whose collection has now been digitised by the State Library.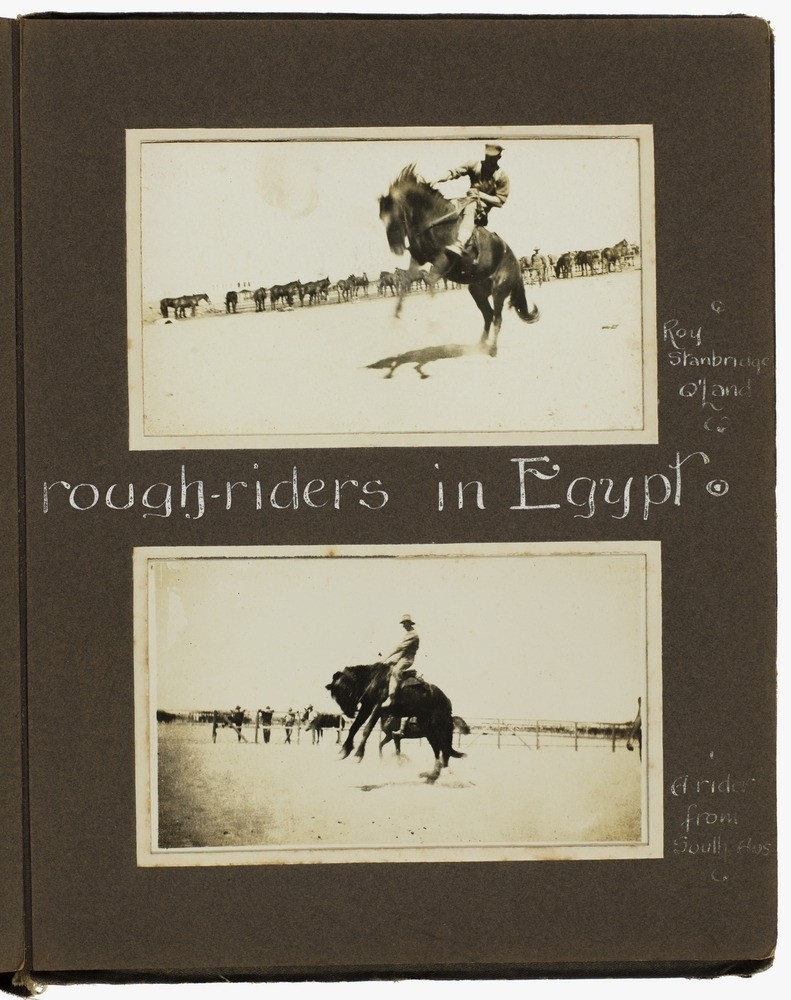 Jack McGrath Photograph Album, Accession 30731/1.
The collection includes a beautifully bound photograph album, containing images of Egypt and the Sinai, as well as action shots of the roughriders of the Australian Remount Units. The album was compiled by Jack and is inscribed "To Mother and Dad with many "salaams" from Jack in Egypt". The collection also includes photographic postcards and letters which Jack sent home to his family, and sweetheart, Bertha Vellnagel, in Brisbane.
Source: John Oxley Library, Accession 30731/68.
Two Australian remount units were established in September 1914 to enable much-needed troops from the light horse, who had been caring for the horses in Egypt, to return to their regiments at Gallipoli. Recruits for the remount units were drawn from Boer War veterans and expert horsemen, as well as blacksmiths, saddlers, farriers and wagon drivers. The maximum age was set at 50, although each squadron included 40 rough riders who were young, fit, and experienced in dealing with difficult and dangerous horses. Many of the men had worked as drovers, stockmen, horse breakers and buck jumping riders in civilian life.
Jack McGrath with his friend, George Gray, from Cannon Hill, Brisbane, seeing the sights of Egypt, ca. 1916. Source: John Oxley Library, Accession 30731, Item 56.
Jack McGrath, service no. 2788, was born in Brisbane in 1896 and was the youngest son of Jeremiah McGrath and Ellen, nee Thompson. He was a 21 year old horse breaker when he enlisted on the 20th December 1915. He embarked from Sydney on the ship "Osterley" on the 15th January 1916 and served with the Australian Remount Unit 2, Reinforcement 3, in the Middle East.
The Remount Depot was based in Egypt, first at Maadi and later at Heliopolis and then Moascar. The work was very dangerous and the men suffered many injuries, and in some cases were killed, in the course of their work with the spirited and often aggressive horses.
Inscribed by Jack McGrath "Some of my friends". Source: John Oxley Library, Accession 30731/8.
The collection includes a photograph of the grave of William Walter Rankin from Duaringa in Central Queensland, who was killed instantly by a kick from a horse which fractured his ribs and injured his heart on the 21st July 1916. He was buried the next day in the New Protestant Cemetery in Old Cairo with his grave and headstone erected by his officers and comrades.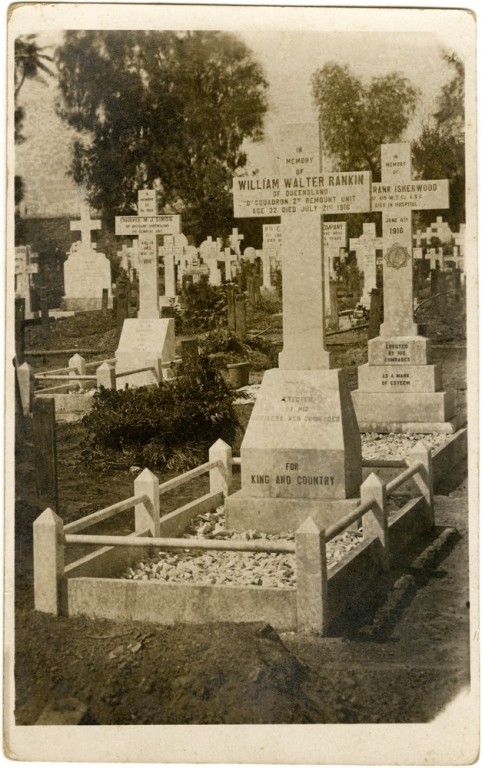 Grave of Trooper William Walter Rankin (service no. 1942) of the 2nd Australian Remount Unit, in the New Protestant Cemetery, Cairo, Egypt, ca. 1916. Source: John Oxley Library, Accession 30731, item 16.
In March 1916 the Two Australian Remount Units were reduced to one by reducing by half the number of men in each unit, while retaining all of the rough riders. This reduction in numbers was due to the shift in fighting to the Western Front and the subsequent demand for fewer horses. Many of the older men returned to Australia while some of the younger troopers chose to join fighting units at the front. Jack McGrath chose to remain with the remount unit as a rough rider. In a postcard to his mother, dated 18 March 1916 he writes:
Nearly all able remount men have volunteered into a fighting corp. But I am quite satisfied to remain where I am for the time being. Tell me all the news of Brisbane & how the garden and home is keeping. Remember me to all the married family and I hope we will be together next Xmas with God's help. (Accession 30731/38).
Australian troops, possibly from the 2nd Remount Unit, standing in front of the Jaffa Gate, Jerusalem, ca. 1917. Source: John Oxley Library, Accession 30731/22.
Fortunately Jack survived the war, returning to Australia in July 1919 on board the HT Burma. He married Bertha Minna Louise Vellnagel in 1922 and died on the 14th March 1939 in Brisbane.
We are very grateful to the family of Jack McGrath for donating this wonderful collection to the library and highlighting the achievements of these brave and daring troopers. The collection is available at the John Oxley Library (Accession 30731) and online.
More Information:
Kent, David, The Australian Remount Unit in Egypt, 1915-1919: A footnote to history, Journal of the Australian War Memorial, No. 1, October 1982.
Lynn Meyers, Original Materials Librarian
Comments
Your email address will not be published.
We welcome relevant, respectful comments.