Triple word score for libraries at Gladstone conference
By Anonymous | 9 March 2020
It was word play at its very best.
State Library of Queensland staff travelled to Gladstone this month to ask the question - what makes a library great?
And delegates at the Local Government Association of Queensland's (LGAQ) 121st annual conference were more than happy to tell us.
More than 60 mayors, councillors and CEOs who stopped by our conference booth were asked to choose five attributes of a great library.
As it was one of the few interactive booths at the conference, delegates were keen to get creative and have a little fun.
With a wall of words to choose from, they happily engaged with SLQ staff about the amazing work that takes place in libraries and Indigenous Knowledge Centres (IKCs) every day.
Our Best Library in Queensland challenge proved incredibly popular, not only demonstrating how well delegates knew their local libraries but just how much they valued them.
Once delegates had chosen their words they were asked to put them in a fun maroon and gold photo frame, take a picture and share on social media.
Some delegates couldn't be limited to just five attributes; they were so enthusiastic about their libraries they insisted on squeezing in as many words as possible.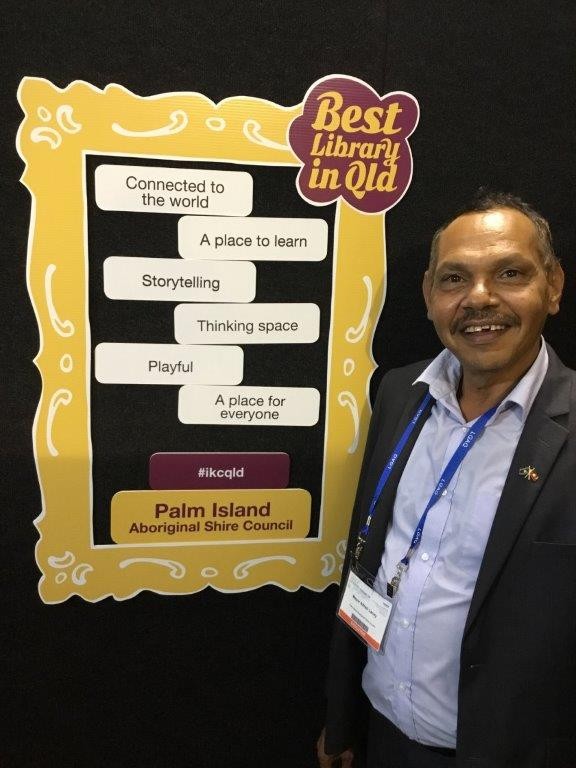 Mayor Alf Lacey at the LGAQ 2017 Conference
Mayor Alf Lacey at the LGAQ 2017 Conference
Mayor Alf Lacey of Palm Island Aboriginal Shire Council and member of the Public Libraries Advisory Group was keen to get involved, nominating: connected to the world, a place to learn, storytelling, thinking space, playful and a place for everyone as the top attributes of a modern day library.
Some delegates wanted to nominate their own words, providing a more bespoke element to the challenge, and allowing them a chance to highlight the individual needs of their community.
It was a great way for all the delegates to show their support for the more than 320 libraries and IKCs in Queensland. It also provided SLQ with a great chance to get to know individual mayors, councillors and CEOs and the needs of their communities.
Cr Julia Leu at the LGAQ 2017 Conference
Cr Julia Leu at the LGAQ 2017 Conference
After three days at the conference the top attributes were:
free wi-fi
a place for everyone
storytelling
family friendly
friendly staff
Flickr page
In other conference news
Douglas Shire moved a motion to extend funding for the First 5 Forever public library program to 2022. The motion was unanimously supported.
Greg Hallam, LGAQ CEO, in his weekly column made special mention of Tammy Hickey from the Cunnamulla Library. "My personal magic moment was a presentation by Tammy Hickey, the Paroo Shire librarian on what innovation and success library staff had achieved in their remote outback community of Cunnamulla. Fantastic stuff!"
Comments
Your email address will not be published.
We welcome relevant, respectful comments.