Tommy AH FOO #6462
By Marg Powell | 18 July 2017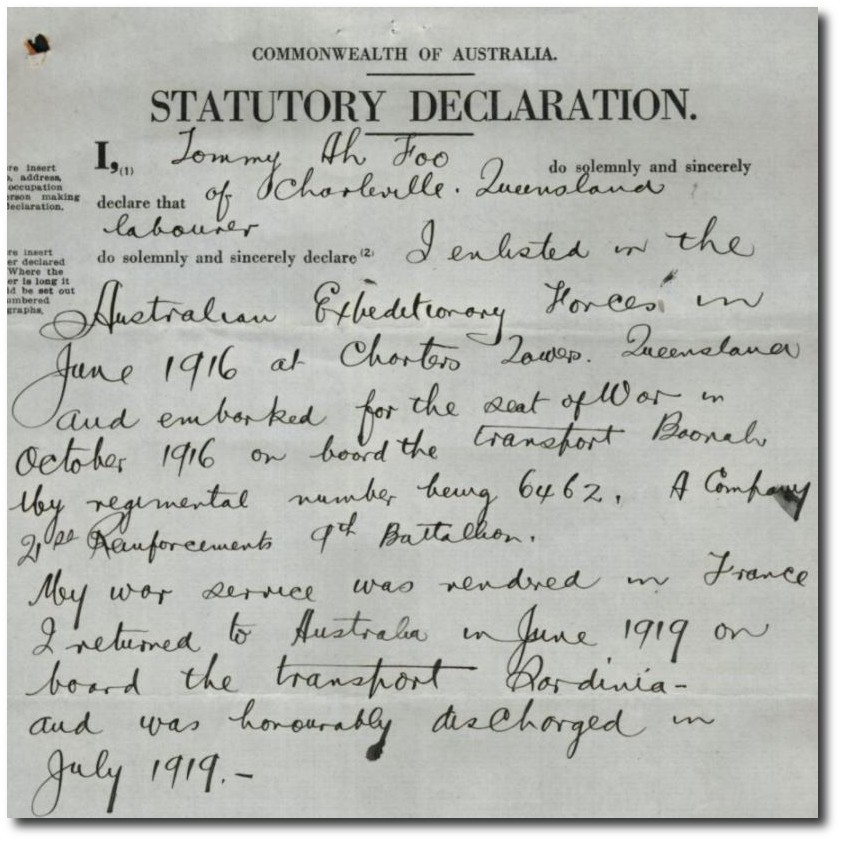 Indigenous Australian, Tommy AH FOO, 9th Infantry Battalion
Tommy AH FOO was born in Croydon, Qld in 1889, his mother Lily was an Aboriginal woman. Tommy was working as a stockman when he enlisted in Charters Towers in June 1916.
Assigned to reinforce the 9th Infantry Battalion, Tommy trained at the Rifle Range Camp, Enoggera. He was hospitalised during this time for two weeks after contracting measles. Tommy embarked on board HMAT Boonah in October 1916 however on arrival he was isolated at the Parkhouse Military Hospital having contracted mumps whilst at sea.
He joined his unit in France in April 1917 and it was while serving in the front line at Ypres in October 1917, that he was seriously wounded. He was evacuated after receiving a gun shot wound to his right leg, and being buried during a shelling. Tommy spent two months in hospital in England with his leg sandbagged, while the wound healed, and although he was sent back to the front line, his leg continued to trouble him and he was prevented from training or marching for long periods.
Tommy was transferred to the Australian Army Services Corps, returned to France and remustered as a Butcher in December 1918. He returned to Australia on board HMAT Sardinia in June 1919.
Read more ...
The information in this blog post has been researched by State Library staff and volunteers, it is based on available information at this time. If you have more information that you would like to share or further research uncovers new findings, this post will be updated.
Comments
Your email address will not be published.
We welcome relevant, respectful comments.