Thursday Island First World War Honour Board and the Victoria Garrison Memorial
By JOL Admin | 21 October 2014
Along with many other towns and communities in Australia, the Thursday Island community decided to honour those who had served in the Australian forces up to and during the First World War. The first of these memorials comprises a pressed copper honour board manufactured by Wunderlich Limited and dedicated to those citizens of Thursday Island who had served during the First World War. The honour board lists 54 members of the Royal Australian Garrison Artillery, 37 members of the Australian Garrison Artillery as well as 62 Thursday Island citizens who served with Australian forces.
The inscription on the honour board reads, "to the honour and glory of the members of the Thursday Island Garrison and citizens of Thursday Island who served in the Great War of 1914-1919, in everlasting remembrance of and gratitude to those who gave their lives that you might be free". The honour board was in place by 1917, with the Brisbane Courier reporting on 28 April 1917 that, "...Thursday Island has done well. An honour board with 57 names was unveiled on the island on ANZAC Day".
The manufacturer of such pressed copper honour boards, Wunderlich Limited, was one of Australia's foremost makers of military badges and memorials for both world wars and there are many examples of the company's memorials and honour boards throughout the country. The majority of the honour boards represent the art nouveau styling that characterised much of Wunderlich's stamped and pressed metal products. The majority of this output was between the early 1900s and the 1930s, but especially in the period during and after the First World War.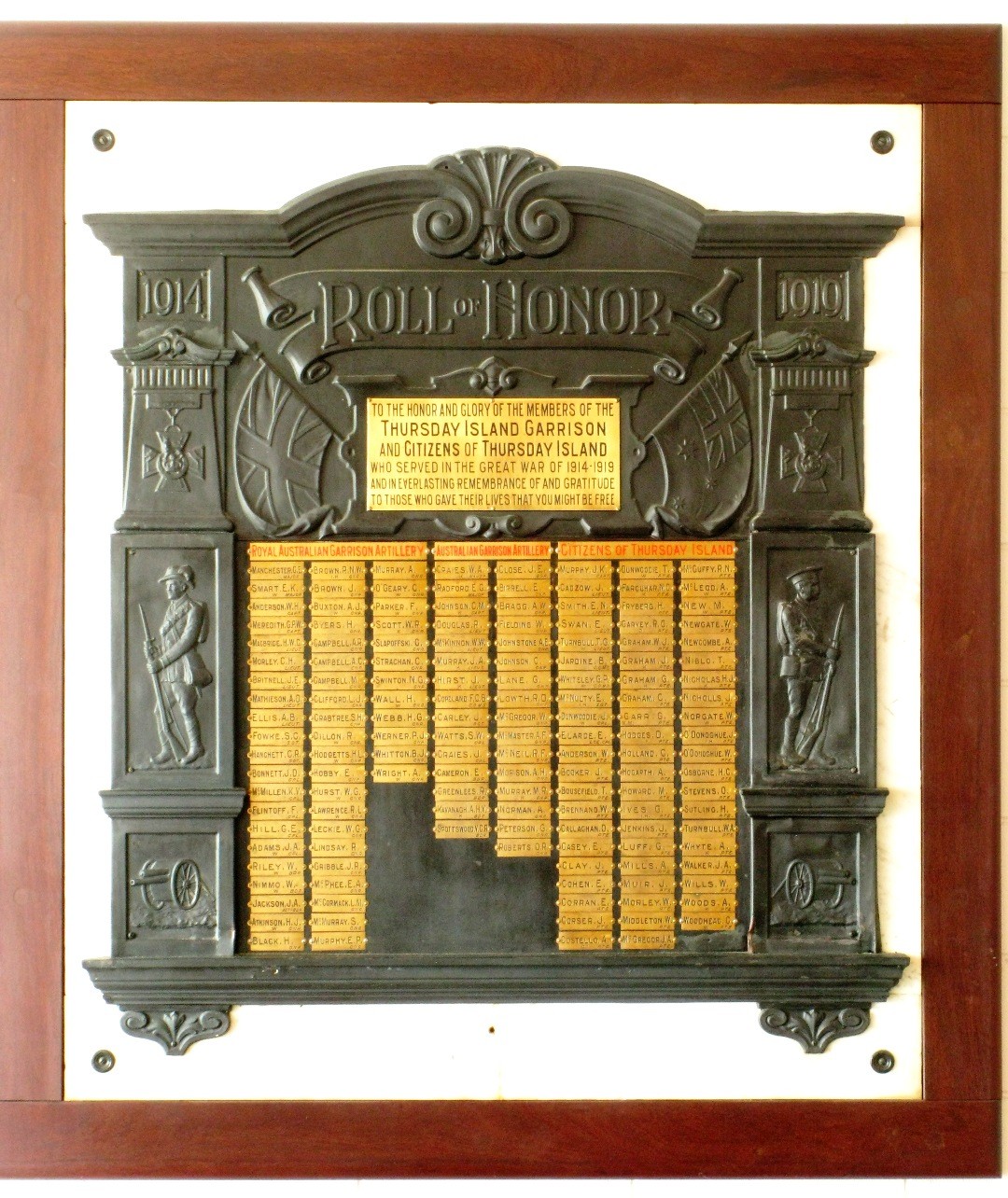 The other Thursday Island war memorial dating from before and during the First World War is the Victoria Garrison Memorial, located in the Thursday Island cemetery. Shown in the above image, t his memorial commemorates those who died whilst in service at the Thursday Island Garrison.
Brian Randall, Queensland Places Coordinator, State Library of Queensland.
Comments
Your email address will not be published.
We welcome relevant, respectful comments.