Three times to war
By Marg Powell, Specialist Library Technician, Metadata Services | 27 March 2017
Bernard Allanson Cripps, enlisted to serve his country three times in his lifetime. The State Library has recently digitised and transcribed his diaries & notebooks.
Within days of war being declared in 1914 Bernard Cripps from Townsville, enlisted in the hastily formed ANMEF - Australian Naval and Military Expedition - which was tasked to protect Australian's northern interests in New Guinea and surrounding territories. Bernard Crips kept a diary of his experience.
8th August Busy all morning loading Troopship with stores. Had a few minutes talk to Jan. Ship left wharf about twelve oclock midst the most enthusiastic farewell that Townsville has ever seen. The day passed pleasantly. Very calm trip.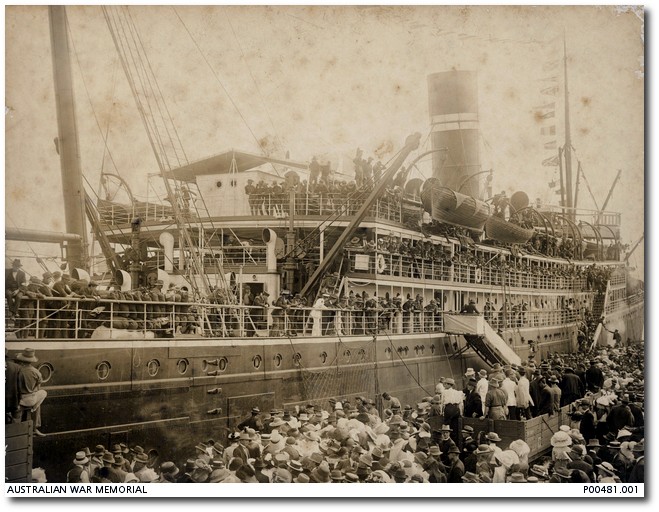 HMAT Kanowna, Townsville, 8 August 1914
Kanowna
September 5th Much excitement was caused this morning when the Troopship no 1 The "Berrima" came into the Bay. She has about 2300 on board all told. There are 1500 troops alone. About 10 oclock the H.M.A.S. "Encounter" came alongside.
His service with the ANMEF was short-lived however, when the stokers on board their ship mutinied, and the Kanowna was ordered to return to Townsville.
He returned to civilian life but 12 months, later he enlisted to serve with the 41st Infantry Battalion, bound for France and the Western Front. His second diary describes his voyage to England.
May 26th Received our first pay in the A.I.F. today. All the good shots are formed into a "Submarine Guard" and are to practice for the remainder of the voyage. The Guard is known as the "Tin Openers". Concerts have been held and a boxing tournament is being started.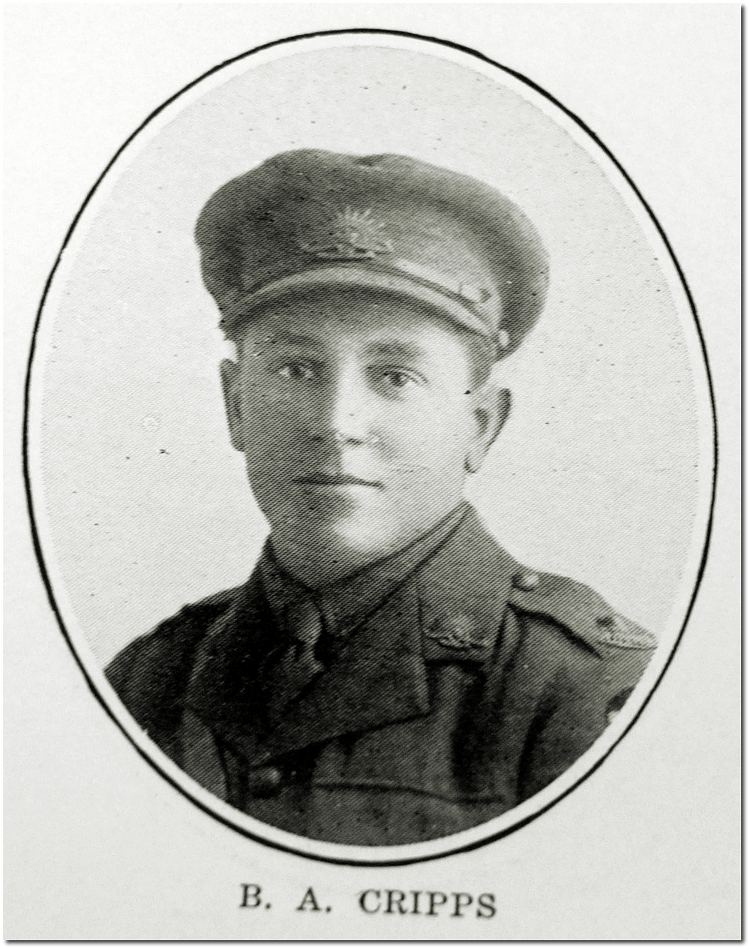 Arriving in France in November 1916 they proceeded to Armentieres and the bloody war on the Western Front. Cripps was promoted to Sergeant in February 1917 and 2nd Lieutenant in August, for his good work.
In October 1917 he was severely wounded by a gun shot to the stomach during operations in Ypres, Belgium. The severity of his wound required evacuation to the 3rd London General Hospital, Wandsworth where he spent two months recovering.
Cripps returned to France in January 1918 and remained with his Battalion until he returned to Australia in 1919, where soon after he married Mabel Quin.
He continued his association with the Armed Forces, remaining on the Reserve List for 20 years, and speaking out for returned servicemen's rights and conditions.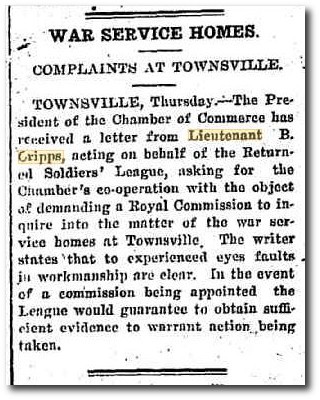 14 Garrison Battalion11 & 29 Infantry Training Battalions
Captain Bernard Allanson Cripps died in 1950, age 56.
Further Reading:
Images:
HMAT Kanowna, Townsville 8 August 1914 - Australian War Memorial
Lieutenant Bernard Cripps - Queenslanders who fought in the Great War, 1914-1918
Comments
Your email address will not be published.
We welcome relevant, respectful comments.