Thomas Henry LEA #242
By Marg Powel & Des Crump | 26 July 2019
Thomas Lea, The Queenslander Pictorial, 1916
Indigenous Australian, Thomas LEA, 12th Machine Gun Company
Henry 'Harry' LEA's story is woven with tales of misleading identity and a strong desire to serve for his country. When Harry first volunteered in September 1915, he enlisted under the name of Henry LEE, born at Dunwich, North Stradbroke Island.
The remarks recorded on his 'attestation papers', describe his appearance as - dark complexion, eyes brown, hair black, also include "half-caste Maori". After several offences of being absent without leave (AWOL) he was recommended for discharge - "services no longer required" in November 1915.
Undeterred Harry re-enlisted in January 1916 as 'Thomas Henry LEA', born in Brisbane and this time he was accepted into the ranks of the 3rd Machine Gun Company, Reinforcements and left Brisbane in April 1916.
Harry arrived in Egypt in May 1916, where the new reinforcements were received at the training depot located at Tel-el-Kebir, and was soon after transferred to the 12th Machine Gun Company. Harry then sailed for France in June and served with his company in the Somme Valley supporting infantry battalions through the early battles on the Western Front.
In October 1916 Harry was admitted to the 12th Australian Field Ambulance suffering from asthma and bronchitis, but was transferred to England where he was admitted to hospital for further treatment. The conditions on the front line had effected Harry's health so severely that he was no longer considered fit for active service. It was recommended that he return to Australia to be medically discharged.
Henry 'Harry' Thomas LEA was born on North Stradbroke Island in 1885, to Tilly Nuggin, of the Undambie Tribe, (Caloundra Glass House Region) and Thomas Lea, a South Sea Islander.
In 1914 Harry had married Ettie Ethel Walsh, a young Aboriginal woman, from Torilla Station, who had been placed in service in 1903, and her three children removed from her care. Ettie's sons also enlisted - Arthur Walsh served with the 4th Machine Gun Battalion from July 1917 - August 1919 and Charles Walsh enlisted in 1918, but was too late to serve overseas.
Harry Lea and Ettie Walsh had several children together: Henrietta May Lee who died in infancy, September 1916; Ethel 'Tilly' Matilda Lea, later Ivey (1918-1984); and Thomas Henry Lea (1921-1997). Harry Lea died in 1946 in Bowen, Ettie Walsh died in 1936.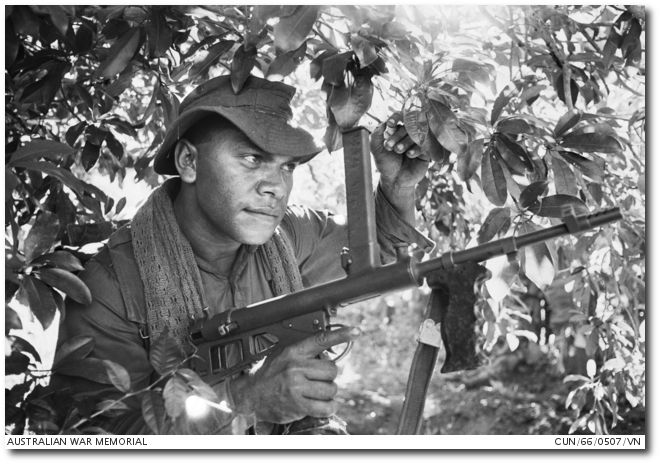 Corporal Thomas Henry Lea, 6RAR, Vietnam, 22 June 1966. (Australian War Memorial, accession CUN/66/0507/VN)
Comments
Your email address will not be published.
We welcome relevant, respectful comments.