Teen Tech Week Success
By Administrator | 13 April 2017
Teen Tech Week is an ALA supported event, which runs annually in the second week of March and encourages teens to 'get connected!' so Redland City Council Library rolled out the tech for a series of activities to celebrate.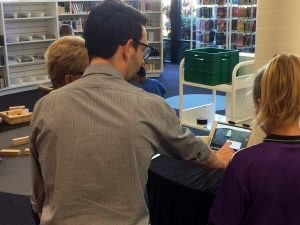 Teen Tech Week at Redland City Council Library
Teen Tech Week at Redland City Council Library
The week kicked off with a visit to the Sycamore School, where students were introduced to Ev3 Lego Mindstorms, Spheros and Arduino. Students rapidly took to the technology, coding robots and building circuits' with the Arduino breadboard.
A week of activities at Capalaba, Cleveland and Victoria Point libraries followed with laptops, robots, tablets and more, showcased each afternoon in our teen areas. The technology was open and accessible to the public and with no set activities, and children were encouraged to experiment and play. Families storyboarded and shot stop motion films while kids raced robots around book-built race tracks. Staff were on hand to field questions and to talk to parents about coding and robotics activities available in libraries.
The week ended with a visit from Victoria Point State High School students who came and conquered a series of programing challenges using Lego Mindstorms. Once complete, the students quickly invented their own engineering trials, building book-climbing robots and manufacturing robotic arms.
Teen Tech Week was fun and a fantastic opportunity to get teens connected to each other and tech!
About the author
Mareea Simmons is a Library Technician at Redland City Council and supports the development and delivery of code and robotics programs.
Comments
Your email address will not be published.
We welcome relevant, respectful comments.