Tech Savvy Seniors – let's do it again this year!
By Administrator | 10 March 2017
This is the second year of the Tech Savvy Seniors program, which is an ongoing partnership between the Queensland Government (through State Library of Queensland) and Telstra, to deliver technology training to seniors through public libraries across Queensland.
The continuation of the program will enable participating libraries to reach more seniors across the state, to increase the digital inclusion of seniors.
In turn this will help reduce social isolation, improve access and knowledge of online government information and services, and prevent online fraud and financial abuse. $250,000 ($150,000 from State Library and $100,000 from Telstra) is available for Council library services to apply for a Tech Savvy Seniors Queensland Grant of up to $15,000 through a grants process. Grants close 31 March 2017.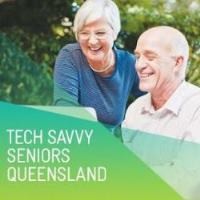 Enabling seniors to become Tech Savvy
Enabling seniors to become Tech Savvy
Comments
Your email address will not be published.
We welcome relevant, respectful comments.