A tale of two writers
By Administrator | 24 November 2017
A large number of radio plays, written pieces and prose were published under the name Maxwell Dunn in the first half of last century. While hailed as a talented writer of note, Maxwell struggled with the fact that creative works written by another were often mistakenly attributed to him (and vice-versa) due to the fact that his name was not his alone.
Two Maxwell Dunns were often confused for one another. For clarity's sake we will refer to one as Max and the other as Maxwell – Maxwell himself was quite particular about the difference. Playwright Richard Lane – a protégé of Maxwell's – tells an anecdote in his book The Golden Age of Australian Radio Drama about Maxwell being very strict about the use of his full name – as opposed to shortening to the familiar Max – it was put down to his rigorous and precise personality but can also be connected to the concern he felt for being confused with Max Dunn who was writing in Melbourne at the time.
Max was an Irish born immigrant but came to Australia via university in America. He said he served in the Royal Flying Corp in World War I and was involved in WWII. He then became a Buddhist in his later life. His full name was Maxwell Walter Dumont Dunn.
Maxwell was an insurance salesman from Launceston who managed to write prolifically while maintaining a career in insurance. He got some air time at the ABC with his play 'There are Three Sisters" and "Light Sinister" and from this came some small acclaim.
Canberra Times (ACT : 1926 - 1995),Monday 14 August 1939, page 2 - Sourced from Trove
Canberra Times (ACT : 1926 - 1995),
Monday 14 August 1939, page 2 - Sourced from Trove
Maxwell continued to write radio plays and after he resigned from his position as an insurance salesman he was employed to write scripts almost for the remainder of his life. Toward the end of his career he was employed by the UN and lived in New York and New Dehli but his work was still largely in radio as a writer.
Max, on the other hand, appeared to live a less stable existence. His role in WWI as he tells it has been met with some scepticism but it is known that he worked as a freelance journalist after moving to Australia. A young man of wealthy birth, he attended two prestigious universities; one in Ireland and then one in America. He moved to Australia after WWI and took up freelance writing because he was not being financially supported. He also worked as a war correspondent during WWII on which he based a few novels.
So how could you confuse these two men when they wrote in such different genres?
Articles such as the following which was published in the Cobram Courier (a Melbourne paper published between 1888 and 1954) go some ways towards answering this question. Here Max is shown to be the winner of an international radio play competition, an accolade that could have just as easily be attributed to his radio counterpart Maxwell.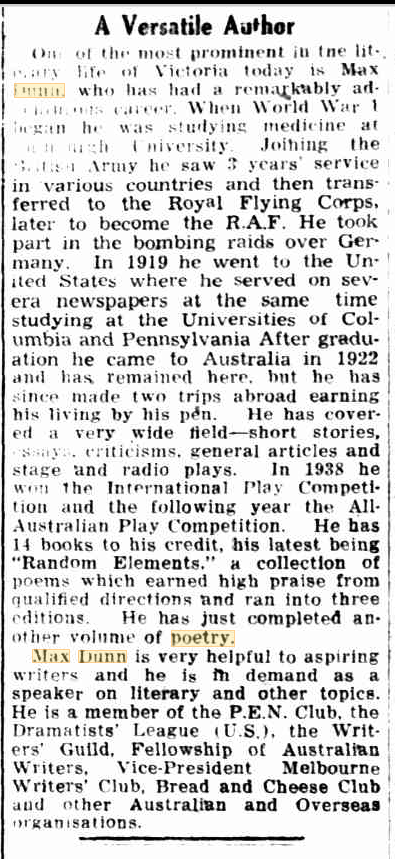 Cobram Courier (Vic. : 1888 - 1954),Friday 29 September 1944, page 4 - Sourced from Trove
Cobram Courier (Vic. : 1888 - 1954),
Friday 29 September 1944, page 4 - Sourced from Trove
Max never achieved the success experienced by his literary doppelgänger Maxwell and was later supported by communities such as the Bread and Cheese Club, the president of which kept an open house on Sundays for undernourished poets. He would go on to become a practitioner and leader in the local Buddhist community.
These men both wrote through times of hardship for themselves and the world. They were clearly very different men on the outside. One adventurous and daring, willing to risk it all, writing when there was nothing else to do but starve and found he had a flare. The other cautious and particular, only making the jump to creative work when he knew there was a solid job in it. But they both wrote, both had success and both reached audiences around the world. They captured a time and those words will live on in our history.
I believe radio is experiencing a second coming with the popularity of podcasts. There are many people who are returning to spoken word formats of information and creative expression. Podcasts are very egalitarian, anyone can make one - you don't have to be employed by the radio station or be a writer pitching an idea to an executive. I wonder who would have felt more at home with the brave new world of radio today, Max or Maxwell?
Leela Wittmer
Librarian, Information Services
Comments
Your email address will not be published.
We welcome relevant, respectful comments.