State Library's biggest holiday program takes off
By Anonymous | 9 March 2020
Visit State Library of Queensland these summer holidays and step into a world of tech, stories and play for children of all ages and their families.
The 2017-18 program, the Library's biggest yet, features classic storytelling, arts and crafts and opportunity to get high tech with workshops in coding, robotics, virtual reality, augmented reality and 360° film-making.
Children can fine-tune their creative writing, create their own picture book and explore free exhibitions and interactive installations.
State Librarian and CEO Vicki McDonald said the program is bursting with family fun and offers a mix of free and paid activities that are designed to get imaginations firing.
"Over summer, we're bringing together children, artists and technology to create the perfect ecosystem for creativity, learning and discovery," she said.
"There are plenty of free activities and costs have been kept down for our fully supervised Story Lab workshops," Ms McDonald said.
PROGAM
STORY LAB WORKSHOPS (BOOKINGS REQUIRED)
18–22 Dec & 8–19 Jan | Ages 8–16 | Bookings slq.qld.gov.au/summerfestival.
The ever popular Story Lab workshops return for Summer Festival, with young people in the captain's seat as explorers on the frontiers of STEAM and creativity, alongside industry professionals as their trusty co-pilots. Workshops will run in VR, app animation, creative writing and more. Workshops are fully supervised, with all equipment and materials supplied. Different age groups and learning styles are catered for by our highly-experienced facilitators. Tickets cost $35–$40 and with capacity strictly limited to maximise learning opportunities, places fill fast.
FREE DROP-IN ACTIVITIES AND SPACES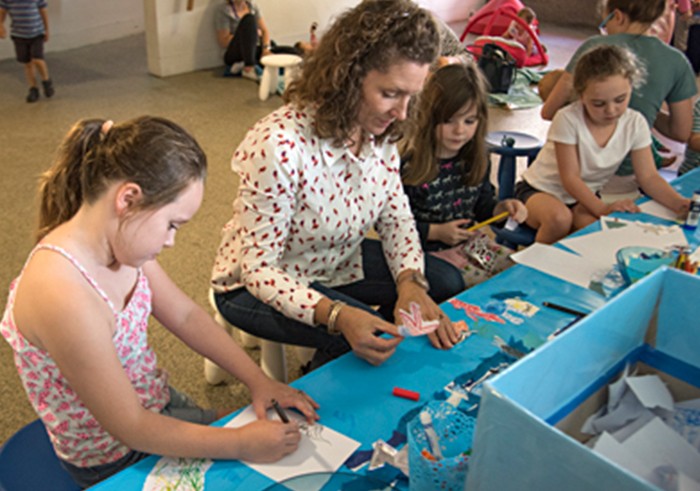 PLAY PUBLISHING HOUSE
18 Dec–21 Jan, 10am–3pm | Knowledge Walk | All ages
Author, illustrate and publish your very own picture book at the Play Publishing House, a hands-on creation station for all ages to enjoy. Learn a simple technique for folding an eight-page book, get crafty with words and collage and use our high tech book reproduction robot to publish a copy for yourself and one for our growing collection.
TECH PLAY POP-UP
18 Dec–21 Jan, 10am–3pm | Knowledge Walk | All ages |Free
Get interactive on the big screen! Drop by the Tech Play Pop-Up to experience technology that gets you moving, thinking, planning, scanning, and most importantly, playing! This interactive space will feature a range of digital installations, events and showcases that constantly change throughout Summer Festival.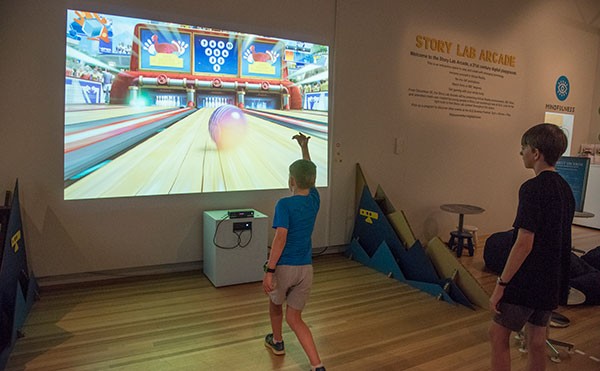 STORY LAB ARCADE
Until 22 Jan, 10am–5pm | SLQ Gallery | Ages 6+
Tech meets play in the Story Lab Arcade, a 21st century playground in the Digital Futures Lab! Step into the Story Lab Arcade, an interactive space to play and create using emerging technologies. Remix animations, watch films in 360° and immerse yourself in virtual worlds. From 30 December, the Story Lab Arcade will showcase Virtual Reality environments, 360° films and animated mash-ups created by young people through the Story Lab workshops.
IMAGINATION PLAYSCAPE & STORYTIME
18 Dec–21 Jan, 10am–3pm | The Parlour | Ages 0-12
The Imagination Playscape is a space for children under 12 and their parents, carers and friends, to design, create and build together. Providing an assortment of objects and loose parts, the Imagination Playscape challenges children and their family with hands-on, minds-on play! Our storytellers will also bring picture books to life during special Storytime sessions, held daily at 10.30am, 12pm and 1.30pm (capacity is limited).
THE CORNER: COLOUR MY WORLD
18 Dec–21 Jan, 10am–3pm | The Corner | Ages 0-8
Come down to The Corner and play your way through our interactive environment carefully prepared for children from birth through to eight years of age. From the high-tech to low-tech and tactile, our current Colour My World theme provides a rainbow of opportunities for children and families to imagine, play and create together.
FREE WORKSHOPS (BOOKINGS REQUIRED)
PHYSICAL FUTURES

Mon 8 & 15 Jan, 10am–12pm (ages 12–14) & 1pm–3pm (ages 15–16)
MAZE VR
9–13 Jan, 3 x sessions daily | Ages 8–12 | 10am, 11.45am, 1.45pm
Design and construct a real world ball maze and then use the Maze VR app to transform it into a virtual reality environment that can be edited, embellished and explored by the whole family. We will provide one mobile device and Google Cardboard set for each booking. Maze VR at-home kits and Google Cardboard are available for purchase from the Library Shop. These workshops are designed for children and parents/carers, with two to five group participants per booking / minimum of one adult.
CUBETTO
With Tech Girls Movement
16–20 Jan, 3 x sessions daily | Ages 5–8 | 11am, 12.30pm, 2pm
Meet Cubetto, a little wooden robot ready to play games and tell your story. In this fun, hands-on tech workshop for families, you can learn the basics of coding through play, without a screen in sight! These workshops are designed for children and parents/carers, with two to five group participants per booking / minimum of one adult.
If leaving your local area is a stretch, join the free Summer Reading Club, delivered nationally through public libraries and Indigenous Knowledge Centres and online at summerreadingclub.org.au until 31 January.
Visit slq.qld.gov.au/summerfestival for more information and to view the full summer holiday program.
Comments
Your email address will not be published.
We welcome relevant, respectful comments.