'Sovereign People: Sovereign Stories' FNAWN National Workshop
By Administrator | 20 September 2018
FNAWN logo designed by Lisa Fuller
FNAWN logo designed by Lisa Fuller
The black&write! team recently attended the highly anticipated Sovereign People: Sovereign Stories national workshop held in Canberra from 23rd to 26th August in conjunction with Canberra Writers Festival. Hosted by the First Nations Australia Writers Network (FNAWN), the peak representative body for First Nations Australia writers, poets and storytellers, the conference featured an incredible line-up of acclaimed authors and creatives including Kim Scott, Melissa Lucashenko, Jackie Huggins, Jim Everett, Ellen van Neerven, Dub Leffler and Luke Pearson. Astute guests were also treated to a surprise appearance by the adorable conference possum-in-residence!
Over the three days, presenters shared their understandings on First Nations writing through stimulating presentations, panel discussions and workshops. As the title of the conference suggests, the theme of sovereignty was interwoven throughout the various sessions. Melissa Lucashenko's keynote address Writing and storytelling as a sovereign act unpacked the power of definitions and false stories, delivering an empowering reminder to all First Nations people that sovereignty is not something to be given, but rather, claimed.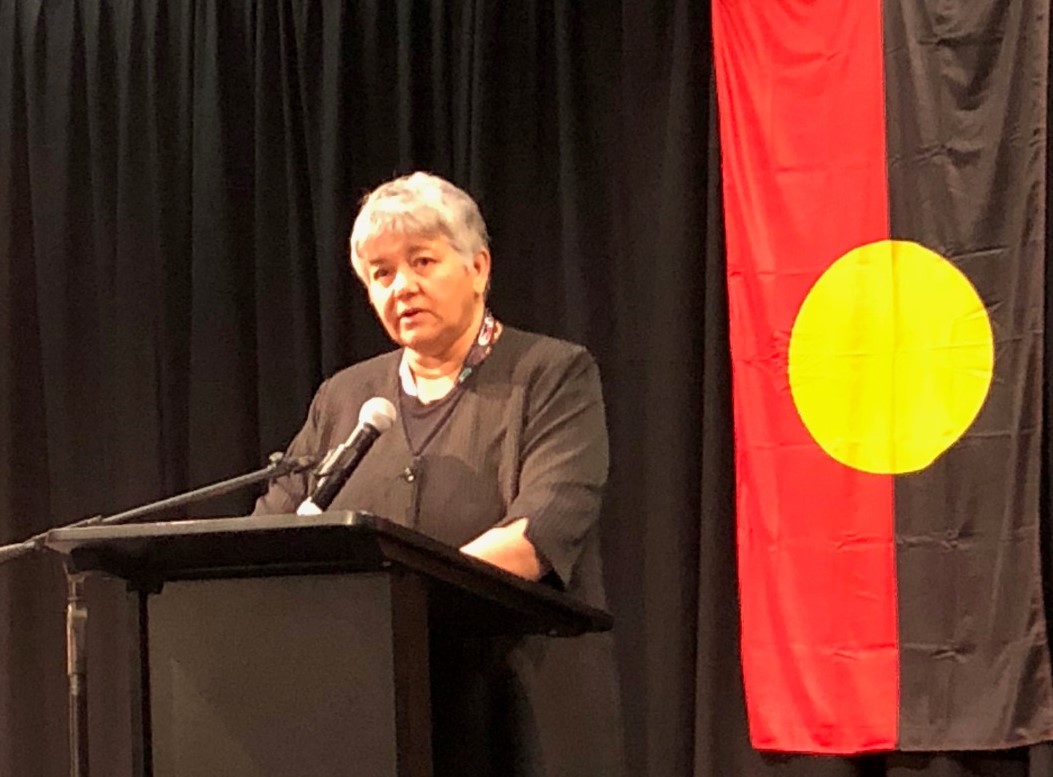 Melissa Lucashenko delivers her keynote address Writing and storytelling as a sovereign act
Melissa Lucashenko delivers her keynote address Writing and storytelling as a sovereign act
The keynote conversation between Jackie Huggins and Jim Everett also gave listeners much food for thought, particularly their discussion on the important relationship between language and positioning. Jim's fantastic exploration of how Australian and Aboriginal citizenship has been worded throughout history demonstrated the power language has in shaping how we see the world and ourselves.
A key event for black&write! was attending the Publishing Industry and Literary Sector Roundtable, which set out to tackle the big question, "What are we doing and what can we do better working with First Nations Australia Writers?". As the black&write! Junior Editor (and one of the newest faces in the room), it was a privilege to sit among so many committed industry members to discuss the serious challenges and aspirations for First Nations writing. Although there is plenty of work to be done in this space, there was a lot of goodwill for black&write! and the work the project has done for First Nations writers.
While the conference presented writers with wonderful resources and ideas, a large part of the event's success was that it brought First Nations writers from across the country together into one room. There was a strong sense of comradery and warmth, as overdue reunions took place and fresh introductions were exchanged. Moving tributes to First Nations writers helped set the tone each morning, reminding us all of the significant contributions past writers and teachers such as David Unaipon, Oodgeroo Noonuccal, Kevin Gilbert and Ruby Langford-Ginibi have made to this country. To read the full biographies and tributes for these (and many more) First Nations writers visit the FNAWN Honour Roll.
Tributes were also paid to celebrate and acknowledge outgoing FNAWN Chairperson, Aunty Kerry Reed-Gilbert. Aunty Kerry has been a long-time advocate for First Nations writers, offering unwavering support, encouragement and inspiration. The heartfelt praise and gratitude expressed by so many attendees highlighted how important Aunty Kerry and FNAWN have been in maintaining connections for First Nations writers. The conference may have now ended but I can still feel a buzz in the air from those three days - thank you to all the organisers for delivering such an inspiring and empowering conference!
Writing as collaboration panel with Cathy Craigie, Phillip Hall, Samantha Faulkner and Charmaine Papertalk Green
Comments
Your email address will not be published.
We welcome relevant, respectful comments.