Soldier Doctor Percy Earnshaw
By Marg Powell, Specialist Library Technician, Metadata Services | 24 February 2017
Captain Percy Earnshaw, Australian Army Medical Corps (AAMC)
Percy Earnshaw, the eldest son of a school master, attended some of Queensland's best - Southport School, Maryborough & Brisbane Grammars, before studying medicine at Sydney University. He enlisted in the First A.I.F. in May 1917 and left Brisbane late July for England via the Panama Canal.
His brief, but no less valuable typescript diary is held at the State Library of Queensland and details his journey to England and his service with the Australian Army Medical Corps in France and Belgium.
Dr Earnshaw in the year of his retirement, 1961. Courtesy of Mater Hospital Archives, Brisbane.
Earnshaw saw service with Infantry Battalions fighting in the Western Front and was also attached to several Field Ambulances, which followed the main operations of the war in 1917 & 1918. Earnshaw was with the 55th Infantry Battalion, at Wytschaete Ridge, in March 1918 when a gas shell burst nearby. He was badly affected and initially taken for treatment at a Casualty Clearance Station.
Unable to open his eyes and with severe burns, he was taken by stretcher to wait for a Hospital Train and admitted to the 5th British Red Cross Hospital, at Wimereux, privately funded by Lady Hadfield. His extremely painful condition was treated by the dedicated staff, day and night, and after his health stabilised was evacuated to the 3rd London General Hospital (Wandsworth) in England. Here he was regularly visited by many relatives who lived in London.
After 3 weeks he was able to get out bed for the first time, and after four weeks he was put before a Medical Board for assessment.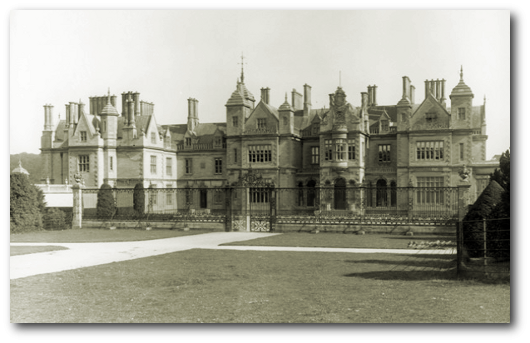 It was decided that he be granted convalescent leave, two weeks with the Verdon family of Llanerchydol Hall, Wales and a further two weeks with the Turnor family at Stoke Rochford Hall, South Lincolnshire.
It was at this time that his young brother Wilfred Eric Earnshaw enlisted and served with the Dental Corps in England for the remainder of the war, returning home in January 1919.
Percy Earnshaw returned to duty in July 1918, staying in Europe until April 1919. His entry for 2 October 1918 reads:
"Awakened by tent coming down on us - watched shelling of railway - shell dropped among transport of another ambulance killing horses and men. I moved with cars to an area between Roisil and Epetry - camped in a ditch."
In 1920 he applied for and was accepted into Great Ormond Street Hospital for Sick Children where he remained until 1921, resigning his commission with the Australian Army Medical Corps.
While in England he met and married nurse Marian Blandford, they returned to Brisbane where he became a pioneer of paediatrics in Queensland.
Further Reading ...
Marg Powell, Specialist Library Technician, State Library of Queensland
Comments
Your email address will not be published.
We welcome relevant, respectful comments.