SLQ wins the Gallery and Museum Achievement Award for "Peace and Quiet"
By Administrator | 23 November 2016
State Library's Signature Program team are celebrating their win at last night's 2016 Gallery and Museum Achievement Awards (GAMAA). The team were recognised for their work on last year's Peace and Quiet exhibition in the award category of Engagement (Organisations with Paid Staff).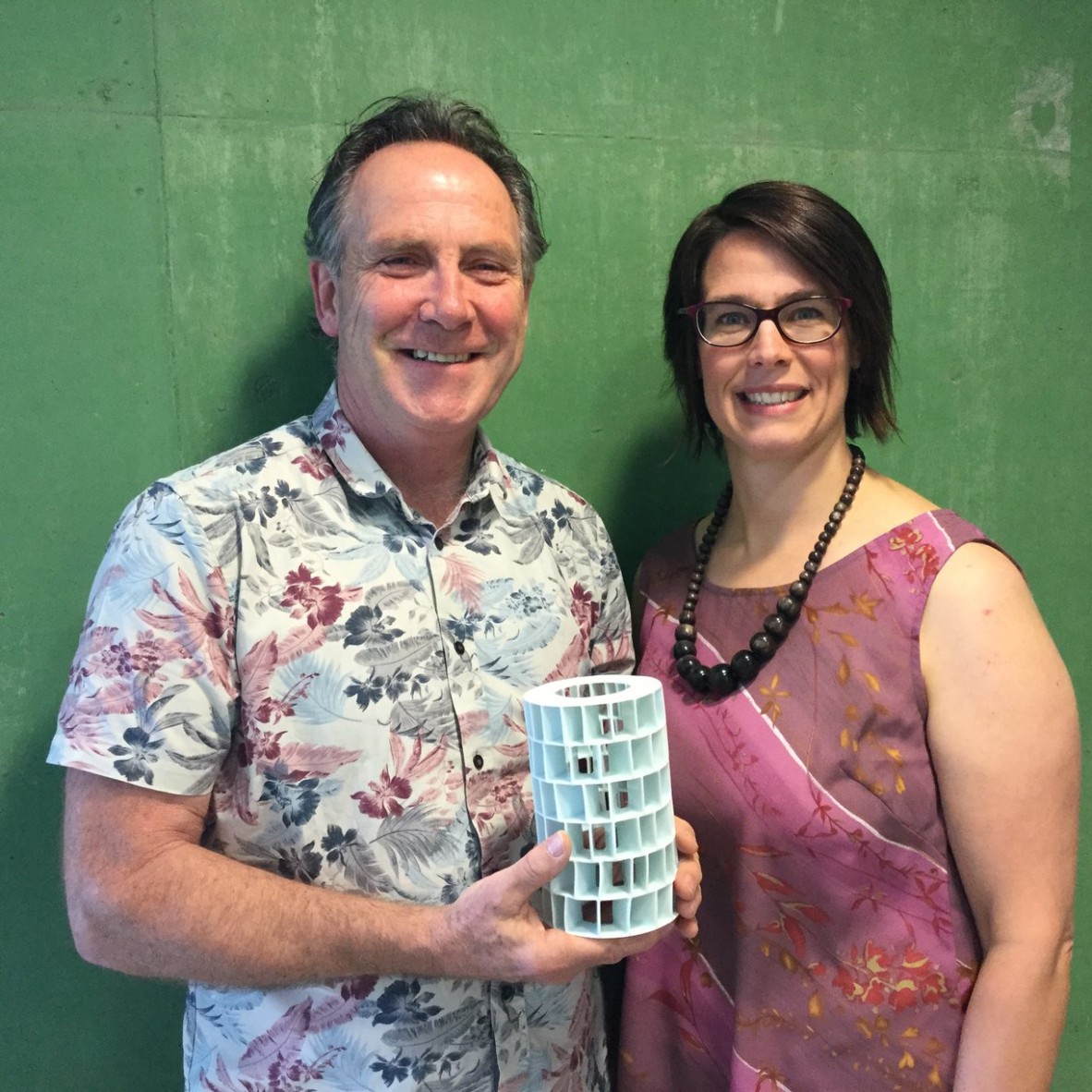 Curator Kevin Wilson and Support Officer Anne Pensalfini with the GAMAA trophy
Curator Kevin Wilson and Support Officer Anne Pensalfini with the GAMAA trophy
Peace and Quiet was a major exhibition that took place in the SLQ Gallery on level 2 from November 28, 2015 - February 14, 2016. Peace and Quiet was the first manifestation of State Library of Queensland's commitment to build a new community engagement model for a major exhibition, whereby the community directly provided content for the exhibition space. The Peace and Quiet exhibition was a total engagement model – developing works with the community, providing a more accessible portal for others to contribute existing work and allowing the community to provide loan items.
To build links to new audiences, particularly those who were disadvantaged and outside the main catchment of inner Brisbane, exhibition curator Kevin Wilson invited community engagement artists Elizabeth Woods and Kevin Leong to co-curate the exhibition. Both already had strong community contacts in the community developed during a project in Logan and were also politically involved in the peace movement.
Nearly 300 individuals participated by sending a painting or photograph of a peaceful scenes to neutralise the immersive World War I scenes from the outgoing Distant Lines exhibition. They set the scene for the 12 white national flags, hand-sewn as gestures of peace by eight refugee groups, the Queensland Russian community, the South-Eastern division of the Country Womens' Association and the indigenous community elders from Logan City.
The project engaged specifically with the following community organizations:
Kingston East Neighbourhood Group
ACCESS, Slack's Creek
MDA, Wollongabba
Queensland Chapter of the Veterans' Motorcycle Club
Just Peace
Women's International League for Peace and Freedom
Quakers for Peace
Individuals: Graham Dunstan, Ciaron O'Reilly, the late Bryan Law, David Bradbury
Peace and Quiet
The GAMAA are presented by Museums & Galleries Queensland to honour the achievements of individuals and organisations in striving towards excellence. The awards are open to all Queensland public/non-commercial* museums, galleries, historical societies, keeping places and other related cultural organisations and the individuals who work in them.
SLQ Gallery during Peace and Quiet
Comments
Your email address will not be published.
We welcome relevant, respectful comments.