Sister Florence soldier settler
By JOL Admin | 29 June 2018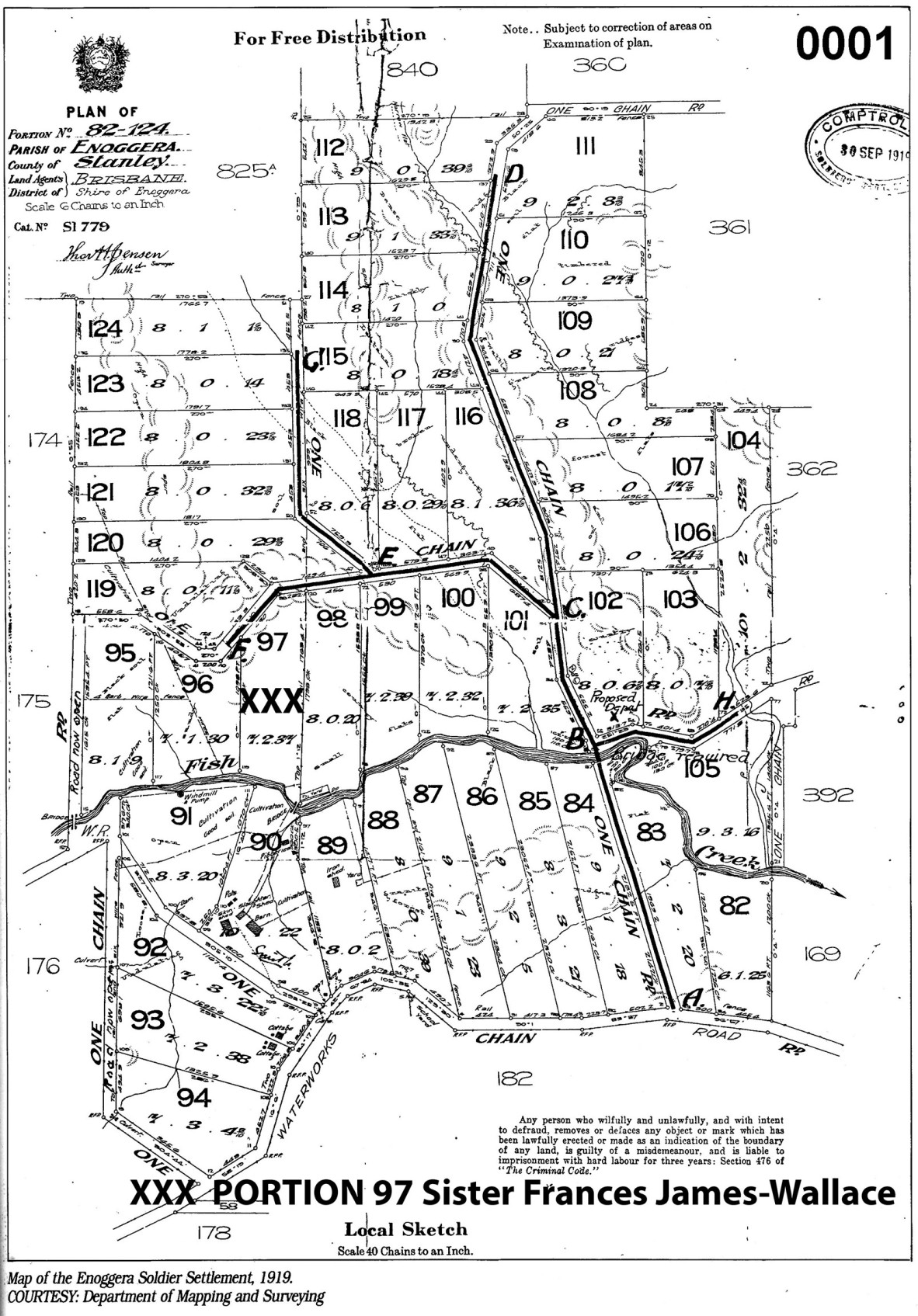 Guest Blogger: Ann Hilder, Gap Pioneer and History Group
In September 1919 Sister Florence Elizabeth James-Wallace was allotted Portion 97 of the Waterworks Road Soldier Settlement in the Parish of Enoggera. 42 blocks were made available for settlement by soldiers and one nursing sister after World War 1.
Portion 97 remained in Sister James-Wallace's name for some time before being transferred to George A. Bayne and later to Gertrude Lily Missenden in 1923. The block ran from today's Kaloma Road to Fish Creek and was on the city side of the Hilder Road State School.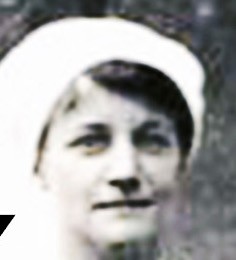 Sister Florence Elizabeth James-Wallace
Sister Florence Elizabeth James-Wallace
Florence Elizabeth James-Wallace was born in 1886 at "Killarney Station" and was the fifth child of John Thornhill James-Wallace and Marie Bernard. She trained as a nurse in Brisbane and gained her Nursing Certificate in 1910. Following service in Wellington (New Zealand) and Longreach (Queensland), aged 29 Florence joined the Australian Army Nursing Service, Unit 3, Australian General Hospital on the 26th April when she signed up with the Australian Army Nursing Service (AANS) in Brisbane. She was five feet one and quarter inches tall, with a dark complexion, brown hair and hazel eyes.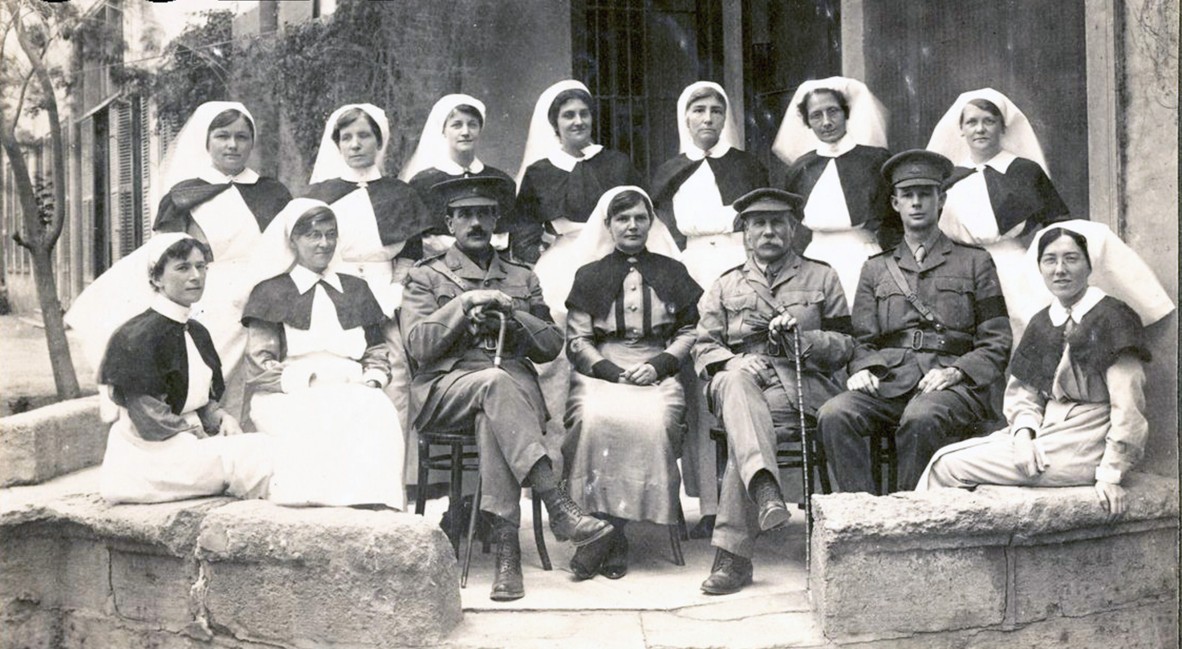 Queenslanders of No 3 A.G.H. 30 June 1915 with Florence in back row
Queenslanders of No 3 A.G.H. 30 June 1915 with Florence in back row
Florence sailed from Sydney on the "Mooltan" on the 15th May 1915, with 3 AGH and Matron Grace Wilson also from Brisbane. They arrived in England on the 27th June, expecting to be posted to France. Also on the ship was Albert Savage, a photographer who had been deemed unfit for active duty due to poor eyesight.
However, the French posting was cancelled and the 3AGH sailed on the hospital ship "Dunluce Castle" to Mudros on the Greek Island of Lemnos to nurse the sick and injured troops fighting in the Gallipoli campaign.
During five months of hardship on Lemnos, Sister James-Wallace spent her wages purchasing over 116 photos from Private James Savage. In her album, all the photos were titled in white ink, possibly by James Savage.
The last Australians were evacuated from Gallipoli on the night of 19/20 December 1915 and many spent Christmas on Lemnos while waiting for further orders. With the end of the Gallipoli campaign, the hospitals on Lemnos were disbanded.
Florence James-Wallace and her fellow nurses boarded the hospital ship "Oxfordshire" on the 14th January 1916 and sailed out of the harbor at Mudros on 17th January, bound for Egypt.
Sister Florence was at the 3rd Australian General Hospital at Abbeville, France until August 1918 before returning to England to the lst Australian Auxiliary Hospital at Harefield on the 30th August 1918.
She returned to Australia on the "HT Delta" on the 23rd January 1919, disembarked in Melbourne in March 1919 and was discharged on the 23rd May 1919. She received the 1914-15 Star, British War Medal and Victory Medal.
On her return to Australia in 1919, Florence first lived at Wynnum with her sister and mother. Due to her rheumatism and arthritis, brought on by cold damp conditions on Lemnos and in the winters of 1917 and 1918 in France, Florence could not return to full time nursing. She concentrated on regaining her health and nursed privately on a part time basis.
Sister Florence's settler block with house.
Sister Florence's settler block with house.
After her time in the Soldiers Settlement at The Gap, she later accepted the post of matron at an Auckland hospital. In 1927 Florence Elizabeth James-Wallace married Harry Oswald Mellsop in Auckland.
Florence Mellsop travelled from New Zealand to visit her family in Queensland several times. On her final visit she brought her photo albums and left them with her Australian family. The first album composed small blurred photos taken by her in Egypt and the second held photos taken by Private James Savage with titles in white ink under them. These images are available at Fryer Library, University of Queensland.
Apart from the normal war medals, marking her years of service, Sister Florence Elizabeth James-Wallace received no special recognition for her courage when bombed and shelled near the front line.
Read more …
Niles Elvery, Senior Project Officer, Q ANZAC 100, State Library of Queensland.
Comments
Your email address will not be published.
We welcome relevant, respectful comments.