Siganto Foundation Artists' Books Workshop and Masterclass
By Administrator | 22 April 2016
Guy Begbie and Christene Drewe
Participants at the beginner's workshop
Participants at the beginner's workshop
On Monday, the first of a series of workshops, with internationally established book artist, designer and bookbinder, "Guy Begbie" took place.
Guy from the UK brought a wealth of knowledge and experience, which he has shared with us over the last five days, whilst delivering his beginner's workshop and masterclass, to an enthusiastic audience. The attendees at the beginner's workshop learned a number of book making methods and techniques, while constructing pages for pamphlet, concertina and flat cased books. Guy demonstrated hand stitching techniques as well as a simple method of securing the thread in the needle.
Guy Begbie
The two day beginner's class passed very quickly and the experience was most enjoyable to all that took part. Their enthusiasm was infectious and the products they produced were delightful. Each participant took away knowledge and three professionally finished books.
The beginner's workshop ended on a high, with a surprise white gloves tour of selected artists' books presented by Christene Drewe, Australian Library of Art, Librarian.
The following day, Christene opened the three day masterclass, with an overview of the artist's books on display before introducing, once again "Guy Begbie" for the second phase in the series of "Siganto Foundation Workshops".
Guy demonstrated techniques and encouraged discussion, as the participants of the masterclass, investigated and made non-linear narratives, as well as sculptural/architectural free standing book structures as platforms for display.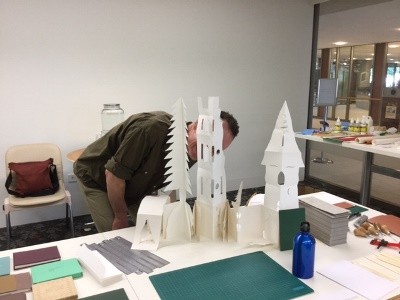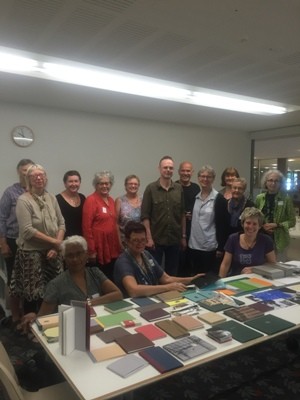 Masterclass participants
Our thanks go to the Siganto Foundation, for their support which has made these programs possible and to Guy Begbie, for a very practical and informative week.
For more information about the work of "Guy Begbie" click on the link.
To search for artists' books in the collection use Onesearch and enter the term 'ALAAB', alternatively, a search for 'artists' books' will return references to artists' books as well as books about artists' books. A selected number of artists' books from the collection have been digitised
To keep up-to-date with events, exhibitions and what the Australian Library of Art staff have been doing please visit our blog. /blog/ala/
Janette Garrad, Senior Published Content Technician, State Library of Queensland.
Comments
Your email address will not be published.
We welcome relevant, respectful comments.