Sharing Stories of Service: Curtis McGrath OAM, From the military to the sporting arena
By Pauline Gordon, Visitor Services Assistant, Anzac Square Memorial Galleries | 23 March 2022
Curtis McGrath OAM, was born in New Zealand and grew up spending a very active outdoors childhood in both New Zealand and Australia. When he was just 18 years old, he enlisted in the Australian Army. His immediate focus was on becoming a combat engineer. This role involves a diverse range of duties including building structures for both the military and local populations and the clearing of land mines and booby traps.
In 2012, Curtis was deployed to the Urozgan Province, Afghanistan, with the 6th Engineer Support Regiment. Three months into a six month deployment, he was severely injured when an improvised explosive device detonated beneath him. His troop had been tasked with clearing an access road of a large boulder. The explosion occurred when he was walking over what he thought was previously searched and cleared ground. He lost his right leg at the knee and his left leg below the knee. He also suffered broken bones in his left hand and wrist, perforated eardrums and numerous burns and lacerations.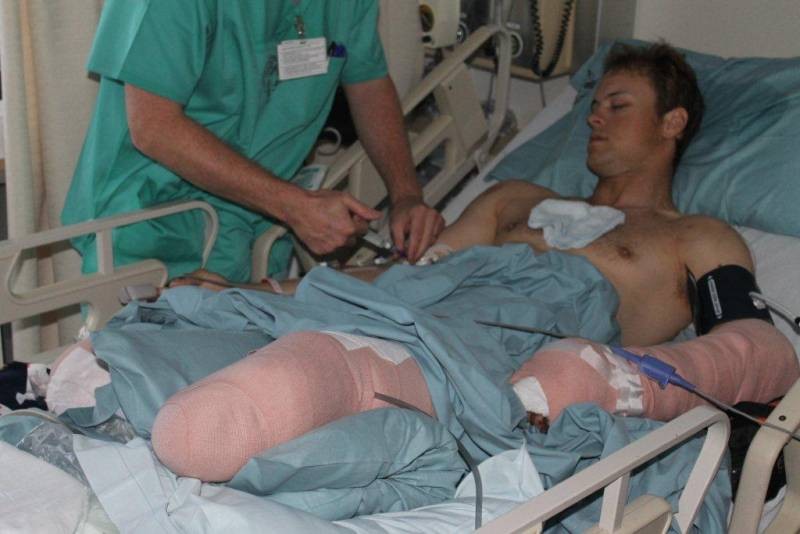 Curtis McGrath recovering at the hospital.
In the terrifying and confusing moments that followed Curtis drew on his combat first aid training, asking his fellow soldiers to apply tourniquets to stem the flow of blood and administer morphine for the pain. His comrades then carried him back to base to wait for a helicopter to airlift him to hospital for life saving surgeries.
Fully understanding the situation he was finding himself in, Curtis joked with his rescuers that they would see him in the Paralympics one day and after rehabilitation he set his mind to making that a reality. Three months into his recovery, Curtis managed to be upstanding on prosthetic legs for the welcome home of the rest of the troops he served with.
Curtis McGrath welcome home.
This was a very important moment for him. One year after the injuries that would dramatically change his life, Curtis participated in a 1000 km paddle from Sydney to Brisbane with his father, Paul, to raise funds for the veterans' charity, Mates4Mates. This charity supports those impacted by their service in the Australian military. It focuses on changing the lives of current and ex-serving Australian Defence Force members and their families.
Swimming and canoeing formed part of his rehabilitation and later became his elite sporting focus. He won 3 gold medals for swimming events at the United States Marine Games in San Diego. Since then Curtis has participated in and won Paracanoe events in World Cups and World championships from 2014 onwards.
The pinnacle of most sports is competing at the Olympic level. Curtis had his Paralympic debut in Rio De Janeiro, Brazil in 2016. Here he won a gold in the 200m KL2 Paracanoe event.
Curtis McGrath wins the gold medal at Rio 2016.
He has since backed that up with two gold medals at the Tokyo 2020 Paralympic Games that were postponed and held in 2021. His success was in both the 200m KL2 and the 200m VL3 categories.
Rest is also a very important part of elite sport training program. Curtis is taking this year to rest, recuperate and prepare for his training for the 2024 Paralympics.
Curtis McGrath's digital story can be viewed on the interactive screens in Anzac Square Memorial Galleries in Brisbane.
This year we will be featuring 15 stories of service personnel from WWI to present. We encourage you to share your stories of service with us. To learn more about this campaign and how you can contribute, visit our website.
Additional resource:
Comments
Your email address will not be published.
We welcome relevant, respectful comments.