Setting up a Makerspace – Part 2
By Administrator | 30 August 2018
Noosa Library Service has a new Makerspace. In this three part series Tracey King (Literacy and Learning Coordinator, Noosa Library Service) shares her insights and learnings from making it happen:
A gathering space for Makers
A gathering space for Makers
So how do we do this? It was all new to us! What technology should we buy? Does anyone know how to use it? For anyone else wanting to create a new makerspace in their library, I would like to share some of our learnings with you.



Find out who your community is, if they will use it and how they can help! There is not much point creating a makerspace if there isn't anyone who would use it. The research phase of this project involved a lot of reading and networking to find out who was in our community and what they wanted. To develop such an innovative space, with emerging technology that we had limited knowledge of, also required the support and expertise of local professionals. The Library Digital team took every opportunity to attend local innovator and entrepreneurial events. Through these events, we became connected with a wide range of organisations and individuals who were passionate about VR and 3D printing and the practical applications they have, which could provide numerous social and economic benefits to the area. These connections have become invaluable in moving forward with the set up and operation of the space. These connections helped us:




Build our own VR Vive PC System


Determine what type of 3D printers we should purchase


Include additional tech such as sewing machines and an overlocker


Develop ideas of content and lesson plans


Develop a new policy and guideline









Create a meeting place – Makerspaces provide a space where people can gather and chat to like-minded people. This "chatting" is important as these conversations assist makers to help each other come up with solutions to solve problems. Pulling out a box with the 3D printer in it for a lesson and putting it back again isn't going to cut it if you want your makerspace to be successful. It is important to have areas designated for making (building robotics, cleaning print jobs), learning (PCs, relevant software, projector) and socialising (comfy chairs and tables) Apart from our work benches, we chose to have the furniture in our space on wheels so that we could move around pieces of technology when needed.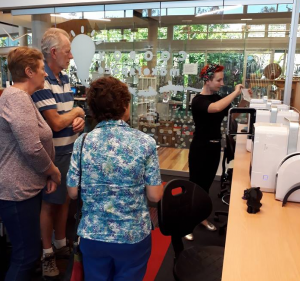 Security and staffing –The ethos of a makerspaceis to provide a shared and user-driven space. To meet this goal, our aim was to provide a secure space which Makerspace Members could independently access and use, without draining our human resources. After lengthy conversations about this, we decided it would be more cost-effective in the long run to fund security for the room, rather than on-going staffing. All members, who after completing an induction and paid relevant fees are given their own security card to gain independent access. This keeps the space secure, encourages user-driven engagement and limits the need for staff to be present.


Choose the right equipment – At the start of this program we envisaged that the Makerspace would focus only on 3D printers and Virtual Reality. However as we started creating the space, our community were making it quite clear that sewing needed to be part of it. So we blended the traditional with the emerging technology and we now have 4 sewing machines and an overlocker as part of the space. Our sewing workshops, which include monthly mending lessons, how to make beginner re-usable bags and how to create cushion covers are just as popular (or more) than our emerging technology workshops.


Develop policies and guidelines – Don't reinvent the wheel! Visit The Edge at SLQ, local universities and schools who have created makerspaces. Ask for their resources to help you create your own guidelines. Everyone is so happy to help! We put our Policy and Guideline on our library website so there was a one stop shop of information for both staff and customers.


Create programs to activate the space - Although we initially aimed at only creating the space in the first year of the project, as we neared the launch date we realised that to attract people to the space, we needed to activate the space. The advice from staff at The Edge was that user-driven learning and independent use takes time and the library needed to provide platforms in order to activate the space and drive momentum towards building a maker community. Due to this, we firstly transferred any existing relevant programs into the space. Ie. Robotics Club; Tech Savvy Seniors. We then worked towards developing a new suite of digital-literacy programs centred on the key pieces of technology in the space. We were successful in gaining other external STEM-related grant opportunities that could fund local professionals to deliver these workshops and rostered library staff to assist these professionals so they were also given a PD opportunity.


About the Author:
Tracey King is the Literacy and Learning Coordinator for Noosa Library Service. Tracey is passionate about creating strong local partnerships and programs that facilitate learning and creative communities. Tracey has over 20 years' experience in the library industry and has led the creation and development of the Cooroy Makerspace.
Comments
Your email address will not be published.
We welcome relevant, respectful comments.