Setting up a Makerspace – Part 1
By Administrator | 29 August 2018
Noosa Library Service has a new Makerspace. In this three part series Tracey King (Literacy and Learning Coordinator, Noosa Library Service) shares her insights and learnings from making it happen.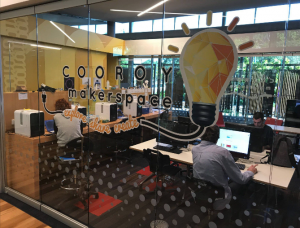 Transformed room – new Cooroy Makerspace
Transformed room – new Cooroy Makerspace
So we've all heard the hype about these so called "Makerspaces" and the value they propose to bring to our library customers. What is a Makerspace though and does it really provide benefits for our public library service or our customers? With the help of the State Library of Queensland's 2017 Public Library Strategic Priorities Grant, Noosa Library Service was determined to find out and we have not been disappointed!
The creation of the Cooroy Makerspace aimed to repurpose a traditional technology training room located in the Cooroy Library into an open access community makerspace, where people could gather to create, invent, tinker, explore and discover, using a variety of tools with a digital focus. We wanted our makerspace to host a combination of open source hardware that included robotics, 3D printers, an interactive smart table and a virtual reality system. We also hoped the space would have inclusive and welcoming areas for making, learning and socialising and that it would be user-driven and independent access would be encouraged. (Not much to want surely?!
Our initial intention was that the project's first year would focus on design, fit-out, equipment and development of relevant policies/procedures. However, not only were we able to create the space, a new suite of digital-literacy programs which include 3D design and printing lessons, Virtual Reality experiences and sewing workshops have also been developed and delivered since the opening. A maker-community where people are wanting to gather together to create, invent and tinker has already started to evolve through these programs. We also now have over 30 active and engaged makerspace members independently using the makerspace.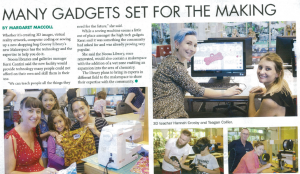 Local newspaper article promotes Cooroy Makerspace
Local newspaper article promotes Cooroy Makerspace
Types of Programs we deliver in our Makespace include:



Tinker Tales – STEAM workshops for under 5 years of age


Robotics Club – monthly robotics club for 8+ years


Tech Savvy Seniors – technology tutorials for seniors


Beginner 3D printing workshops – make your own charm, luggage tag, jewellery and demonstrations


Beginner VR interactive workshops – showcasing a variety of VR apps


Beginner Sewing workshops – monthly mending, make a re-usable bag and make your own cushion cover


Weekly See the Space afternoon – for staff and customers


Maker in Residence for the first month of opening (and on-going support)– via RADF funding


Intensive 3D Design and Printing Course (4 day course) – via Engaging Science funding


Science Week programs – via National Science Week funding


So what are the benefits


Library memberships and visitations have increased.


We have attracted a diverse array of new audiences who may have never have thought to use a library – artists, designers, hobbyists, techies, crafters, inventors, health care and support workers.


We have provided free access to emerging technologies to our community, which are often too expensive for individuals to purchase.


We have improved the digital-literacy skills of both staff and customers. This project has been a catalyst for staff to learn these new technologies. (I can even design and print a 3D object now!)


We have created a new, contemporary model of library service delivery which is community inspired and community driven.


We have strengthened collaborations with two Universities who will partner with us in delivering programs in the space. We have also worked with local commercial start-up businesses and digital entrepreneurs who either want to use the technology or have involved us as partners in their own projects.


We have created local employment opportunities by hiring local 3D artists, sculptors, computer scientists and seamstresses to deliver workshops and help train staff.


We have transformed Noosa Library Service into a digitally-creative community hub. While retaining our core role as information providers within society, our library service is now viewed as a place that provides exposure to new digital technologies.


About the Author:
Tracey King is the Literacy and Learning Coordinator for Noosa Library Service. Tracey is passionate about creating strong local partnerships and programs that facilitate learning and creative communities. Tracey has over 20 years' experience in the library industry and has led the creation and development of the Cooroy Makerspace.
Comments
Your email address will not be published.
We welcome relevant, respectful comments.