Sergeant William Henry Cooling of the 26th Battalion
By JOL Admin | 8 August 2016
Guest Blogger: Ian Lang, Researcher Sherwood Presbyterian Roll of Honour
Sergeant William Henry Cooling. Source: Australian War Memorial, Image No. P09440.001
Sergeant William Henry Cooling. Source: Australian War Memorial, Image No. P09440.001
William Cooling (regimental no. 254) was born in December 1894, being the only son of Henry Augustus Blagrove Cooling and Ellen Gertrude nee Howes of Oxley, Brisbane. His father, who died suddenly in 1908, was a clerk of the Supreme Court. William was a teacher at the Fortitude Valley State School at the time of his enlistment on 7 May 1915, and it is reasonable to assume that his salary supported both his widowed mother, and his younger sister, Ida. On Arbor Day 1916 a tulip wood tree was planted in the Fortitude Valley school grounds in his memory (The Telegraph, 8 May 1916, p.2).
Prior to his enlistment William was a member of the 9th Infantry Battalion, Oxley Regiment, of the Citizen Military Forces, where he had received a commission as a lieutenant. However as he was too young to go to the front lines with this rank, being under the age of 21, he patriotically resigned his commission and reverted to being a private. He was subsequently promoted to the rank of sergeant of A Company, 26th Battalion, within a fortnight of enlisting (Brisbane Courier, 16 November 1915, p.7). After just one month's training at Enoggera Camp, the 26th Battalion sailed on H.M.A.T. "Ascanius" bound for Melbourne and ultimately Egypt.
H.M.A.T. Ascanius. Source: John Oxley Library, Negative No. 128466.
H.M.A.T. Ascanius. Source: John Oxley Library, Negative No. 128466.
The 26th Battalion was one of two Queensland Battalions raised at Enoggera in early 1915 as part of the newly created 2nd Division AIF. The 26th was comprised of mainly Queenslanders and Tasmanians, whilst its sister battalion, the 25th was almost exclusively Queenslanders. The 2nd Division was destined for Gallipoli, where they would relieve the 1st Division who had been holding the ridges since April 1915.
After the failed August offensives at Suvla Bay and The Nek, and the heroic battle of Lone Pine, the ANZAC front settled into a quiet stalemate. When the 26th arrived at ANZAC on 12 September, they performed a mainly defensive role at Courtney's Post and Steele's Post.
Australian troops at Steele's Post, Gallipoli, 1915. Source: Australian War Memorial, Image Id: P01480.007.
Australian troops at Steele's Post, Gallipoli, 1915. Source: Australian War Memorial, Image Id: P01480.007.
On 22 October, just over a month after his arrival at Gallipoli, William Cooling was admitted to a Field Ambulance station with serious shrapnel wounds to the abdomen. After being transferred to a Casualty Clearing Station he died that same day. William was buried in a cemetery near the Casualty Clearing Station with Army Chaplain, George Green, conducting the ceremony. His religion was given as Methodist.
After his death the following letter, written by William to his mother, was printed in the Brisbane Courier, 24 November 1915, in which he describes life at Gallipoli in great detail. An extract is below:
Our dugouts are in the side of a hill. Each two or three men do their own cooking and we are having the time of our lives...So far we have had two men killed and one wounded by stray bullets. We get very good food including bread two or three times a week; jam, fresh meat, about twice a week; bacon every day; rice, prunes or raisons now and again; biscuits every day - large hard ones - tea, sugar, tinned milk...so you see we don't fare too badly...Three days ago the Turks sent a jam tin into our trenches with this message on it: "If you are not off the Peninsula in three days we will blow you off". The three days are up and we are still here and likely to stay".
In a letter of condolence to Mrs Cooling, which was published in the Telegraph, 24 December 1915, Lieutenant Colonel G.A. Ferguson, commanding officer of the 26th Battalion, provides a full account of William's death and comforts the grieving mother that her son was thinking of her at the last:
The next morning I went round with his company commanding officer, and saw him . He was weak and low, and spoke to me, and said 'Don't let mother know I have been wounded in the stomach'. His thoughts evidently were about you all this time. He was also hit in the arm. He was too weak to say much.
As was the usual practice, William's mother, as next of kin, was informed that her son had died of wounds. Unfortunately a clerical error incorrectly listed his death as occurring on 22 September, not 22 October. This error was to cause his mother great anguish, as soon after being informed of his death, she received a letter from her son dated 17 October, some three weeks after his supposed death.
William's mother was granted a military pension of £26 per year. His army file contains a number of letters from his mother seeking clarification on his date of death and she even sent the letter of 17 October as proof that the date of 22 September must have been incorrect. This matter, she wrote needed to be cleared up so that a death certificate could be issued and Williams' life insurance and his bank account could be transferred to her. She was obviously very dependent on this money to support herself and her daughter, Ida. Ellen had been named the sole beneficiary of William's Last Will and Testament, with the prophetic heading "in the event of my death." During this long correspondence Ellen and Ida Cooling continued to reside at "Oxley, near Brisbane." In the middle of 1916, Ellen received two parcels containing the personal effects of her late son: a comforter, letters, wallet, photograph, watch, belt and three coins.
At the end of the war, the Australian Government, placed advertisements in all newspapers calling for the next of kin of deceased servicemen to contact the armed forces so that medals could be issued. William's sister, Ida, replied advising that her mother had died and that she was the sole surviving relative of William Cooling. In fact, Ellen Cooling had died on the 19th September 1919, with her death being reported in The Week, 26 September 1919, p.13. The medals were duly issued to Ida; the 1914-15 Star, the Empire Medal and the Victory Medal. Ida also completed the Roll of Honour Card.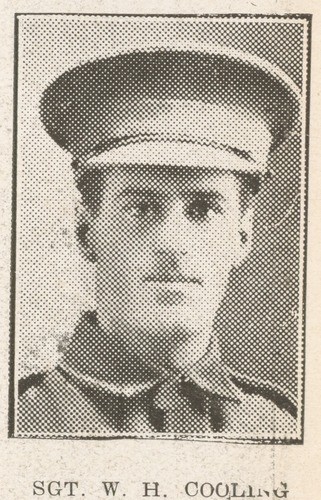 Sergeant William Henry Cooling. Source: Queenslander, 11 December 1915, p.25.
Sergeant William Henry Cooling. Source: Queenslander, 11 December 1915, p.25.
At some time after William's death, a palm tree was planted in the grounds of the Sherwood Methodist Church (now Uniting Church) in his memory. This was the church he and his mother and sister attended and the tree may well have been planted by his family. During recent renovations to the church and grounds, the palm tree was removed and the plaque commemorating William Cooling has been placed on another tree in the church grounds.
View of Embarkation Pier Cemetery, Gallipoli, ca. 1919. Source: National Library of New Zealand, Ref. No. PA1-o-811-13-1.
View of Embarkation Pier Cemetery, Gallipoli, ca. 1919. Source: National Library of New Zealand, Ref. No. PA1-o-811-13-1.
William Cooling's grave is located in the Embarkation Pier Cemetery at Gallipoli where he is buried with almost 300 fellow soldiers from the Empire. He was only 20 years of age at the time of his death.
Guest Blogger: Ian Lang, Researcher Sherwood Presbyterian Roll of Honour
Comments
Your email address will not be published.
We welcome relevant, respectful comments.