In search of Anne, with some unexpected discoveries
By Stephanie Ryan, Senior Librarian | 15 February 2016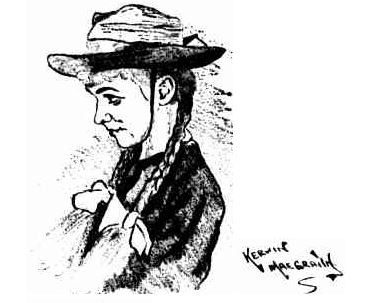 Anne by Kerwin Maegraith. Sydney Mail, 20 January 1935, p 18.
A recent quest to help a client find out more about a particular ancestor led to some fascinating discoveries, and highlights the need to use a variety of research tools and consider the culture of a particular era and place.
Trying to understand great aunt Elizabeth – and her friend Anne
Our enquirer was searching for information about his great aunt Elizabeth, a rather shadowy figure whose remaining family in Australia understood her mostly from a friendship book: a sort of book of memories that Elizabeth had kept when staying with family friends at New Farm in about 1935-1936. Elizabeth was around ten or eleven years old at the time, and was given the opportunity for special piano and singing tuition. After the war she left Australia for North America. Elizabeth's friendship book contained many references to Anne – perhaps finding Anne would shed more light on Elizabeth's life?
How could Anne be found – by post office directories, electoral rolls or school records?
Anne's surname was unknown, and the name of the family with whom Elizabeth was staying had been forgotten. The name Anne was a typical one of the time, but this researcher, visiting Brisbane briefly, wanted to discover more.
What was in Elizabeth's friendship book?
Friends' autographs with decorated quotations referring to mutual affection and understanding, as well as happy times in New Farm's nooks, park and river walks, seemed to form a large part of Elizabeth's friendship book. In the back were the references to Anne: Anne with an 'e' was emphasised as "A-n-n-e looks so much more distinguished". Elizabeth annotated this with her preference for Elizabeth over "Eliza". Friends were described as "kindred spirits", and Elizabeth would refer to those with whom she shared a bond of understanding in these terms, adding, "as Anne would say". Anne claimed, "Red hair is my life long sorrow", a reason she could not be really good.
Anne was coming alive as a vivid personality, a chatterbox with a fiery temper and a lively imagination who loved the little world in which she lived. She was also now very recognizable as Anne Shirley, the heroine of L M (Lucy Maud) Montgomery's series of eight "Anne" books that commenced with Anne of Green Gables in 1908. Anne Shirley, an orphan, had been sent to a farm owned by an ageing brother and sister who were expecting a boy to help. Elizabeth treated Anne as a real friend, a "kindred spirit".
Elizabeth's book recorded that Anne desperately wanted, and finally received, a fashionable dress with puff sleeves: "a skirt with dainty frills and shirrings; a waist elaborately pintucked in the most fashionable way, with a little ruffle of filmy lace at the neck. But the sleeves - they were the crowning glory! Long elbow cuffs, and above them two beautiful puffs divided by rows of shirring and bows of brown-silk ribbon".
A dress with puff sleeves such as Anne described. Brisbane Telegraph, 10 October 1908, p 9.
Elizabeth had found her own version of a dress with puff sleeves in the Australian Women's Weekly, a magazine widely read at the time, even if it was someone else who had bought it. She had included the picture in her book, and we were able to trace the image to its source via Trove, the National Library of Australia's online database and search engine.
Australian Women's Weekly, 17 October 1936, p 58.
Where was Elizabeth living?
At the time of writing her friendship book, Elizabeth lived in a block of flats called Green Gables. A group of seven blocks of flats, each with a different external appearance, were gathered around a short street off Moray Street backed by the Brisbane River. New Farm became a centre of flat development during the 1930s. The architect, George Rae, designed this particular purpose-built block of flats with a popular look of the time – a period English external theme. Green Gables is still there.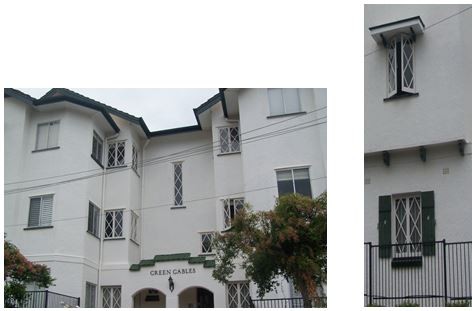 Green Gables, New Farm. Images by SLQ staff.
It was certainly no accident that a building would be called Green Gables in 1935 when it was built. In that year, the film Anne of Green Gables was released to a huge following, the previous version being a silent movie of 1919. A check of the Australian newspapers in 1935 on Trove reveals how popular the book and film were. There were over 1,300 search results for that title in that year alone. These included everything from newspaper advertisements and reviews, to news of the stars and items in the children's columns, where the book was a frequent prize, and where children wrote in saying how much the loved L M Montgomery's books. Elizabeth, from rural, dry Queensland, clearly enjoyed the novelty of the building with its pretty setting, diamond windows and wooden shutters.
Throughout Australia there was an explosion of buildings named Green Gables - guesthouses at the beach, boarding houses in the city, tea rooms and other entertainment venues. The book was set on tiny Prince Edward Island, a maritime province of Canada, connected to the mainland by a bridge. The house, Green Gables, in the town of Cavendish, was the centre of a farming community, and of interest across the world.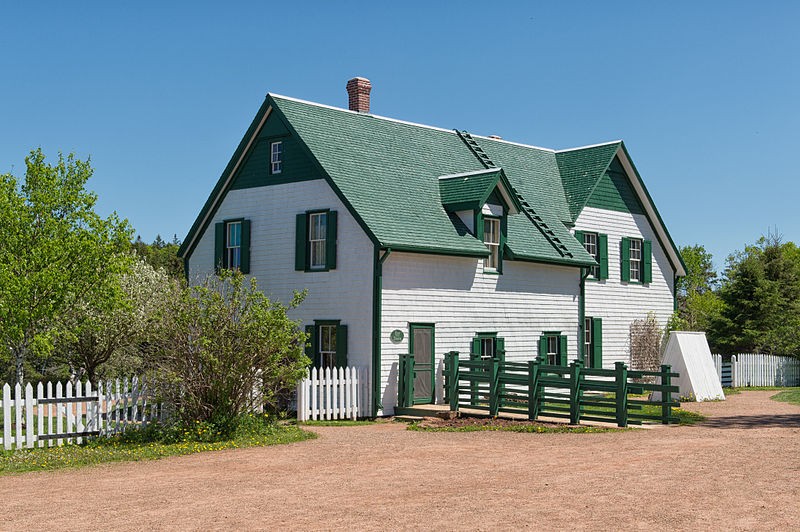 Green Gables House, Cavendish, Prince Edward Island. Image by Markus Gregory. CC licence.
Perhaps the most surprising fans are the Japanese. A Canadian missionary introduced Anne of Green Gables to Japan in the 1930s by giving a copy of the novel to her friend Hanako Muraoka, who translated it as Akage no An: "Anne of the Red Hair." Hanako Muraoka suggested the novel as a way to introduce Japanese children to Western literature after World War II. It was added to the national school curriculum. Thousands of Japanese tourists now travel to Cavendish each year to visit Anne's fictional home.
It is timely that this Queensland connection to Anne of Green Gables comes to light now, as there is a resurgence of interest in the classic story with the release of a new television movie, Lucy Maud Montgomery's Anne of Green Gables, to screen in Canada on Islander Day on 15 February.
State Library of Queensland holds the L M Montgomery books and many discussions of her work in print and online, accessible to SLQ members. Check our One Search catalogue, using 'advanced search', selecting 'is (exact)' in the middle box, and using the search term, 'L M Montgomery'. You will discover hundreds of results, which can be refined by using the options on the left panel.
Sometimes, in a search to understand a family ancestor, it is necessary to go beyond some obvious research tools to consider the culture of a particular era and place, and how a person such as a young girl might connect to it.
http://onesearch.slq.qld.gov.au/
Join: /services/membership/how-to-join
Ask us: /services/ask-us
Stephanie Ryan, Senior Librarian
Information Services
Comments
Your email address will not be published.
We welcome relevant, respectful comments.