Samuel NAPOLEON #3867
By Marg Powel & Des Crump | 28 May 2018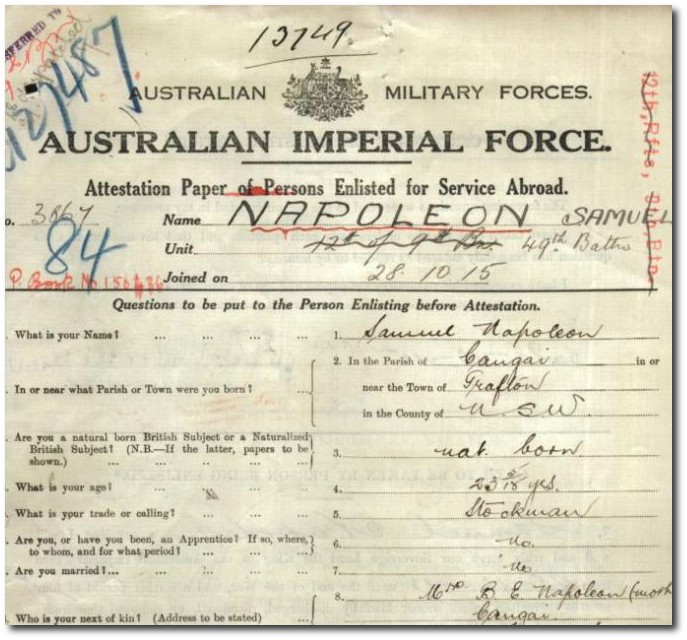 Indigenous Australian, Samuel NAPOLEON, 9th & 49th Infantry Battalions
Samuel Dassien Napoleon was born in Cangai to Bertrand Napoleon and Annie Olive, in 1892. Samuel had been working as a stockman when he volunteered to serve with the first AIF in October 1915, age 23, two months before his older brother William stepped forward.
After enlisting at Lismore, Samuel trained at Enoggera Army camp, just outside Brisbane and embarked with the 12th Reinforcements for the 9th Infantry Battalion on board the Itonus, bound for Egypt.
By the time they arrived in the Middle East, allied troops had been evacuated from operations on the Gallipoli Peninsula and battalions were being reorganised, and to be deployed to Europe.
Samuel Napoleon was transferred to the 49th Infantry Battalion, like his brother William and embarked for France in June 1916. In September 1916 while the Battalion was engaged at Mouquet Farm, Samuel was badly injured, receiving multiple gun shot wounds to his face and hands. He was transported back to England and admitted for treatment in the Ontario Military Hospital, Kent.
Samuel was not to rejoin his unit until almost 12 months had passed, and he was readmitted to hospital several times more, before finally being invalided home in May 1919.
He returned to his home in Cangai and his work as a stockman, but in 1939 died at they young age of 48 of septicemia at the Brisbane General Hospital. Samuel was buried at the Toowong Cemetery; he never married.
Read more ...
The information in this blog post has been researched by State Library staff and volunteers, it is based on available information at this time. If you have more information that you would like to share or further research uncovers new findings, this post will be updated.
Comments
Your email address will not be published.
We welcome relevant, respectful comments.