Samuel BROWNING #7782
By Marg Powel & Des Crump | 10 August 2017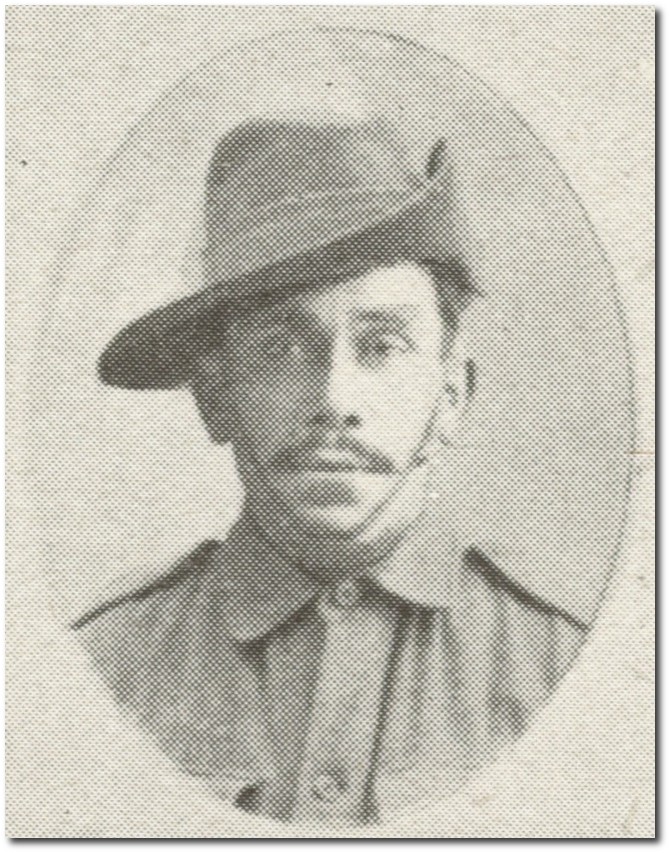 Samuel Browning, The Queenslander Pictorial, 29 January 1917
Indigenous Australian, Samuel BROWNING, 15th Infantry Battalion
Samuel Browning was born in Cudgeon, NSW in 1889 to George Browning and Mary William and was employed as a labourer when he enlisted in Lismore 28 August 1917. Like many recruits who enlisted at Lismore, Browning trained at Rifle Range Camp, Enoggera, Qld. Assigned to the 15th Infantry Battalion he embarked for overseas on board HMAT Euripides in October 1917. Not long after arriving in England he was hospitalised for two weeks having contracted mumps during the voyage.
Browning joined his battalion in France in April 1918 when they were involved in operations north of Amiens near the town of Hebuterne. They were quickly put into the front lines to relieve the 16th Australian Infantry Battalion, alongside the 1st Otago (NZ) and 6th Manchester (UK) Regiments.
It was in August 1918 that Samuel Browning was severely wounded. While waiting to be relieved by the 59th French Infantry the enemy launched a heavy barrage of Gas Shells, which lasted 5 hours. Most were able to protect themselves with respirators and the men were eventually transported away from the area to Allonville. Here the effects of the gas began to take effect - swelling eyes and violent headaches. 75% of the battalion were effected, some very badly.
It was thought to be a new type of poisonous gas, that had been used by the Germans, the prolonged exposure and with little wind on the day to disperse the vapours, the effects were severe. The officer who reported on the incident, Major Sampson suspected 'Yellow Cross' Gas - Mustard Gas had been used.
Browning was first treated in France but the effects were severe and it was decided to transport him to England, where he was admitted to the Bath War Hospital for care. By October 1918 Samuel Browning was convalescing at Sutton Veny Camp, but he never returned to active service; he was placed on an 'early return' list and repatriated home in January 1919.
Samuel Browning returned to his family in the Tweed and married his sweetheart Charlotte Slabb that same year and made his living as a fisherman; he died in 1961.
Read more ...
The information in this blog post has been researched by State Library staff and volunteers, it is based on available information at this time. If you have more information that you would like to share or further research uncovers new findings, this post will be updated.
Comments
Your email address will not be published.
We welcome relevant, respectful comments.