Robert ANDERSON #Q22911
By Marg Powell | 28 July 2017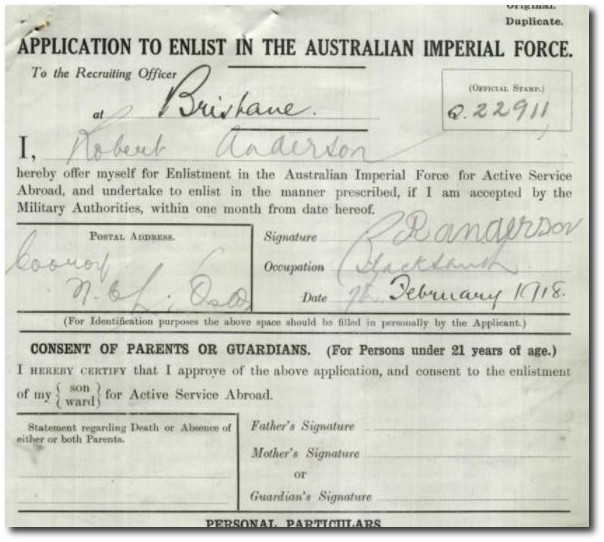 Indigenous Australian, Robert ANDERSON, Depot Battalion
Robert ANDERSON was born in Rockhampton in 1892 and had been working as a blacksmith and horse breaker when he volunteered to serve in the first AIF in February 1918; at the time he was residing with his wife May Ellen (nee Baul) and daughter Marjory Agnes at Cooroy, Qld.
Robert Anderson naturally requested he be attached to the Light Horse Regiment when he enlisted, he also attested that 'his father was a white man and his mother an Aboriginal, having lived all this life with white people.'
This statement was not unusual for Aboriginal volunteers, at the time there was a discriminatory stipulation of entry that volunteers had to be of 'substantial European origin'.
Unfortunately Robert Anderson was discharged medically unfit, when he was found to have a 'systolic' heart murmur, probably the effect of his previous strenuous employment.
Read more ...
The information in this blog post has been researched by State Library staff and volunteers, it is based on available information at this time. If you have more information that you would like to share or further research uncovers new findings, this post will be updated.
Comments
Your email address will not be published.
We welcome relevant, respectful comments.