Report on scheme for the abatement of floods in the Brisbane River
By JOL Admin | 3 August 2011
On Monday 17 January 2011 Queensland Premier Anna Bligh established an independent Commission of Inquiry to examine the state's recent flood disaster. Thirty five people, many from Grantham, had lost their lives in the flood which caused immense damage to properties and infrastructure with three quarters of the state declared a disaster zone.
On 1 August Justice C E Holmes presented the Premier with the Commission's Interim Reportopen_in_new which makes recommendations on matters associated with flood preparedness prior to the next wet season.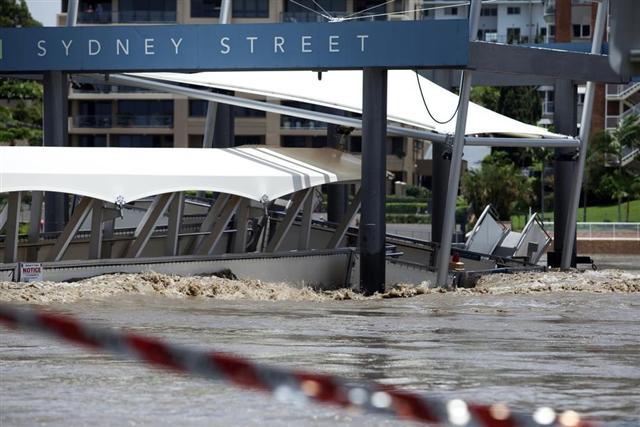 Sydney Street CityCat Terminal at New Farm being inundated by flood water, 2011. 20874: Troy Hansen Flood Photographs, State Library of Queensland.
View from North Quay during the floods, Brisbane, 1893
Among the many items of historical significance in the John Oxley Library collection there is one item which is particularly relevant. This is a short report titled Report on scheme for the abatement of floods in the Brisbane River, written by one John Pennycuick and published by the Queensland Government in 1899. Colonel John Pennycuick was a retired senior British Army engineer who had worked as a civil engineer in southern India for many years. In that capacity he was largely responsible for the construction of a major dam called the Periyar Diversion.
Report on scheme for the abatement of floods in the Brisbane River
Pennycuick was commissioned by the Queensland Government to investigate, and report on, flood mitigation measures for the Brisbane River. His report recommended dredging the river, and the creation of a canal and the construction of a substantial reservoir at the junction of the Stanley and the Brisbane rivers.
He further recommended that the river channel from the city downwards be dredged to a permanent depth of 26 feet at low tide and that retaining walls be constructed. The whole operation would cost 2, 047, 000 pounds ($50.4 million in today's money) which he considered modest in the context of the "distress caused by the current state of affairs." Salient features of the report were outlined in the Brisbane Courier on 28 November 1899.
Construction of the reservoir at the junction of the Stanley and Brisbane River, known as the Somerset Dam was completed in 1953...54 years after the idea was put forward by Pennycuick.
This report and other collection items from the John Oxley Library will go on display next year in an exhibition showcasing material documenting ninteenth century floods in Queensland.
Brisbane historian Dr Helen Gregory is currently conducting research for the exhibition and selecting items of interest including telegrams, photographs, reports, paintings, letters and diaries.
Trudy Bennett
Librarian - John Oxley Library
Comments
Your email address will not be published.
We welcome relevant, respectful comments.