Remembering, November 1915
By Marg Powell, Specialist Library Technician, Metadata Services | 11 November 2015
This delightful silk-embroidered card was sent by Private Thomas Ham, 17th Divisional Ammunition Sub Park, in November 1915. It reminds us of those who were serving their country, vast distances from their families, in very unfamiliar situations.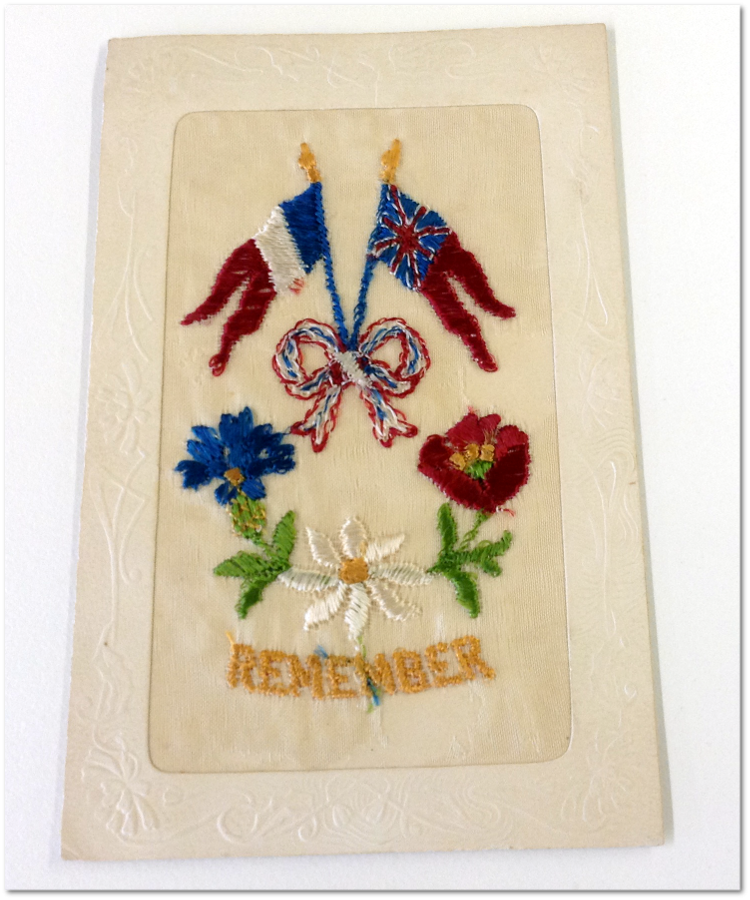 Private Ham, from South Brisbane, had been working as Station Store keeper when he enlisted in October 1914. Originally appointed to the 8th Australian Army Service Corps, after embarking in December 1914, the troops were diverted England and by July 1915 they were one of the first Australian companies to serve in France.
In November 1916 Thomas Ham was promoted to Lance Corporal, with the renamed 1st Divisional Ammunition Sub Park , now at Le Carcaillot, south of Albert in the heart of the Western Front. According to the Unit's War Diary - winter clothing was being issued at this time, and thoughts were of Xmas presents for the men.
Lance Corporal Ham remained with his unit throughout the fierce conditions in the Western Front until it was disbanded in March 1918. He was on his way home to Australia aboard the Kasir-a-Hind, when the Armistice in Europe was declared on 11 November 1918.
Thomas Ham returned to his family in Chelmer and became a draughtsman like his father, Alfred Westbrook Ham; he married Vida Ambrose in November 1919.
Further reading:
Comments
Your email address will not be published.
We welcome relevant, respectful comments.