Remembering Aboriginal and Torres Strait Islander Veterans
By JOL Admin | 23 April 2014
Guest blogger: Alistair Harris - Reconciliation Australia
One of the great untold truths of Australian history has been the courageous contribution of Aboriginal and Torres Strait Islander people to the Australian Defence Force. For decades this contribution was unacknowledged and their sacrifices were unmentioned at official ceremonies.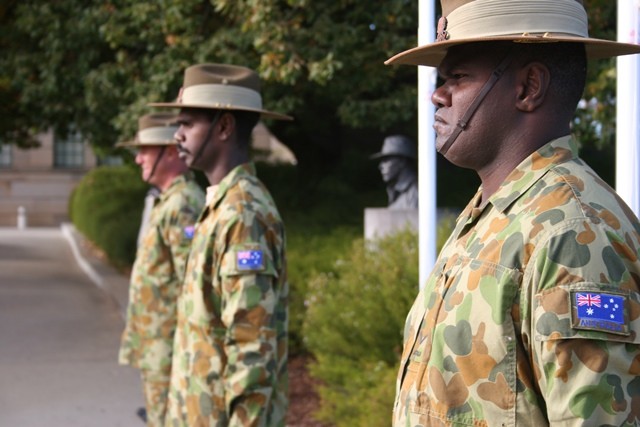 At the ceremony Frank Lampard of the Aboriginal Torres Strait Islander War Memorial Committee explained why the memorial was so important. "The Aboriginal and Torres Strait Islander community of Australia have come to view 'ANZAC' as a party to which they have not been invited," he said. "Well, I'm proud to say that lack of recognition ends today."
This is reconciliation in action. As a nation, Australia is only now recognising and celebrating the significant contribution of our First Peoples; in the arts, in sport, in science and in war. .
Their contribution to Australia's war effort from the Boer War to the present is made even more extraordinary when we remember that even as they were signing up they were denied almost all civil and political rights. Aboriginal and Torres Strait Islander peoples were serving for 87 years in the armed forces before they were considered citizens of Australia.
We know that 34 Aboriginal men served at Gallipoli, with 12 killed in action.
Perhaps the time is also right to acknowledge Australia's first wars; the Frontier Wars waged by desperate Aboriginal nations against their dispossession. It is estimated that 27,000 Aboriginal and Torres Strait Islander people were killed in the Frontier Wars.
Comments
Your email address will not be published.
We welcome relevant, respectful comments.