Red Cross "Carry On" Night, Brisbane, 1918
By JOL Admin | 11 December 2014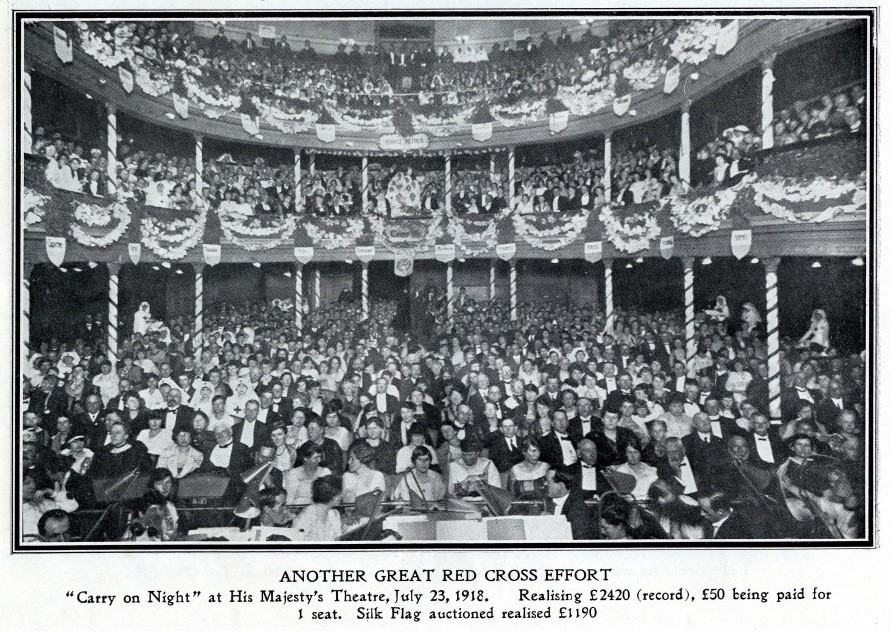 On July 23, 1918, a charity gala night was held at His Majesty's Theatre in Brisbane. The Red Cross "Carry On" Night was in aid of the Queensland Special Red Cross Appeal. The program was described as a "Grand Orchestral Recital and Grand Pageant Play: Advance Australia". Months of preparations were rewarded as a large Brisbane audience settled in for a night of entertainment.
The first part of the evening featured musical performances, including the prologue from Pagliacci sung by bass-baritone Private Peter Dawson, and a recitation of Carillon, a war poem by mile Cammaerts, accompanied by music by Elgar. Before the interval, a unique Red Cross silk flag donated by Messrs Finney, Isles & Co was auctioned.
The entertainment concluded with the pageant play, described in the souvenir program (pictured) as "on a greater scale of magnificence than in either Melbourne or London". It also noted that "all concerned have given their services freely to make the Red Cross 'Carry On' Night one to be remembered long after the terrible war is over". The Brisbane Courier highlighted the final scene, when "soldiers and sailors and war nurses crowded on the stage ... and the whole assemblage broke into the strains of Land of Hope and Glory". The program also describes this scene - inviting the audience to join in the singing - saying "the curtain descends on the cheering Sons of Australia and a great patriotic climax".
You can view the original program for the Carry On Night via our One Search catalogue.
Myles Sinnamon - Project Coordinator, State Library of Queensland
Comments
Your email address will not be published.
We welcome relevant, respectful comments.