Queensland's Ukrainian Anzacs
By JOL Admin | 18 August 2016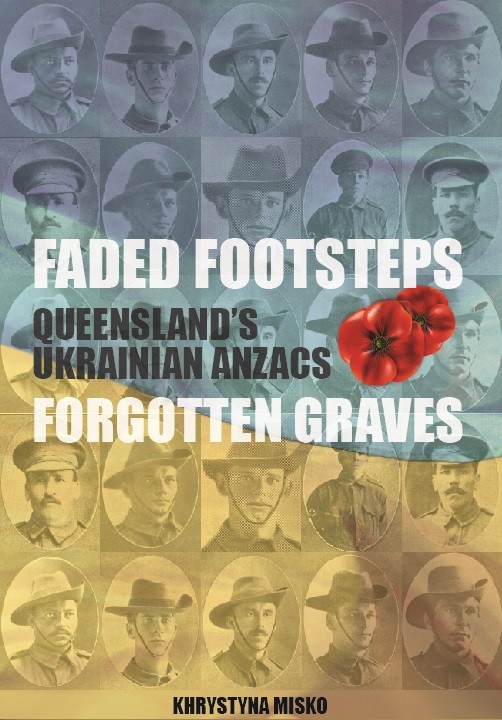 Faded footsteps forgotten graves: Queensland's Ukrainian Anzacs by Khrystyna Misko
Last Sunday 14 August 2016, at the Ukrainian Community Centre in Holland Park West, Brisbane, the Ukrainian Community of Queensland launched the book Faded Footsteps Forgotten Graves: Queensland's Ukrainian Anzacs, researched by Khrystyna Misko and published as part of a project funded by a Queensland Anzac Centenary Grant. With a focus on Queensland enlistees, the project 'Ukrainians in the A.I.F.' traced the lives of 60 men, émigrés from the Russian Empire and mostly from the Ukrainian regions of Kyiv, Chernihiv, Odessa and Volyn, who enlisted in the A.I.F. between 1914 and 1918.
The book's synopsis provides some statistics - at least 60 Ukrainians enlisted in the A.I.F., and of those, 48 served overseas, 11 died in the war and 34 returned to Australia. 37 of these 60 men had either arrived or enlisted in Queensland. Unfortunately, repatriation did not mean peace for many of these returned soldiers. In addition to the physical and mental scars of war, most Ukrainian returnees had no family connections in Queensland, and were troubled by ongoing turmoil in their country of origin. Of the 34 soldiers who returned to Australia, two died in mental asylums, five committed suicide, and many remained single, led difficult and lonely lives and died alone. Faded Footsteps Forgotten Graves: Queensland's Ukrainian Anzacs is a tribute to those unremembered Ukrainian souls who fought under the Australian flag.
Queensland's Ukrainian Anzacs 1914-1918 display panel
Other outcomes of the 'Ukrainians in the A.I.F.' project include a permanent display of historical records and the Roll of Honour of Queensland's Ukrainian Anzacs (also launched on Sunday 14 August), and the placement of plaques on four unmarked graves of Queensland's Ukrainian servicemen - Private James Cochura and Private William Whynsky at Toowong Cemetery, Brisbane, Private Nicholas Roomianzoff at Martyn St Cemetery, Cairns, and Private John Sepscak at Taabinga Cemetery, Kingaroy. You can read more about Faded Footsteps Forgotten Graves at Quest Newspapers.
Robyn Hamilton - QANZAC100 Content Curator, State Library of Queensland
Comments
Your email address will not be published.
We welcome relevant, respectful comments.