Queenslanders in Conversation – The Future of work
By Administrator | 1 June 2017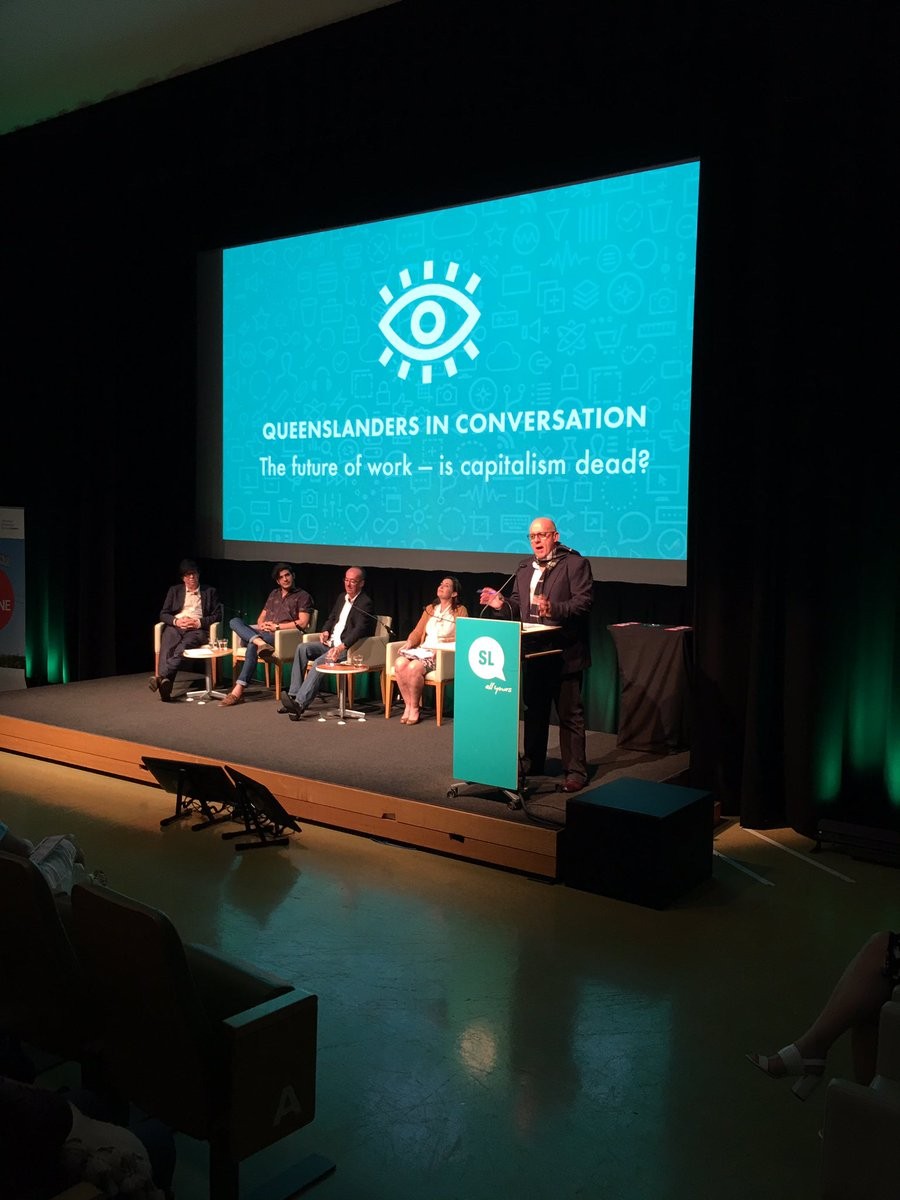 Queenslanders in Conversation - The Future of Work – is capitalism dead? 24 May 2017
Queenslanders in Conversation - The Future of Work – is capitalism dead? 24 May 2017
The theme of State Library of Queensland's (SLQ) recent Queenslanders in Conversation (QiC) panel, The Future of Work – is capitalism dead? clearly hit a chord with Queenslanders, as together we try to navigate our career paths and understand where the jobs might be in the future, for our children and grandchildren. SLQ and ABC Radio Brisbane presented this important panel session as part of SLQ's Digital Futures focus throughout 2017.
I had the privilege to sit in the auditorium during sound check, and the panelists were off to a strong start even before the audience arrived, and the concepts that they each wanted to discuss were as broad as they were aspirational. I got a hint that STEM is not necessarily where future jobs will be, which seems to contradict a lot of what the education system is telling us! It's a shock to think that students who start to learn how to code now will have arrived too late, because even now there is a platform being built where the code writes itself.
While the panel didn't include a wildly alternate voice, it nevertheless brought together experts from a diversity of roles and backgrounds: Dr Claire Mason, a social scientist from CSIRO; Adrian Osman, a serial business builder and co-founder and CEO of Pitchblak; Professor David Peetz, a professor of Employment Relations at Griffith University; and Tony Ryan, an education futurist, who later this year releases his latest book "The Next Generation: preparing Today's Kids for an Extraordinary Future".
The audience wanted a glimpse at the future, and that's what they got. What ensued over 75 minutes of conversation and questions, facilitated by Steve Austin from ABC Mornings, was an imaginable picture of the future of work. Ideas that were explored included tips on how to survive and thrive in a work environment that will move further and further down the road to automation, at a rate that could see anywhere between 9% to 40% of current jobs going 'to the robots'! According to the conversation, the rate at which technology is being developed and applied is just at the beginning, and over the next few decades we will see a much faster rate and broader range of effects.
So it seems that the question that's on everyone's mind, namely, "What will the jobs of the future be?" is not as important as this one: "How can I develop the skills and characteristic traits I need to be a valued in the workforce as we move into the future?" My takeaways were around the 5 themes - Creativity, Compassion, Communication, Children and of course, Computerisation:
Find your passion, nurture your CREATIVITY, and back yourself. Believe in your self-worth!
Jobs that last or grow will be the ones that require COMPASSION, and we'll see a rise in aged, disability and child care. AI ((artificial intelligence) might be able to read emotions, but it cannot replicate human emotions with authenticity.
COMMUNICATION, have the right attitude! Work is contribution, and whatever it is you are doing, think of your personal contribution to purpose driven work. Also important is personalisation, to set yourself apart from others (and from the robots).
The CHILDREN are the future, and education is key! Tony Ryan, spoke about the education system need for 'astonishing teachers' as teaching is, and will remain one of the most important professions on the planet. To be meaningful and useful, education will need to adapt and become more personalised, integrated with real-world learning and 'just-in-time' to keep up with the changing world.
COMPUTERISATION, if you think a robot can do your job, it WILL be doing your job! Dr Claire Mason noted the most impact will be felt in low-skilled jobs such as bank tellers, factory workers, with AI beginning to take over mid-skilled and middle income jobs.
QiC webcast
Come and visit the Digital Futures lab.
In the SLQ Gallery, level 2, themes can be explored such as the Future of Work and Smart Cities (the topic of the next QiC on 9 August)
#digitalfutures #futureofwork
More information
The Future of Work – is capitalism dead?
/audio-video/webcasts/recent-webcasts/queenslanders-in-conversation-the-future-of-work-is-capitalism-dead
Digital Futures lab - /whats-on/events/digital-futures
Future of Work and Smart Cities (the topic of the next QiC on 9 August) - /whats-on/calevents/general/talks/queenslanders-in-conversation-2017/are-smart-cities-for-everyone
Ask Us service - /services/ask-us
Naomi Takeifanga
Senior Programming Officer & Curator, Community Engagement
State Library of Queensland
Comments
Your email address will not be published.
We welcome relevant, respectful comments.