Queensland Multicultural Month August 2018
By Administrator | 10 August 2018
August is Queensland Multicultural Monthopen_in_new – an opportunity to celebrate the multicultural life of our state and to showcase diversity through performance, art, food and sharing stories. Each week in August has a theme - move, connect, speak and grow - giving all of us the chance to get involved in our communities, share our diverse stories and learn something new.
Queensland Multicultural Month August 2018 Image: State Government of Queensland
Queensland Multicultural Month August 2018 Image: State Government of Queensland
State Library of Queensland is a hub for community, storytelling and sharing information. As well as offering space and facilities for everyone, we have resources that provide valuable information on family history, immigration, law, diverse culture and news in other languages. Visit our Multicultural webpage to discover some amazing stories from across the state, including images and oral histories.
PressReader, available through State Library, provides free digital access to nearly 7,000 newspapers and magazines from all over the world. There are publications from 120 countries in more than 60 languages, and PressReader also offers instant translation in up to 18 languages for most articles. With city and regional newspapers, and magazines on subjects such as business, craft, hobbies, technology, health, fashion, history and sport, there is something to suit every taste. State Library members can access PressReader through our One Search catalogue and download the PressReader app for mobile devices.
PressReader database
For access to a wide array of foreign language films, log in to Kanopy through State Library's One Search catalogue. Kanopy is an on-demand film streaming service, featuring over 30,000 films, including documentaries, hard-to-find titles, indie and classic films and world cinema. Programming features diversity, a huge selection of foreign language films, and films on race and current affairs.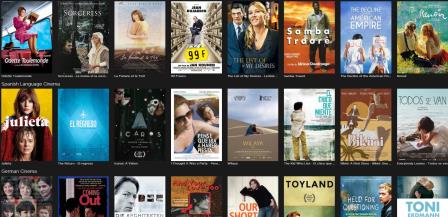 Kanopy database
Wanting to do research in a language other than English? ProQuest Central is the largest multidisciplinary database for periodical content, and provides the option of searching for articles in over 40 languages. Search ProQuest Central through our One Search catalogue.
As well as being Queensland Multicultural Month, August is also National Family History Month, an ideal time to familiarise yourself with State Library's family history resources. From information on Aboriginal and Torres Strait Islander family history to shipping and immigration records, the diversity of our family history resources reflects the multicultural nature of our state. Visit us in person or through our Ask Us online service to find out more about your family's past.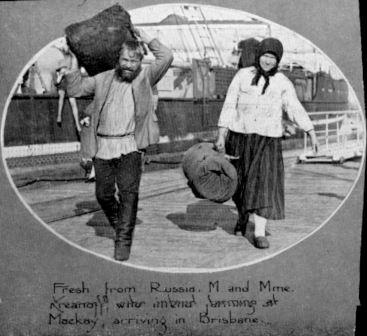 Two Russian immigrants disembarking from a ship at Brisbane in 1931, State Library of Queensland, Neg. no. 10106, http://hdl.handle.net/10462/deriv/61083
Comments
Your email address will not be published.
We welcome relevant, respectful comments.