Queensland maps online
By Nathaniel Cliff | 24 July 2020
Maps are bursting with information and surprises. They can help with researching many different topics, from house histories to family histories, from changes to our natural and built environment to the use of land over time. Increasingly maps are becoming available online or as spatial information though a website.
The map collection at the State Library of Queensland provides cartographic coverage of the world, with a major emphasis on Queensland and Australia. The collection includes topographic, cadastral, hydrographic and orthophoto sheet maps, as well as a unique and extensive range of historic maps and early real estate maps. Atlases, globes and street directories from around the world are also collected.
Some of my favourite places for finding Queensland maps online are:
Real estate maps at the State Library of Queensland
Screenshot of OneSearch Catalogue listing real estate maps at the State Library of Queensland.
The State Library of Queensland has a unique collection of original maps and plans created by real estate firms between the 1850s to the mid 1900s. As well as looking good, these maps can give information about how the land was subdivided, when it was first auctioned, who the surveyors were and who sold the land. They can be useful for investigating the history of urban land areas.
The maps are predominantly from Brisbane but also cover some regional areas of Queensland such as the Gold and Sunshine Coasts.
See the full list of digitised real estate maps arranged by title in the One Search catalogue.
You can also browse over a 1000 of the State Libraries digitised real estate maps on Historypin.
Aerial and satellite images at Qimagery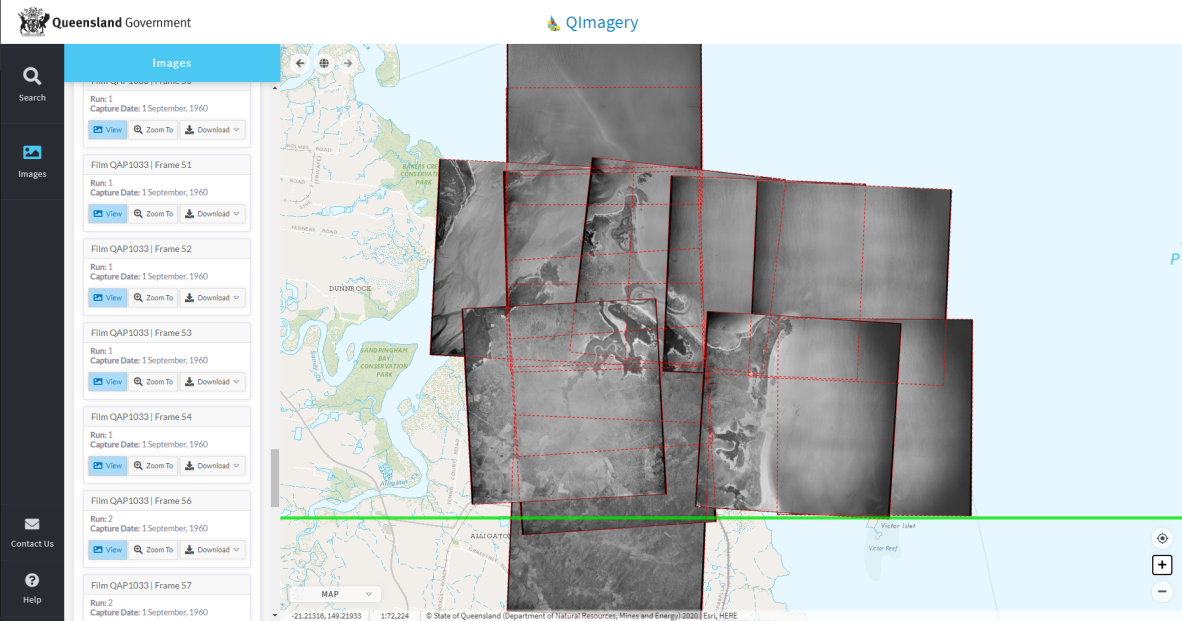 Screenshot of aerial and satellite images at Qimagery.
QImagery is the Queensland Government's online aerial photograph library that allows you to search for, view and download images by location. You can access more than 800,000 historical aerial photographs of Queensland from the 1930s to 2009. Images are added monthly, as the aerial film digitisation project progresses.
To find images, you can search by locality, address, postcode, lot on plan, and latitude and longitude. You can then view available photographs online or download them.
Once you've accessed QImagery, click on Help for detailed information on searching, downloading and using images.
Historical maps at Queensland's Open Data Portal
Screenshot of historical maps at Queensland's Open Data Portal.
The Department of Natural Resources, Mines and Energy has digitised a very comprehensive collection of historical Queensland cadastral, topographic and orthophoto maps available as datasets in the Open Data Portal.
Each dataset has a number of maps or map series and some of these series have hundreds of map sheets! Getting to the right sheet is not always easy but it is usually worth the effort. Some maps are annotated and the resolution varies. The majority of map series include key maps.
Cadastral maps show land tenure (property boundary) electoral and administrative boundaries. The more detailed maps may even have the names of the property owners.
Topographic maps show landform and landscape with heights ("relief"), rivers, and basic vegetation types, often with symbols for the built environment (roads, railways, urban areas, etc.).
Orthophoto maps are aerial photographs, often with other information overlaid such as topography or cadastral data.
Topographic maps at QTOPO
Screenshot of topographic maps at QTOPO.
Topographic maps are detailed representations of natural and man-made features that appear on the Earth's surface. QTopo lets you explore Queensland's topography virtually.
QTopo is an online mapping solution that provides users with access to topographic information coverage across all of Queensland. This can be viewed online, downloaded, shared or printed at no cost to the public on an on-demand basis.
You can also request specific areas as printable PDFs. QTopo includes some cadastral information.
If this blog has sparked your interest, contact us or visit us. We would love to help you find what you are looking for.
Comments
Your email address will not be published.
We welcome relevant, respectful comments.