Public library statistics now released!
By Administrator | 14 November 2017
Thank you for providing your annual statistics for the last year which are analysed and then make up the 2016-17 Annual Statistical Bulletinopen_in_new - which is now available on the Public Libraries Connect website.
It takes almost six months for the State Library of Queensland to collect and collate all public library data into the Annual Statistical Bulletin which reflects a yearlong delivery of all the programs, resources, and services you provide to your communities!
You may want to let your Council know how your service compares with other public libraries, or use the statistics to demonstrate your achievements in the previous year.
Some interesting statistics from the Bulletin include:



More than 1.6 million people attended more than 75,000 programs and events hosted by Queensland public libraries - an 8% increase in the number of programs; and a 13.7% increase in program attendance!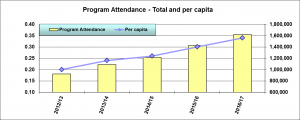 Program attendance has risen from less than 40,000 in 2012-13 to over 1.1 million in 2016-17.


Early and Family Literacy Programs – this subset of overall programming (reported above) reflects the additional resources directed to this activity in recent years, specifically the First 5 Forever funding and associated professional development opportunities.


Collections (Stock) – total public library collections have stabilised at approximately 7 million items, with a small decline in per capita holdings. Over 960,000 new items, both physical and electronic were added to public library collections in the last financial period.


lgc@slq.qld.gov.au
Comments
Your email address will not be published.
We welcome relevant, respectful comments.