Private Treacy
By Marg Powell, Specialist Library Technician, Metadata Services | 26 May 2015
Private Thomas Francis Treacy, #17232
A small but very valuable collection held by the State Library of Queensland, consists of the diary of Private Tom Treacy which he kept during the First World War. It records his journey from Cairns, which he left on Saturday 29th January 1916 and details his activities whilst serving with the 15th Australian Field Ambulance overseas - the last entry is dated 16 January 1919.
When he was fit he embarked overseas as a stretcher-bearer to France. The diary entry for that time, details the conditions they travelled in via a Horse-Transport ship to Rouelles, where they joined their unit near Ypres, Belgium -
"We were aboard a rotten stinking filthy Horse Transport, we were given Horse stalls to sleep in, they were full of Horse Manure, urine and everything else that was filthy".
The 15th Field Ambulance served in some of the most difficult conditions imaginable, in the front lines, trying to retrieve the wounded without themselves being injured. In April 1918 after the Battle of Villers-Bretonneux 1918, Private Treacy picked his way through the ruins of the St Jean de Baptiste church and picked up a set of holy cards, which he posted back to his mother in Cairns.
The image above from the Australian War Memorial, shows the sheer devastation and ruin of the church.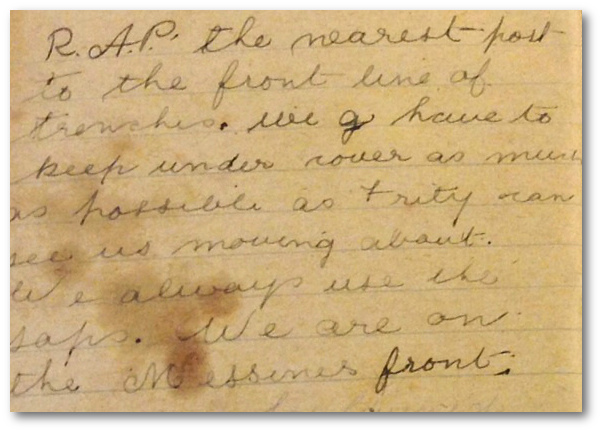 His diary was donated to the State Library of Queensland by his descendants in 1996, and as part of the State Library of Queensland's commitment to make accessible material that relates to the First World War, it has been digitised and made freely available - along with a transcript - via the library's catalogue.
One of the religious cards that Private Treacy had picked up in the ruins of Villers-Bretonneau, was returned to the church on the 90th Anniversary of the day, in April 2008.
Read more ...
Service record: TREACY, Thomas Francis #17232
Embarkation roll, HMAT Horarta, 14 July 1917
Obituary Cairns Post, 30 January 1939, p6
'The return to Villers-Brettonneux' by Mark Day. The Australian, 19 April 2008. Retrieved 26 May 2015.
http://www.theaustralian.com.au/in-depth/anzac-day/the-return-to-villers-bretonneux/story-e6frgdao-1111116103777
Image: 25th Reinforcments, AAMC. The Queenslander Pictorial, 21 July 1917, p23
Marg Powell
Comments
Your email address will not be published.
We welcome relevant, respectful comments.