Private Frank Morris, Aboriginal Trooper from Mackay
By Des Crump | 2 July 2014
At a recent Social Media Training workshop in Mackay, the topic of Aboriginal soldiers in WW1 came up in the discussion. I mentioned there were a large number of Aboriginal stockmen who had enlisted in the Light Horse, particularly the 11th Light Horse Regiment. One such stockman was Frank Morris; an Aboriginal born in Walkerston west of Mackay.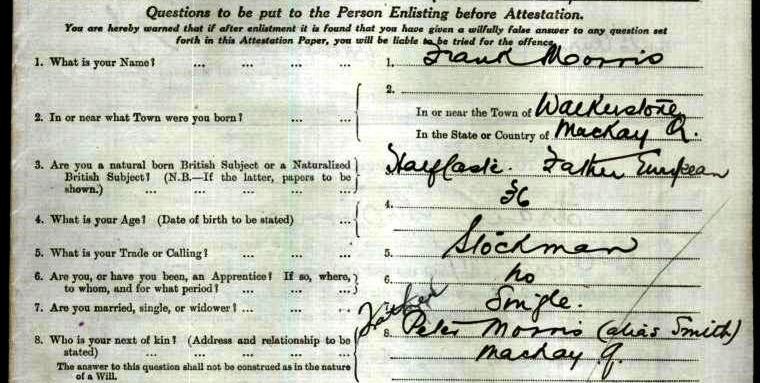 Close-up of Attestation Form.
As can be seen on this close-up of the Attestation Form, Frank's mother was an Aboriginal woman and his father is listed as 'European'. This information is also noted on the Medical Form, a feature of many enlistment forms for Aboriginals.
Extract from Medical Form
Frank Morris enlisted in Mackay on 26th August 1917 and was assigned to the 20th Reinforcements 11LHR.

Frank's name is listed on this extract from the Nominal Roll for this unit - his service number 2435 is near the end of a consecutive series of enlistments who are all Aboriginal! Following basic training, Pte Morris embarked on HMAT Ulysses from Sydney on 19 December 1917, bound for the Suez. After a bout of Measles and Laryngitis, Pte Morris was able to re-join his unit in June 1918 and fought in battles in Sinai and the Jordan Valley.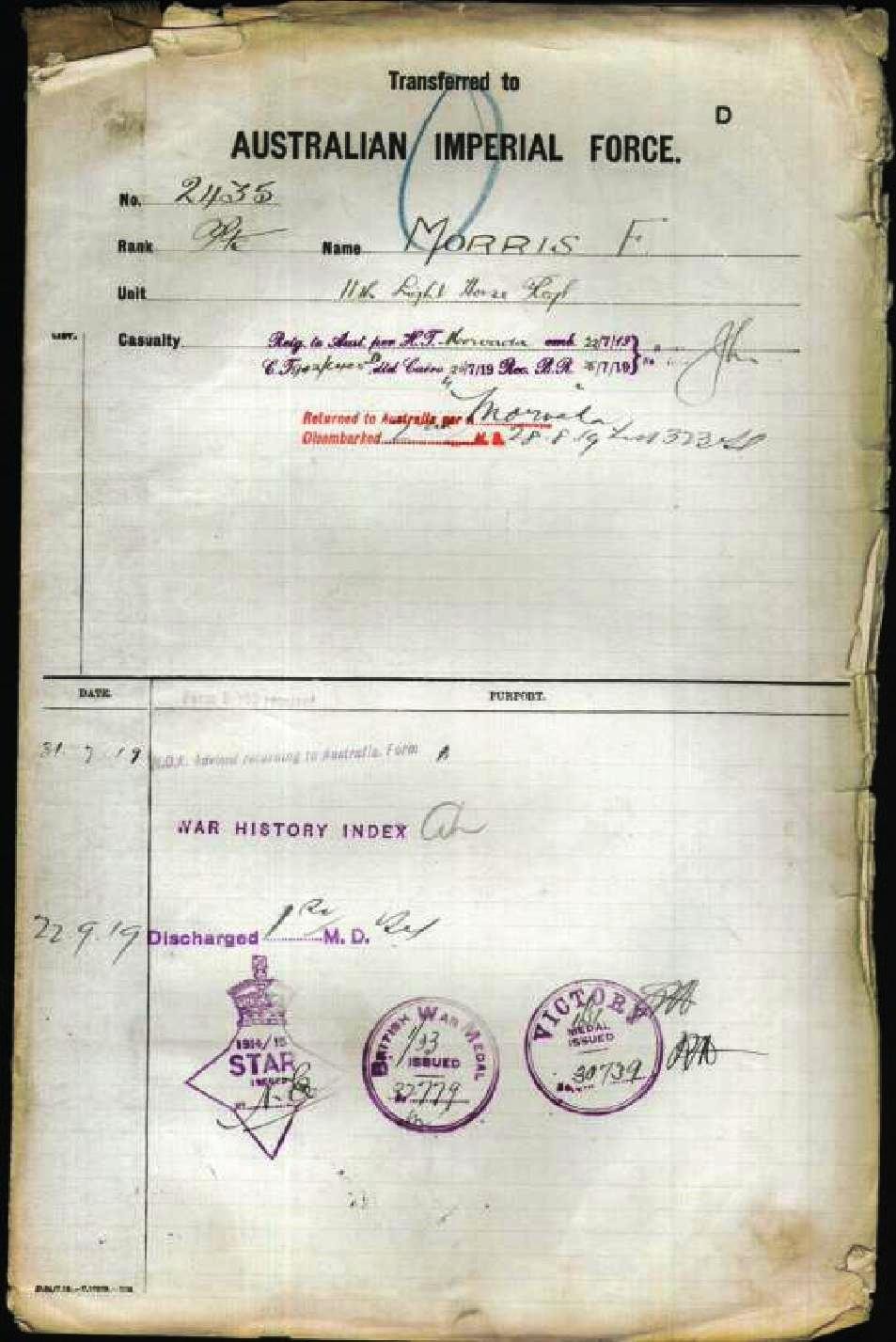 At the end of the war, Pte Morris returned to Australia in June 1919 and was formally discharged from duties on 22 September 1919. Upon his return to Mackay, Frank received an Exemption from the Aboriginals Protection Act (Qld) and resumed work at Oxford Downs Station, via Nebo.
Desmond Crump
Indigenous Languages Coordinator, Queensland Memory
State Library of Queensland Aboriginal and Torres Strait Islander Participation in WW1 webpages
References and Further Reading:
Centre for Indigenous Family History Studies: www.cifhs.com
National Archives of Australia Record Search B2455, MORRIS, F - Attestation of Frank Morris (Service No. 2435).
Pratt, R. (1993) Biographical register of Queensland Aborigines who served in the Great War, 1914-1918. P 940.403 pra
Scarlett, P. (2011) Aboriginal and Torres Strait Islander Volunteers for the AIF: The Indigenous response to World War One 940.40994 SCA
Comments
Your email address will not be published.
We welcome relevant, respectful comments.