Print, Scan and Charge Your Phone at the Infozone
By Greg Corbett, Visitor Services Assistant, Visitor and Information Services | 28 October 2021
You're walking along South Bank and realise that you've forgotten to print out an important document. You consult your phone and the battery promptly dies. What to do?
Don't panic! Help is at hand. Come on in and use a computer, print documents and charge your device at the Infozone, located on level 1 of the State Library of Queensland.
Charge your device
You'll see our charging station on your right as you enter the Infozone. Your device will charge for up to one hour and remain securely locked with a pin code, ready for collection at any time. There are connections to suit a variety of devices, and the larger charge bays will even fit a tablet.
Image: State Library of Queensland
Use a computer
Whether you're looking to search the Internet, check your email or just do some word processing, Infozone computers are available for 60-minute sessions. It's a good idea to bring along a USB to save your work, as all data on the computer will be deleted at the end of your session. You don't need a membership to log in to the computers, but why not sign up anyway? A State Library membership is free and comes with so many great benefits.
Print
Just ask our friendly staff for a print card, add money to the card with the value adder and you are ready to print! It's as easy as selecting the print function on the computer and then typing in the barcode on your print card. Printing costs start from $0.20 per page. Just remember to bring a credit or debit card as the value adder doesn't accept cash.
You can also print directly from your device using our handy Wi-fi printing service. Ask a staff member to set you up with a password.
Scan
The printer in the Infozone also has a scan function. Unfortunately, you won't be able to email directly from the machine, so bring along a USB to save your file.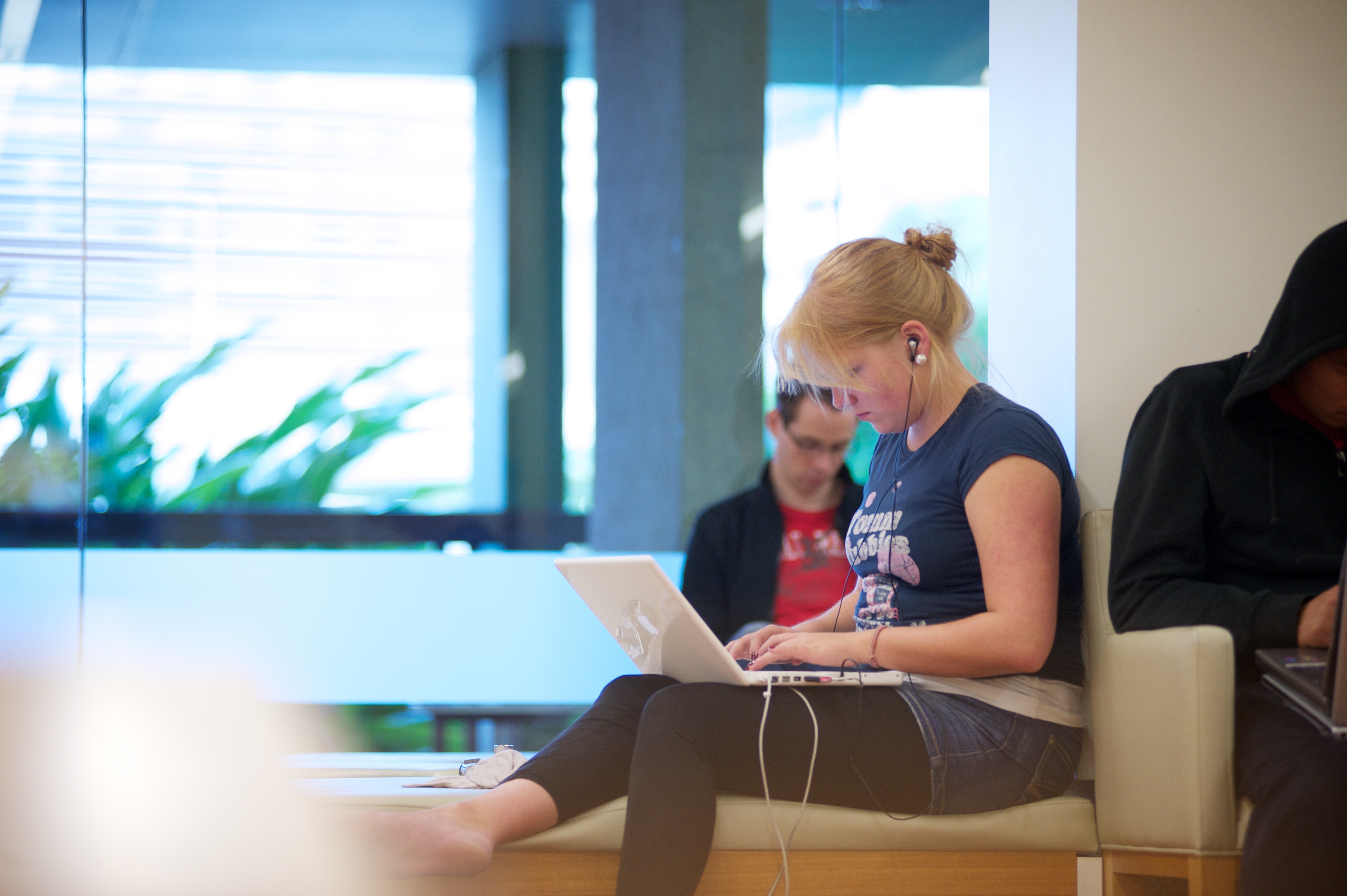 Image: State Library of Queensland
Study
Need a place to study or use your laptop? Pull up a chair at one of our many study desks, complete with handy power outlets to plug in a laptop charger. Feel free to talk, eat or drink a coffee while you work. If you feel the need for fresh air and sunshine, step out on to the River Decks and enjoy stunning views of the Brisbane River.
Sit and read the paper
If you have a bit of time to spend, one more thing you can do at the Infozone is settle in to one of our comfy couches and catch up on the latest news with our selection of newspapers and magazines.
See you soon!
We look forward to seeing you soon at the Infozone. Oh, and don't forget to collect your device by closing time! Phones get very lonely in the charging station overnight!
Comments
Your email address will not be published.
We welcome relevant, respectful comments.