Portrait of an Artist featuring Anne Wallace
By Administrator | 22 September 2016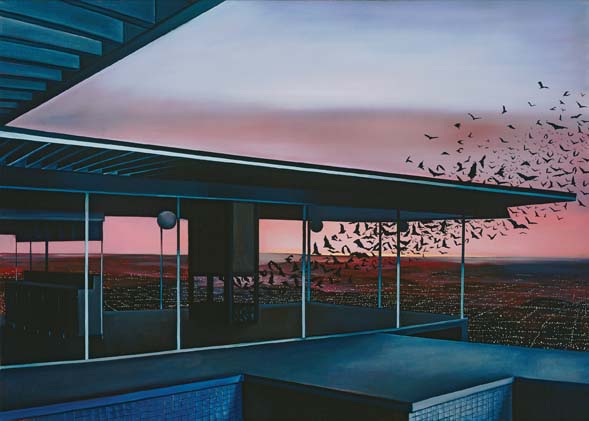 Anne Wallace, That was long ago (detail), 2005, oil on canvas.
Anne Wallace, That was long ago (detail), 2005, oil on canvas.
The Queensland Library Foundation invites you to the James C. Sourris AM Collection: Portrait of an Artist featuring Anne Wallace. Anne Wallace is one of the most recent additions to the James C. Sourris AM Collection of contemporary Australian artist interviews, which are part of the Australian Library of Art at the State Library of Queensland.
Anne's work is influenced by a number of factors including the differing Queensland architectures she observed in her grandparent's houses, the time periods before she was born and when she was growing up, books and films for example those about mid-century America and music such as "The Smiths". A lot of Anne's works refers to something, such as a poem, and although you can appreciate the painting without knowing the reference, knowing the reference allows you to fully appreciate the painting. Many of Anne's works have alluded to crimes and scenes of crimes and she is currently interested in witches and historic "old crones". Anne hopes that each of her paintings is recognisable as hers but that each is "unique" with a different image and feeling.
Following the screening of Anne's interview, she will be available for discussion with the audience.
The event takes place on Friday the 30th of September between 6:30-7:30 pm in SLQ Auditorium 2, level 2, State Library of Queensland. Book now at https://www.eventbrite.com... We look forward to seeing you there.
Bec Kilner, Published Content Technician
Comments
Your email address will not be published.
We welcome relevant, respectful comments.