Percy Stuart Hughes
By JOL Admin | 16 May 2017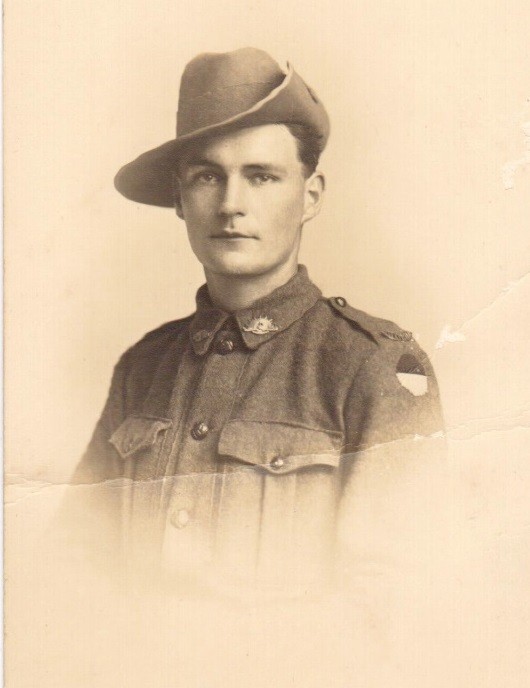 Percy Hughes. Image from private collection.
Percy Hughes. Image from private collection.
Guest Blogger: Margaret Deacon
th
RMS Roma
Percy lived at Brooklyn Farm at Blanchview and attended the Blanchview School in 1899. Together with his many brothers and sisters he helped his father with farm work growing potatoes, pumpkin and corn for the Toowoomba market.
Patriotic marches at the outbreak of WWI were organized in country centres in 1915."Dungaree Marches" with bugler and drummer encouraged lads from the Lockyer to recruit and fight in World War One in Europe. In Helidon a ball was held in McGovern's Hall with the proceeds going to the volunteers.
Percy enlisted with the Australian Imperial Force to go to the war on 14 August 1916. He embarked on the troop carrier HMAT 'Kyarra' from Brisbane on 17 November 1916. He was 22 yrs and 3 months old, gave his occupation as a farmer and weighed 150 lbs (68 kg). He arrived in Plymouth on 30 January 1917 and transferred to Lark Hill Military Training Camp on the Salisbury Plain, Wiltshire for six months. His record indicates that he was sick with measles on 28 May 1917. He later set off for France arriving on 19 June 1917, landing in Le Havre. He was a Private and a stretcher-bearer in the 49th Battalion (4th Division) of the Australian Imperial Force, a militia unit from Queensland. In September they participated in the Battle of Polygon Wood. In March 1918 the 4th Division was rushed to the Somme to stem the German Offensive. The Second Battle of the Somme began on 21 March 1918, the first major German offensive in more than a year. The Germans pushed the Allies back towards Paris, shelling the city from a distance of 80 miles with their "Big Bertha" cannons. The Allies halted their advance as the German troops became exhausted. Percy sent a postcard to one of his brothers with the date, November 24 (1918). The picture shows a photograph of Le Chateau de M. Haudrechy de Guillebon at Aigneville (Somme).
After the end of the War in 1918 Percy was diagnosed with Tonsillitis on 28 January 1919. He was granted leave for 11 June 1919 to 11 August 1919 spending that time on a farm in England. He then returned to Australia (Pt Denison) on 8 November 1919 and was discharged from the Australian Military Services on 2 January 1920 with a Star Medal, a British War Medal and a Victory Medal. After his proud father, Joseph, welcomed his son home, he passed away soon after on 5th February 1920.
On return Percy lived with his Mother, Lucy Hughes (Bonell) at Lynwood, 34 Herries Street, Toowoomba. She had moved from Blanchview, below the Toowoomba Range and purchased the house in 1920 after Joseph died. She purchased and managed a bus company called the 'Hospital to Harristown Bus Service', and Percy drove the buses.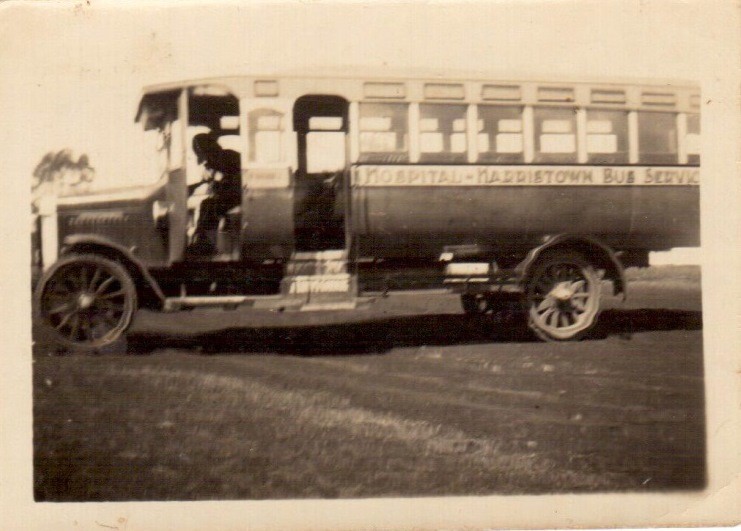 Hospital to Harristown Bus Service. Image from private collection. collection.
Hospital to Harristown Bus Service. Image from private collection. collection.
Lucy was the registered owner of 3 buses, and they were located on site at Lynwood, the Herries Street home when not in operation. The 1925 and 1930 Electoral Rolls locate Percy at Herries Street. His encounters with the authorities began in 1924 when, as a driver of a 'motor omnibus' he was fined 5/- with 3/6 costs for accepting standing passengers. In 1930 he was charged in the Traffic Court with having no number plate attached to his bus and with driving without a licence. He was fined £1 on each charge.
In February 1930 Percy married Hilda Adlington Sowerby and they lived at Wilfred Street, McDonaldtown, a suburb of Toowoomba from where the bus transport business continued. Percy and Hilda may have divorced after a short period and produced no children. There is no evidence of Hilda's existence in the Electoral Rolls after 1932 although Percy appears at Wilfred Street until 1943. He sold that house to his brother, Clifford. Percy was later located in the 1949 Electoral Roll at Roseneath, Swan Creek near Warwick and later bought a house at Finney where he bred race horses. Percy died at the age of 78 in 1972 and is buried in the Methodist 3 Section of the Toowoomba and Drayton Cemetery.
Percy Hughes was fondly remembered by his niece, Gladys and grand-nephew, Ray as being a quiet, humble man who would become talkative mainly during discussions about motor vehicles, heavy equipment and engines.
These and many more stories documenting people buried in the Toowoomba Cemetery can be read in the Our Backyard publication recently published by Toowoomba & Darling Downs Family History Society.
Comments
Your email address will not be published.
We welcome relevant, respectful comments.