News at the outbreak of War, September 1914
By JOL Admin | 23 September 2014
This week one hundred years ago, the Brisbane Courier reported a number of firsthand accounts of Europe on the brink of war. A Brisbane Salvation Army Officer recounted the scene in Paris after the assassination of Archduke Ferdinand, and described French men rushing down the streets to enlist, crowds cheering and women crying, and open expressions of hatred for the Germans.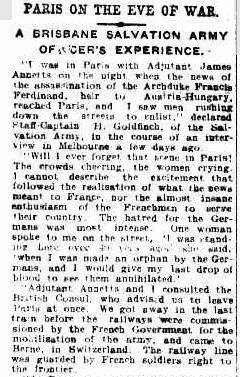 In another article, two Brisbane women recounted their escape from holidaying in Germany as war overtook Europe. They were travelling from Coblenz on the Rhine to London on August 1, the day after the order for the mobilisation of the Germany army. Advised to take the first train out of Germany, the women headed for Coblenz station, where they witnessed heartbreaking scenes, as mothers and children farewelled their husbands and fathers, and young girls said goodbye to their soldier boys as they left for war.
While sitting on their luggage at Köln station they learned that two Russian spies had been caught just outside the station, and that the French were throwing bombs nearby. Their German train was not allowed to proceed into Holland, so after more sitting on their luggage they secured a seat on a Dutch train, but did not sleep all night for fear of Russian spies.
The Brisbane Courier article 'Refugees for Australia' dated 17 September contained the first mention of the feasibility of resettling displaced Northern Europeans in Australia, and specifically addressed bringing Belgian widows to Queensland. Following this article, a concerned Queenslander also wrote a letter to the Editor which was published on the 18 September, imploring the Queensland premier to welcome Belgian widowers and refugees into the country.
In a grim reminder of things to come, the Western Star and Roma Advertiser in Toowoomba, published a long article on the 16th September, and provided a broad overview of current engagements. Included in the article were some interesting anecdotes, including a secretly-uniformed woman fighting at Meaux, and the first hints of chemical weapons, possibly gas or flamethrowers, from Red Cross accounts of 'terrible new explosives' and descriptions of bodies in trenches.
Each week we will be sharing news stories from the week 100 years ago, and we invite you to add your thoughts and comments.
Want to join in and find and correct newspaper articles from 1914 and 1915? Here's more information about how to get started text correcting newspaper articles on Trove as a Pitch In! digital volunteer.
If you find something you'd like to share we'd love to hear from you at discovery@slq.qld.gov.au
Comments
Your email address will not be published.
We welcome relevant, respectful comments.