NEW WAYS TO LEARN IN THE DIGITAL FUTURE
By Administrator | 26 July 2017
Over the last 8 weeks, Corinna Baerhold, a public librarian from Moranbah, has been participating in a Learn to Code program at State Library of Queensland in Brisbane. Thanks to a clever telepresence robot called Padbot, Corrina has been able to join the class of 30 students and learn to code from industry experts ITetc Training. Here Corinna shares her experience of this trial program.
I have always tried to keep an open mind and what I have found is that I, as Albert Einstein said so eloquently, "have no talent, I am only passionately curious". Searching for new ways to extend my mind I found the Learn to Code challenge. Although I live over one thousand kilometres away from where the course was being held, I could not deter my interest. Thankfully the State Library were able to extend the program to me through the use of a Padbot robot which has allowed me to be a part of the class and given me an interactive way to participate in the course.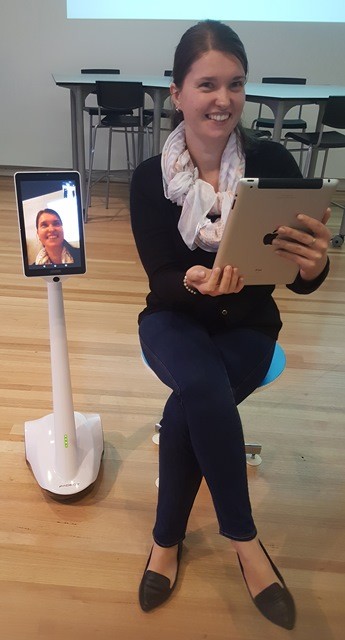 Corrina Baerhold and PadBot
Corrina Baerhold and PadBot
At first navigating a robot in a room full of people and obstacles in another city seemed difficult; fortunately the PadBot is designed to stop before hitting any nearby objects, people or falling off edges, which was my worst fear. While at the beginning the experience was slightly strange, I thoroughly enjoyed the freedom of moving around, speaking with other participants and being a novelty in the room, as well as learning a lot about Java.
For me the key benefits of the course were:



Interactive learning compared to other online courses


Face-to-face exchange with other students


Provides a classroom experience for external participants


The main and only challenge was the intermittent network issue. Without a strong Wifi link the PadBot could not run and was difficult to navigate. When it came to group work, the lag and additional background noise made communication nearly impossible. However we were still able to overcome these problems and I think with enough determination, anything is possible.
I think it would be wonderful to extend this program to other regional libraries, offering access to the wide variety of courses you already run at the State Library.
Corinna Baerhold – Moranbah Librarian and Guest Blogger
State library of Queensland is currently seeking expressions of interest from public libraries interested in participating in this program. For more information, visit: /blogs/plconnect/2017/06/26/learn-to-code-with-padbot-the-telepresence-robot/
To see a full list of programs and events offered as part of Digital Futures visit / digitalfutures
---
More Information

Comments
Your email address will not be published.
We welcome relevant, respectful comments.