New improved library catalogue
By Jacinta Sutton | 26 February 2018
Finding items in our collection will be easier than ever from 5 March.
State Library of Queensland have been working on a new look for One Search, our catalogue. One Search is the main entry point for accessing SLQ's collections. It also provides access to online databases, ejournals, ebooks, newspapers and magazines.
The new look One Search has a clean and intuitive interface which allows you to view more information about a resource with fewer clicks. Gone are the tabs within the records.
The new user interface is responsive across all devices – so works better on tablets and smart phones as well desktops and laptops, making it easier for to find the information you need, faster.
The new design is based on extensive user experience research, meaning it has been designed with you in mind.
The search results are easier to work with.
Direct, one-click access is provided to full text items.
A database A-Z list is included.
Find out more information before we go live.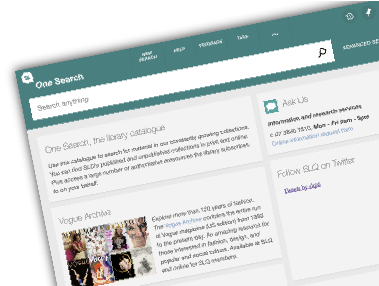 Glimpse of the new One Search interface
Glimpse of the new One Search interface
Comments
Your email address will not be published.
We welcome relevant, respectful comments.