Need help with your Aboriginal or Torres Strait Islander family history? Ask us!
By Administrator | 30 August 2018
Are you doing Aboriginal or Torres Strait Islander family history? It's National Family History Month and what better time to delve into the secrets of your past! State Library of Queensland can help you learn more about your Aboriginal or Torres Strait Islander family history with our step-by-step guide.
We also have Aboriginal and Torres Strait Islander family histories in our John Oxley Library collection. These include the Tindale Genealogies, compiled by anthropologist, Norman Tindale in the 1930s. These genealogies are lists of Aboriginal people in communities throughout Australia. The Queensland communities are: Yarrabah, Cherbourg, Mona Mona, Palm Island, Woorabinda, Bentinck Island, Doomadgee and Mornington Island. You can search for names using our One Search catalogue and request copies through the Tindale enquiry form.
The John Oxley Library also has a collection of family histories from the Torres Strait Islands, the Margaret Lawrie collection. This collection is the work of Margaret Lawrie who had an interest in Torres Strait Islander language, religion and culture. Between 1963 and 1974 she recorded the genealogies of seventeen Torres Strait Islander communities. The Margaret Lawrie collection can also be searched in our One Search catalogue. You can apply for copies by filling out the Margaret Lawrie enquiry form.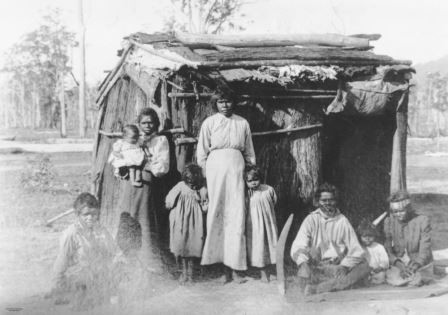 Aboriginal camp at an unidentified location in Queensland, State Library of Queensland, Neg. no. 111712, https://hdl.handle.net/10462/deriv/220285
Comments
Your email address will not be published.
We welcome relevant, respectful comments.