My Father's Wars, the live read
By JOL Admin | 22 January 2019
Guest blogger: Elaine Acworth – Q ANZAC 100 Fellow.
The My Father's Wars podcasts came out of research I undertook as a Q ANZAC 100 Fellow at State Library of Queensland in 2015-16, trying to piece together the experiences of a young Australian AIF lieutenant, William Snowden Acworth - my dad.
Lieutenant William Snowden Acworth on the boat deck of the Karmala, returning to Australia, 1919. Photograph courtesy of Elaine Acworth
Lieutenant William Snowden Acworth on the boat deck of the Karmala, returning to Australia, 1919. Photograph courtesy of Elaine Acworth
Dad was an older father when my sister and I were born. He'd been married as a young man, returning from the war, and had 1 daughter from that marriage. Then his first wife died. At 65 years of age, as a tall, silver-haired, very charming lover of the arts and supporter of the Queensland Art Gallery, he met, wooed and eventually wed Daphne, my mother (28 years younger), and they had 2 daughters, my sister Jennifer and myself.
So he died when Jen and I were still children, really.
Something happens as a teenager. You gradually start to see your parents differently – appreciate their foibles, their mistakes, their effort in life – their humanity. This often happens through conversation, and reflection… and argument. It's observational and emotional and thoughtful and participatory.
When a child loses a parent that gradual process isn't possible.
That mother or father is, simply, gone.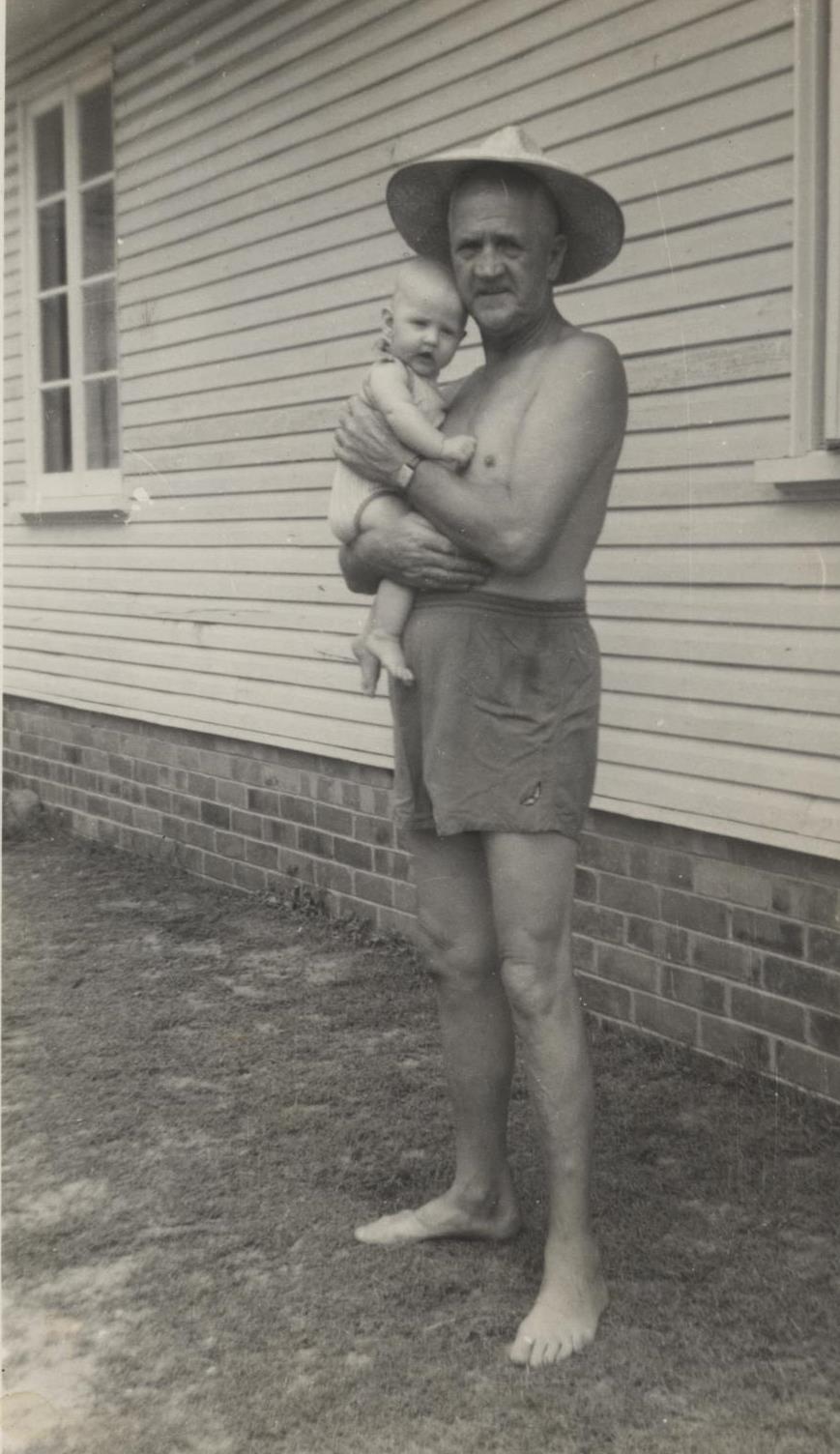 Elaine Acworth and her dad Bill. Photograph courtesy of Elaine Acworth
Elaine Acworth and her dad Bill. Photograph courtesy of Elaine Acworth
So the process of researching through the letters and diaries of the young men who would have fought with my father, either in his battalion or in sister battalions, or even fighting in the same battle on the same day – this became my journey to understanding the man my father was.
I read the unit war diaries of 26th Battalion, AIF, online at the Australian War Memorial website. They gave me daily events, troop movements, logistics, travel orders, supplies, armaments and munitions orders. The Battalion Intelligence Officer in 1917 was Lt. E Hay. In the John Oxley Library collection I found a copy of a report he had written on the Battle of Broodseinde Ridge. This described the battle, noting how the barrage began late and fell short – so the young men of 26 Battalion were shelled by their own artillery. His frustration and need to act to prevent that happening again were palpable. And I began to have some feeling for the sense of responsibility these young officers had for the men in their units. I started to understand how my father prioritised loyalty and courage under fire and how he regarded 'his boys'.
Who were they, these young men who sailed on HMAT Demosthenes on 23 December, 1916 – who formed the 18th reinforcements to 26 Battalion? I read the diaries and letters home of Fred Morey, a jackaroo from a station outside of Charter's Towers who served in the Light Horse in Palestine; I found the letters of young men from Cunnamulla and Rockhampton and Mackay, and then those of Ronald Bowker Cameron who served in the 25th battalion – a sister battalion to Dad's. He would have fought in the same battles and lived through the same experiences as my father. He came from a small town on the Queensland/New South Wales border, Yelarbon, and signed up with half a dozen other young men from here, all the families known to each other, the boys all great friends.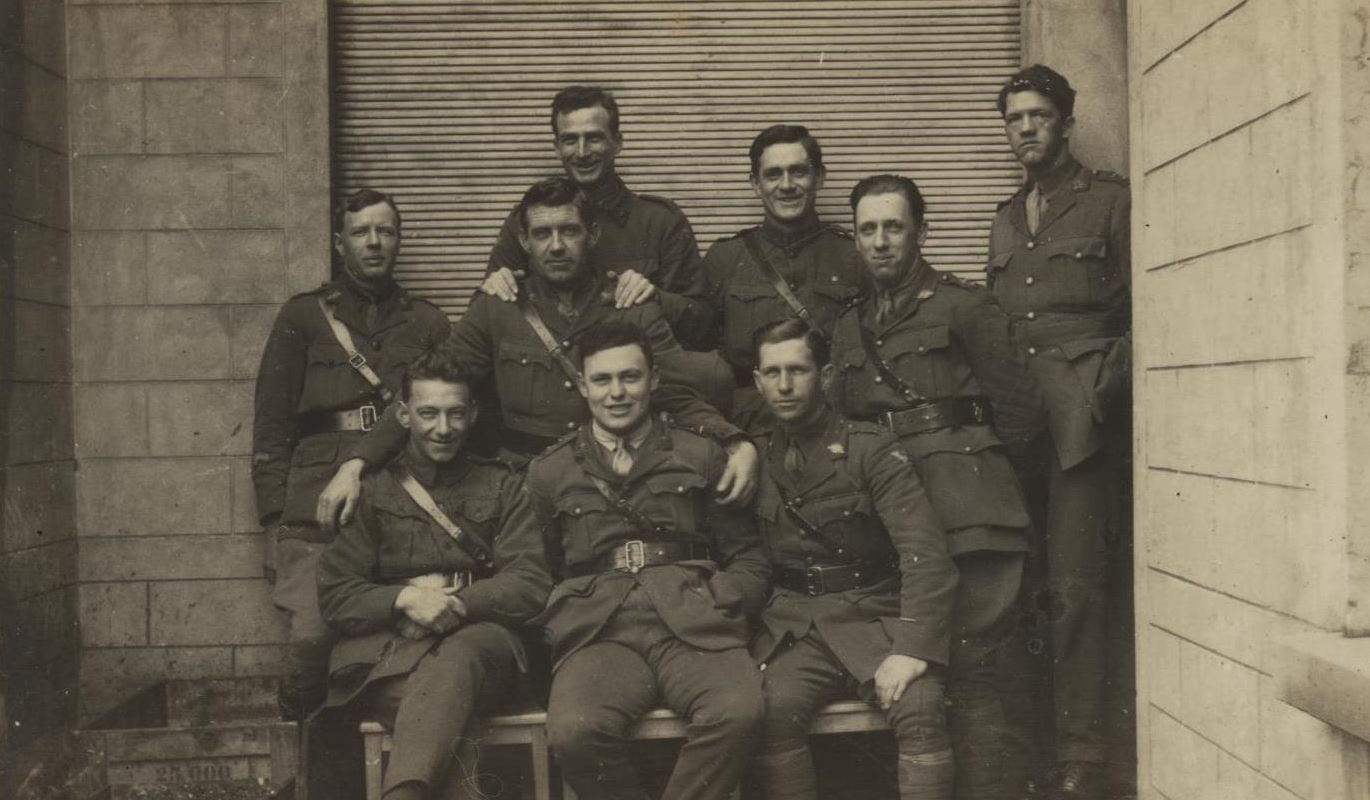 Lieutenant Bill Acworth with the other junior officers (names unknown, location unknown. Photograph courtesy of Elaine Acworth
Lieutenant Bill Acworth with the other junior officers (names unknown, location unknown. Photograph courtesy of Elaine Acworth
There was a general preparedness in these young voices - a willingness to have a go, try their best, and serve their country if it needed them. Almost universally, they began with a sense of bonhomie and "looking forward to a little excitement in a day or two". They reassured their families – "…please do not worry about me as I will be right as rain"… Then as they experienced more of the war, that excitement was replaced by fatigue, and mud and smoke and the grinding misery of the Front, lit through with explosive noise and a ground that heaved beneath them as it was bombarded by artillery shells.
It was my father's responsibility to take these lads up to the jumping off point before a battle – quietly, often in the early hours of the morning, following the tape or pegs he and the other reccy parties would have put down earlier. There they waited until the barrage began, and the order came. It would have been Dad's job to order the boys over – indeed, to go first. It would have been his job to reach the objective for the action, hold it and then, eventually, see his boys home, when relieved.
Dad was a tough old man – hard-bitten, plain-spoken, assessing – and he did not tolerate fools, not at all. He didn't waste words, he said what he thought and he was driven mad by miscommunication or faulty instructions - woe betide you if you were slack in that respect. Now, that makes more sense to me – as a young man he saw boys he was responsible for hit by their own artillery because of miscommunication. I can't imagine what that was like.
He was also terrifically kind to those in genuine need – and refused to be thanked for it. He was deeply, silently loyal to family and friends, and patient with us kids. He loved beauty, and saw it everywhere – I think his obsession with paintings was about trying to capture that beauty – not to control it, to preserve it, keep it safe…. He once said to me that "you never own a painting, darling, you only ever act as a custodian, keeping it for the next person who comes along". And I don't think I understood that until I understood a little about what happened on the Western Front. The brotherhood engendered by that time, the idea of service to family, to community, to country, and the gut-level understanding of the fragility of it all.
So, I wrote an audio doco-drama about my dad's experience on the Front and how it impacted him, and us, later, in family life – the podcasts.
They're available on iTunes, Stitcher and State Library's website.
But, interestingly, the story has continued to shift shape. All the way through development I've been doing live readings of portions of the script with another actor, Will Kelly, who read all the male roles… for symposiums, for family history events, for professional developments.
These readings were unexpectedly affecting – of us and of our audience. And we and the audience would have conversations about their family members who served, then or later. About the history that we all knew and the history that we feared…
Following on from the audience response in workshops/symposia to these short, live-read sections, State Library asked me to do a live performance of the whole script for Remembrance Day 2018. So Guy Webster, the sound designer, and I sat in the recording studio and re-mixed the sound for live performance, me making script edits on the fly as we went. I double-checked sources, trying to gauge sound levels for performance but the noise of war is too much to make any sense – we had to go with levels that would work for performance.
The reading: it was shocking, really. How personal this young man's story from 100 years ago felt to us all.
There is something about actors, saying the words live, on stage. The podcasts are whispered into your ears – they are a kind of personal dream, by you, of the experiences of Bill Acworth. The live reading takes you there – you do not know what will happen next. Each revelation could be one of horror, or humour, or grace.
The reading was recorded and is available here for anyone to view.
So, the live reading of My Father's Wars is a reality– for schools, RSLs, Legacy groups, Mates4Mates if they would like it. We just need to organise it.
Elaine Acworth - Q ANZAC 100 Fellow
Comments
Your email address will not be published.
We welcome relevant, respectful comments.